Evangelical icon pointed the way with faith and reason
While surfing through some TED Talks on Netflix the other day, I heard some fascinating speeches: from MIT's Sherry Turkle on how our social media devices are leaving us "alone, together"; from Berkeley philosopher John Searle on how his "biological naturalism" dissolves the mind-body problem; and from UCLA's Gregory Stock on why humanity, in order to continue evolving, needs to overcome bioethical scruples and better integrate and implement technology into our organic life – in short, "upgrade."
Smack dab in the middle of all these fascinating talks on science, technology, and philosophy from Silicon valley and professors across the country, one name jumped out at me: evangelical icon Billy Graham.
"One of these things is not like the others."
My first feeling was resentment. Of course. Why should it be someone like or making the case for the Christian faith in Silicon Valley? That would smudge up the razor sharp "divide" between matters of reason and matters of faith so carefully drawn down the heart of the secular age. Better to send in the clown – a TV preacher – to emote, speculate, and thump his Bible, flattening religious language through overuse and cordoning it off through fideism. Let him wave his arms and tell us to repent and believe, and then we can all get back to the interesting stuff in the lab.
Whether that was the intent, or whether the TED conference was genuinely interested  in hearing Billy Graham speak on technological innovation, I can't say. Graham himself expresses surprise in the first few minutes at having been invited at all. "As a clergyman, you can imagine how out of place I feel," he says. "I feel like a fish out of water. Or maybe an owl out of the air…some of you may be wondering why they have a speaker from the field of religion. Richard [Wurman] can answer that, because he made that decision."
Therein begins an altogether surprising talk, one that gave me a newfound respect for the man. The depth of what he says is surprising; but the candor and care with which he says it, even more so. Age and illness clearly had slowed him down considerably and his softspoken demeanor stands in sharp contrast to fiery black and white broadcasts from the 50s. He's funny, relatable, and self-deprecating, but never without gravitas.
The talk was filmed almost 20 years ago. At 96, Graham is still preaching. We can see why. It's not just because he's a man of deep-seated faith, though he is that. It's also because he's a man of reason. He knows what he believes and why. He doesn't just enjoin us to believe by appealing to the emotions; he quotes from Pascal, Solzhenitsyn, and other great thinkers, appealing to the mind. He looks to history, science, and other fields of human knowledge, seeing in them diverse pointers to the mystery of revelation. And as a farm boy from North Carolina, none of it was handed to him as a matter of course; it was just faith seeking understanding.
Graham does what probably many in the audience were not expecting him to do: he makes a compelling case for a reasonable faith that has everything to do with technology – especially its limitations. "David found that there were many problems that technology could not solve," Graham declares. "There were many problems still left. And they're still with us. And you haven't solved them…the problem is within us, within our hearts and our souls. Our problem is that we are separated from our Creator, which we call God."
Watch the entire talk below: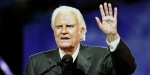 Read more:
Billy Graham is dead at 99