His plan is to rescue us from death, not visit it upon us
Need an idea for Lenten almsgiving?
Help us spread faith on the internet. Would you consider donating just $10, so we can continue creating free, uplifting content?
Make a Lenten donation here
When I was a pastor in my first parish a small boy, age 10, died in a farm accident. It was my first funeral for a child. I had many thereafter: cancer, a heart defect in a 22-hour-old baby, a six-year-old who hemorrhaged to death following a tonsillectomy. There were others. Each is searing in its own way. I cannot remember all the funerals I conducted over a 34-year period, yet I remember each child, vividly.
I remember especially the ten-year old. He was standing up on the back of a tractor, behind the driver's seat. The tractor was pulling a wagon of newly harvested corn, crossing a field bridge. The bridge was a collection of railroad ties arching a small ravine, if one could go so far as to call it a bridge. It was old, untended through the years. It cracked in the middle, collapsing to the center under the weight, and tumbled the boy off and back into the cascading load of corn.
Rushing to the farmstead I encountered the boy's grandfather. He had been driving the tractor. He was raging. "Goddamn you God; you killed my boy." God did it.
I read an account this morning of an eleven-year-old, swept away in flash flooding in Wichita, Kansas. He was with two other boys, braving the waters. His companions crossed; he did not. As I was writing this, some many days before publication, his body had still not been recovered.
A neighbor aiding the search had it all conveniently summarized: "The man upstairs had special needs for [the boy]. We can't judge [God] why he took him, but there was a reason for it." God did it.
Both reactions are deeply flawed. In grief or anger or both they demand an explanation for a child's death. One reaction is fury; the other is a jejune assurance that "the big man upstairs" had his reasons.
Yet both place the responsibility on God. God reached down and deliberately troubled the water as the boy was wading where two friends passed safely seconds before, and it was God who cracked the bridge the boy was crossing, riding on the back of a tractor. The grief, loss, tears; the choking pain and the terrible sense of alienation from God that we experience when encountering inexplicable death, death of any sort and, sure, we are told God did all that.
Christians ought to know better than "God needed that boy in heaven." I much more readily understand a misery-driven outburst from the grandfather than a saccharine "God's plan," but it is just as mistaken. God did not create humanity with death in mind.
But Christians hear a lot of this. "God broke our hearts," reads a puerile sentiment I found in a funeral card, "to prove he only takes the best." God does that? Does he, really? This is no biblical theology I can recognize.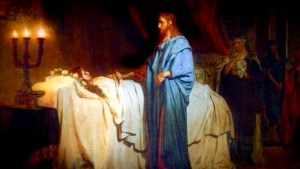 Read more:
God hates death and destroys it every chance he gets
Here is what death really is: Death is the enemy of God, it is evil loose in a fallen world, and thus it is our enemy, the enemy of the first gift God gives us, our flesh. Death is not God's go-to tool to get what he wants. Death is a fierce, fearsome, adversary of God and of us, and our fear of it likely fuels much sin.
It is "the last enemy" scheduled for destruction. (1 Cor. 15:26) Christ's resurrection broke its power and he will crush it, destroy it, and turn it into a footstool.
If death is our enemy, Christ's death on the cross is our victory and his resurrection our vindication. If we settle for "God did it, but he has a reason" then we never encounter what God in Christ promises to do with the enemy of our flesh. God's plan is to rescue us from death, not visit it upon us.
If God did it, things are worse than we imagined. We are disarmed with nowhere to turn in our anger and wretchedness.
If God did it, we have no true spiritual weapon ready at hand to fend off the assaults of sin, death, and the devil.
If God is responsible for this death, to whom may we raise our lament, knowing that it will be heard? Lament is our cry, addressed to the only one who can help, and from our deep lament – naming our irreplaceable loss before God – there we find the hope of Christ's resurrection, God's answer.
I called upon your name, O Lord, from the bottom of the pit; 
You heard me call, "Let not your ear be deaf to my cry for help!" 
You came to my aid when I called to you; 
You said, "Have no fear!"
– Lamentations 3:55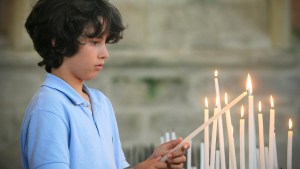 Read more:
How my 7-year-old's first experience of death was deeply imbued with peace … and even joy