As the Order of Preachers ends their 800th jubilee year, newly ordained priests remember miracles of mercy at World Youth Day in Krakow
Need an idea for Lenten almsgiving?
Help us spread faith on the internet. Would you consider donating just $10, so we can continue creating free, uplifting content?
Make a Lenten donation here
"How could it not have been just like that when Jesus entered the towns of Galilee of old?" Fr. Patrick Mary Briscoe, O.P., recalls the "Night of Mercy" in Krakow this summer during which 20,000 World Youth Day pilgrims just wanted to get close to the Eucharistic Lord.
Fr. Joseph Anthony Kress, O.P., who carried the 7-foot-tall monstrance that night through the largest venue in Krakow, was drawn into similar Biblical scenes. "As we processed through the arena I would look up to Him and see the Eucharist in a sea of 20,000 people," he recalls. "From the floor to the highest level were children of God worshiping Jesus Christ. It was reminiscent of Jesus being in the middle of the crowd in the Gospels or when He entered into Jerusalem on Palm Sunday. The air electrified and vivified when the monstrance entered into the arena. It may be somewhat cliched to say this but it was apparent that there was the true presence of God in our midst which refocused the attention of each and every one of us to God."
And, despite the assistance of two deacons, the heavy monstrance weighed on his wrists, forearms, and shoulders, making Jesus carrying His cross more real for him as he walked. When they processed out of the main arena to the small arena to conclude adoration, the hallway was too low. Fr. Kress recalls: "the monstrance had to be tipped back and I carried the cross with our Eucharistic Lord on my shoulder. That was a very intimate and personal moment!"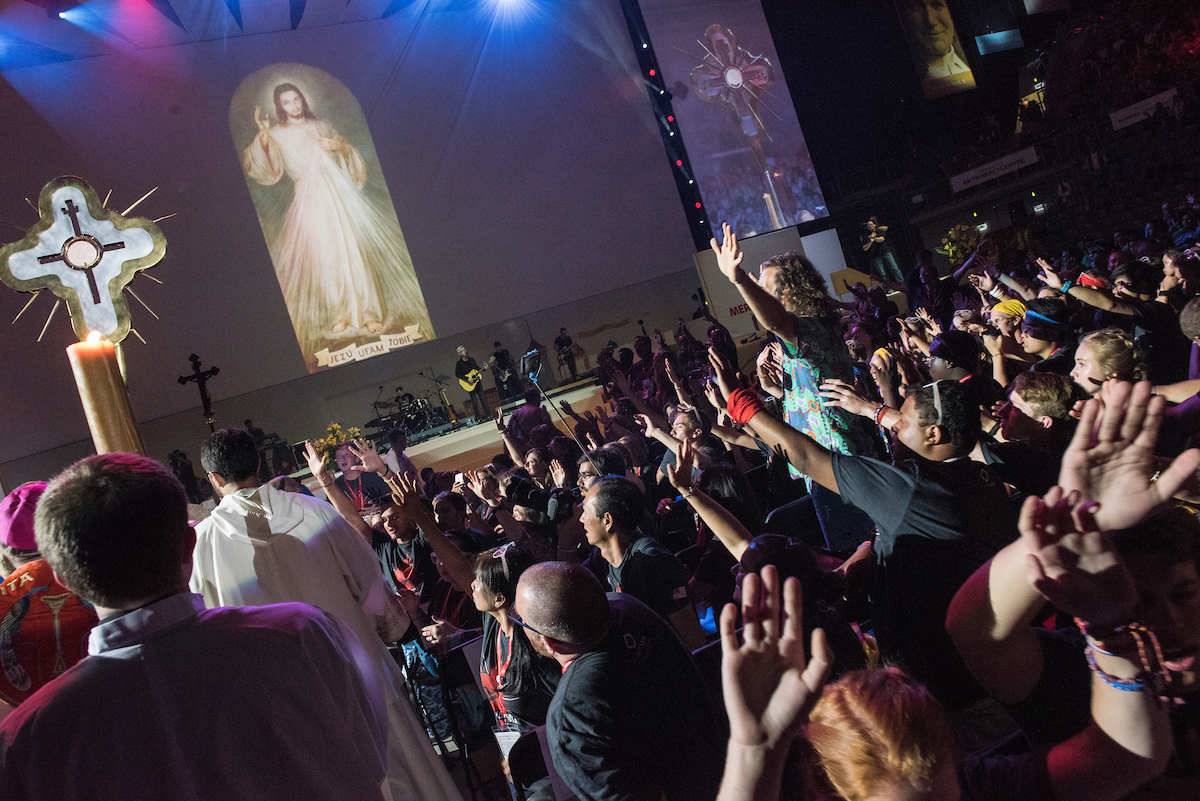 Read more: In the Tauron Arena, we got a glimpse of what heaven really is, and everyone knew it
Fr. Dominic Verner, O.P., saw a much-needed hope there. "The Western world seems to be entering into a new despair — not about civility in politics, or about healing racial tensions. [What I see coming] is the despair of true spiritual solidarity, the despair of a religious unity capable of healing human division, and even worse, the despair that such unity is even a good worth pursuing."
"In the face of that, World Youth Day gives me hope," he says. "Millions of young people — from every race, nation, and tongue — united in their Catholic faith, come together and get a taste of true solidarity. Many come thirsty, parched by our individualistic value and our isolating rule, and they drink from the spring of spiritual unity."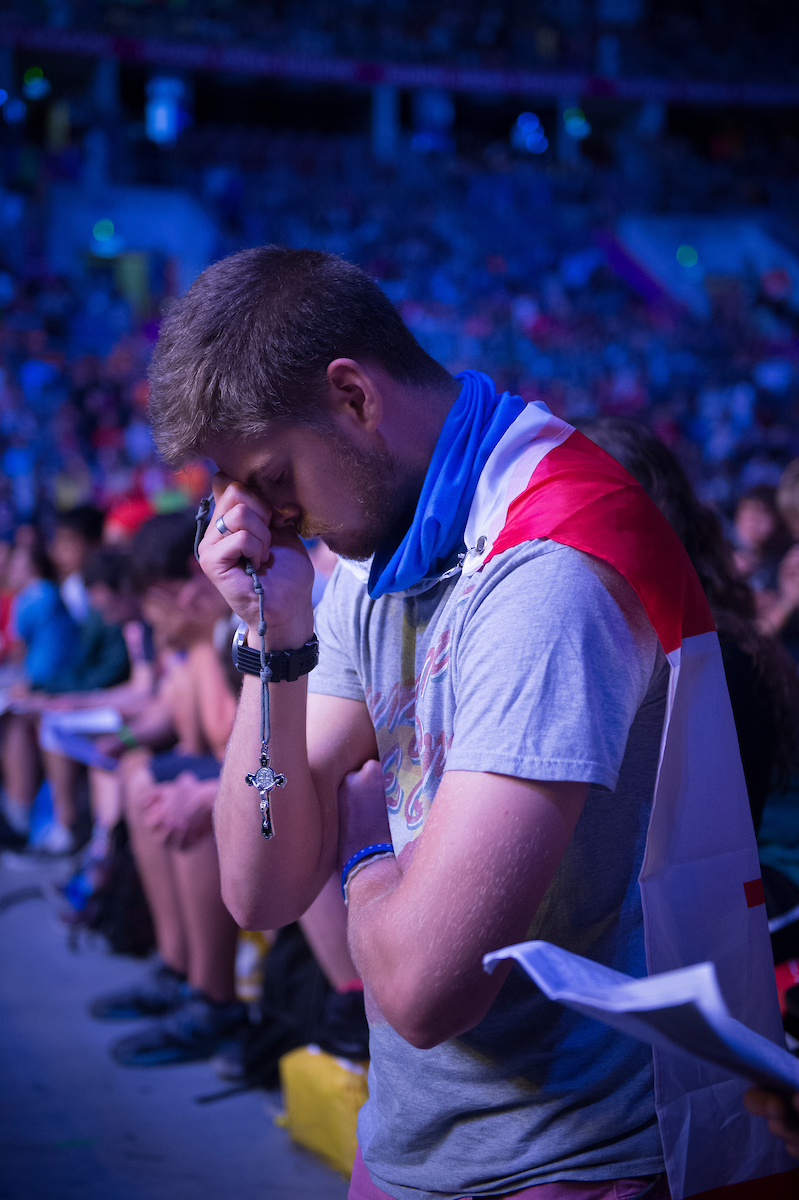 These three young Dominican friars, recently ordained, were among the volunteers at the Mercy Centre at the Taurin Arena, "witnesses to hope" in John Paul II's city. "Watching the youth pray before the Eucharistic Lord, humbly approach His mercy in Confession, or honor the saints of His Church was an edifying experience," Kress remembers. "Without any explicit instruction the pilgrims were able to seamlessly and appropriately transition from a concert-like atmosphere to the threshold of heaven (sometimes without changing physical location) without losing an ounce of energy."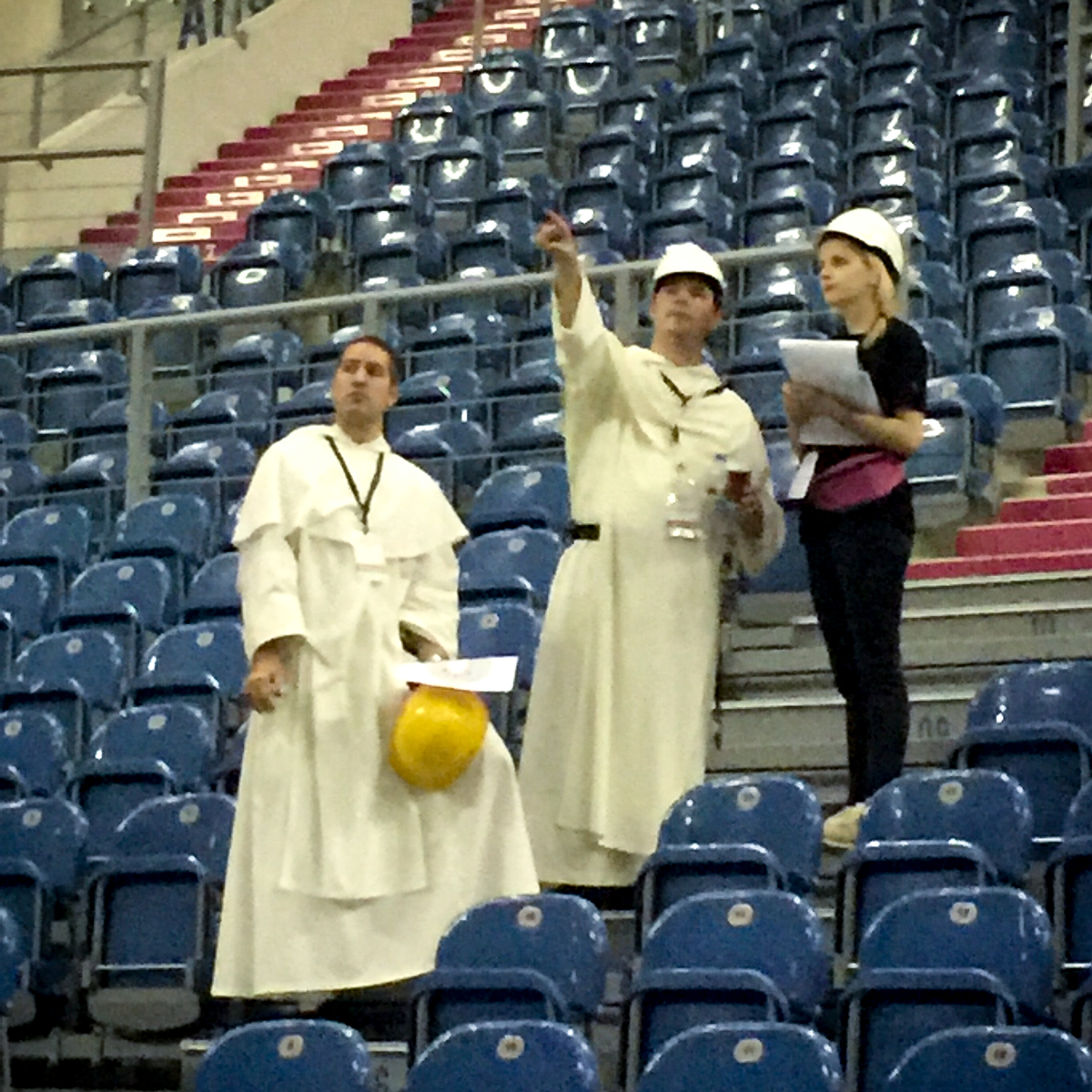 "It is hard to remain the same after you have a front row seat to God's grace in mercy. I have a deeper connection to many of the Polish saints and I have built many friendships with Polish citizens that will continue to foster my relationship with Jesus Christ…"
"I will never, never forget the privilege of watching God break into a person's life for the first time," he says about World Youth Day. "I saw it more than once during that week in Krakow. Witnessing this reminded me of St. Augustine's famous Book X of TheConfessions, 'You called and cried out loud and shattered my deafness. You were radiant and resplendent, you put to flight my blindness. … You touched me, and I am set on fire to attain the peace which is yours.'"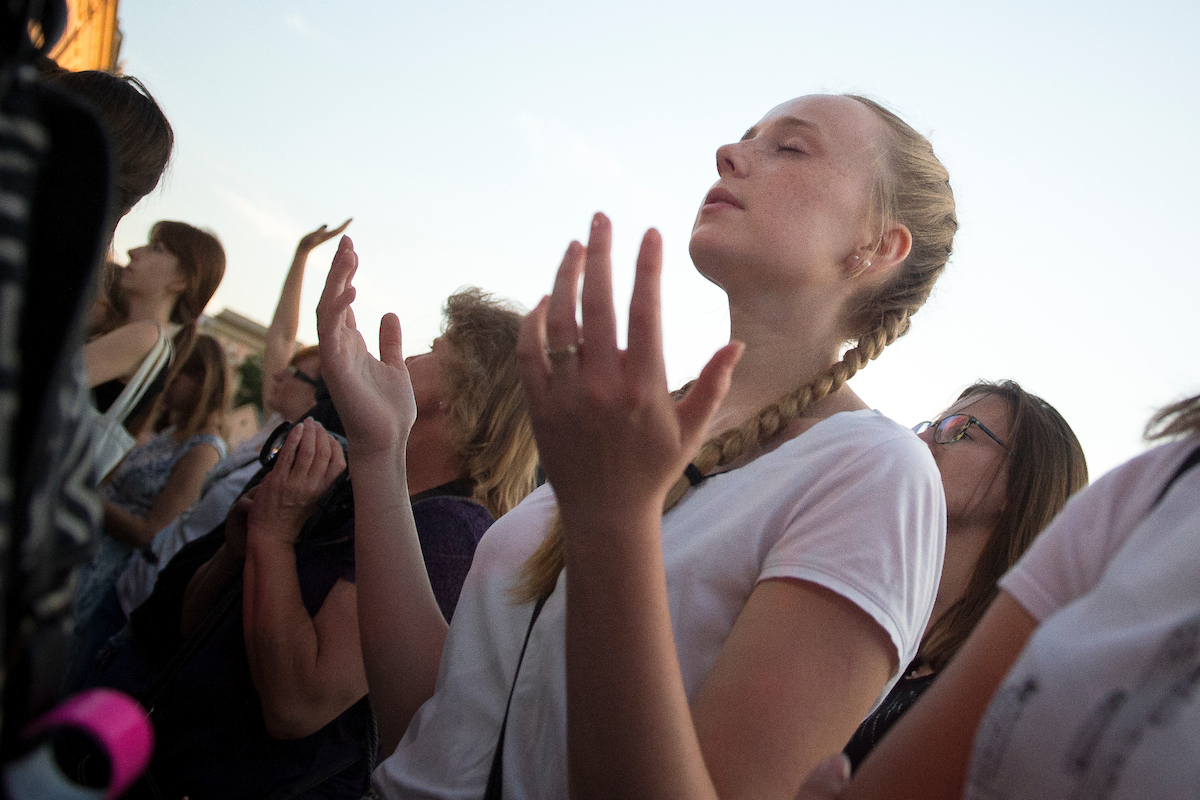 All three are members of the 800th anniversary of the Dominican Order ordination class. Fr. Briscoe's experience was enriched by staying at Holy Trinity priory where St. Dominic sent St. Hyacinth ca. 1220 to found the Dominican Order in Poland. "Since that time, the friars have lived at Holy Trinity, where St. Hyacinth is buried. Celebrating Holy Mass at his tomb held particular significance to me as a friar; allowing me to reach in a very immediate way the graces of my Order's noble past."
One rare Saturday morning when he wasn't working, Fr. Briscoe toured the former archbishop's residence on Kanonicza street in Krakow and found himself weeping at the site of Saint John Paul II's camping gear. "John Paul II dedicated so much of his time to proclaiming the dignity of the human person, which only Christ fully reveals.  And before me was the evidence of a truly great (manly) life, coupled with tremendous sanctity. I was weeping because I had come face to face with John Paul II's brilliant holy humanity."
Fr. Briscoe has also been moved by being on the other side of Confession. "Granting the forgiveness of Christ, in the center of Europe's largest medieval marketplace to my own countrymen who had traveled for thousands of miles to express and deepen their faith is a joy hardly expressible."
Praying with Peter in and around Krakow, these three "baby" priests saw the great gift of God's merciful love. And despite the end of the jubilee year of mercy, and the Dominicans moving into their 801st year soon, the opportunities for new life in this new mercy remain.