Sharing a picture on social media of one of my rosaries prompted questions: Why had I selected this saint? Where had all the medals come from? Were they placed in some significant order?
What can God do in your life with one Bible verse a day?
Subscribe to Aleteia's new service and bring Scripture into your morning:
Just one verse each day.
Click to bring God's word to your inbox
I often used to spend time with a friend from church I'd known for years. During all our conversations, music lightly played in the background. She liked any genre; smooth jazz and blues, classical, country, modern, Christian, and a little Motown remix. The music set the mood for whatever we were doing: delighting when Vivaldi played as we knitted, swaying to country as we prepared lunch, laughing tearfully at the antics of a deceased friend from Detroit, or strengthening our souls as we stared down cancer's imminent end.
The Rosary is musical, much like those moments. Praying the Rosary is a back and forth movement, a swaying to the music of the Holy. The Hail Marys' familiar words smooth in the background, the Our Fathers punctuating our space with heaven's beat as the world outside fractures.
We do not pray alone, but rather with—with Mary to carry our prayers to her son, with saints whose charism coincides with our intentions. We pray in community—and it is a massive community of saints—while experiencing an interior solitude.
Imagine for a moment…
How many pictures do you have on your phone or camera? Most of them are of family and friends. There are pictures that make us smile, remind us of shared adventures, new challenges, struggles, and accomplishments. Gazing at those pictures we are reminded of goodness, beauty and love, and endurance. With a glance we can access a momentary flow of strength in our day. Often when we look at the picture of someone dear to us, we want to be a better person; we are pleased to be pleasing to another—it is good that I and they exist. These are the people we hold dear who, even when gazing upon their image, give us the experience of restoration and a sense of quiet in our hearts.
The Rosary is all that. It is the music in the background with a gathering of saintly friends, all of us joined in a conversation of collected prayers in intercession or defense. That is how I pray the Rosary and connect with the saints whose medals I've attached to my beads.
Sharing a picture on social media of one of my rosaries prompted questions: Why had I selected this saint? Where had all the medals come from? Were they placed in some significant order?
Selecting saints' medals to attach to a rosary can be simple or complicated, and done over a lifetime. Some I've had for decades, others were attached to my rosary recently.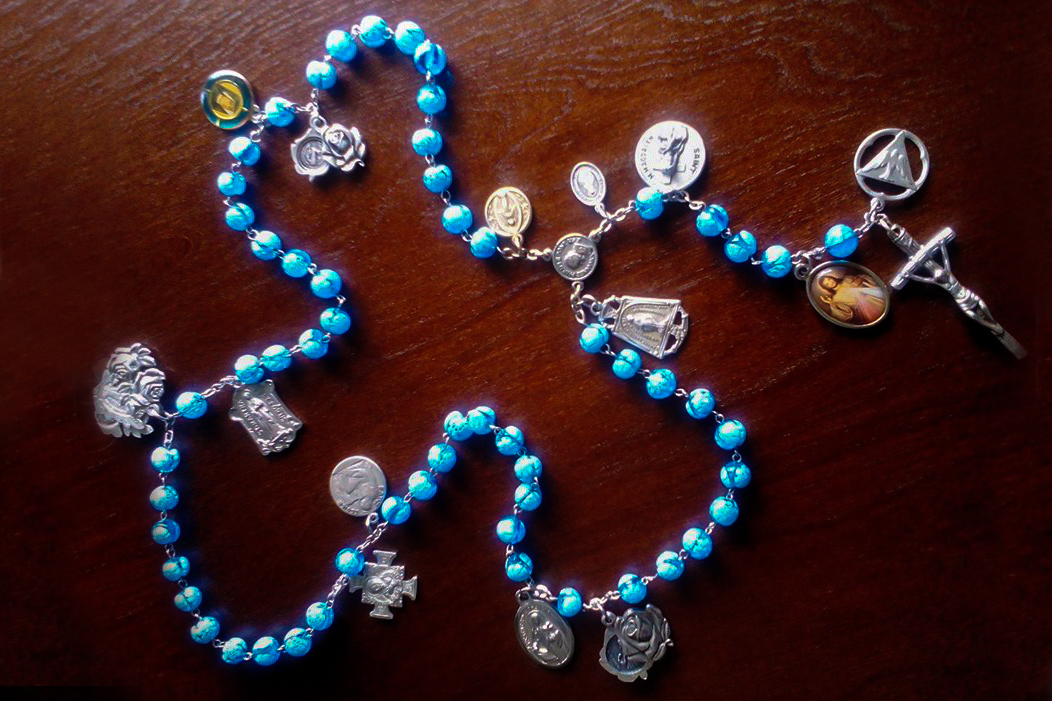 Since I was four, I've had a special love of St. Mary Magdalene, and took her name at confirmation, and hers is the first of my medals after Our Lady of Grace. Upon my Benedictine oblation I took the name of St. Hildegard; her and St. Benedict's images were recently added to the rosary. There are medals of saints who found me; St. Bakhita emerged while I learned to manage PTSD, and St. Catherine of Siena was added when part of healing included managing intrusive images.
St. Francis came not because of my dedication to ecology, but for guidance when frustrated by those who do not embrace the Word. St. Martha found me when anxiety about home and family—mine and many of my aging generation—threatened security. St. Faustina, a second-class relic medal, draws me into special prayers for priests, for compassion, and trust in Divine Mercy. St. Pio guides me in prayers for precious souls in Purgatory. St Michael the Archangel and Pope St. John Paul II strengthen my prayers for defense and battle.
There is a rhythm, a swaying with the Holy as we pray the Rosary. Which saints help you to move closer to our God?