Dr. Tim Flanigan reflects on experiences treating AIDS and Ebola patients
What can God do in your life with one Bible verse a day?
Subscribe to Aleteia's new service and bring Scripture into your morning:
Just one verse each day.
Click to bring God's word to your inbox
Dr. Timothy Flanigan works in a field that brings him so close to human suffering that, as he puts it, it's "cheek to jowl."
As a Brown Medical School professor with a specialty in infectious diseases, Dr. Flanigan has spent much of his career working with HIV patients and, more recently, Ebola patients in Liberia. Besides his medical career, Dr. Flanigan is also the father of five children and a Catholic deacon in Tiverton, Rhode Island.
"It is very interesting. Being a Catholic deacon has made it easier for me," said Dr. Flanigan. "My role is to be supportive of my patients. It's not to evangelize them, but to help them realize that faith can be a help to them."
Dr. Flanigan came to Brown Medical School in 1991 to help establish a network of primary care for HIV-infected individuals with a particular focus on women, substance abusers and individuals leaving prison. He developed the HIV Core Program at the State Prison to provide care for HIV-infected individuals and link them to community based resources upon release.
Dr. Flanigan has worked on two special projects of national significance funded by HRSA to develop combined therapy for opiate addiction and HIV, as well as a model program of linkage to care for HIV-positive persons leaving jail. He is also associate director of The Miriam/Brown Fogarty Program, which trains and mentors overseas investigators in HIV/AIDS.
According to medical articles on the subject of faith and medicine, patients like it when their faith is recognized and supported by doctors and hospitals. Yet most medical schools do not speak to this subject.
"In a formal way, at medical school, you can talk about everything, but just don't mention God or prayer. Faculty gets very nervous when these subjects come up," he said.
"The push in medical school is to describe everything in terms of our biological processes," he said. "But we are so much more than flesh and blood. The temptation is to see everything as a biological construct: that all of reality is a series of neurological synapses. This is so sad. Most physicians who are far along in their careers see how much we don't know."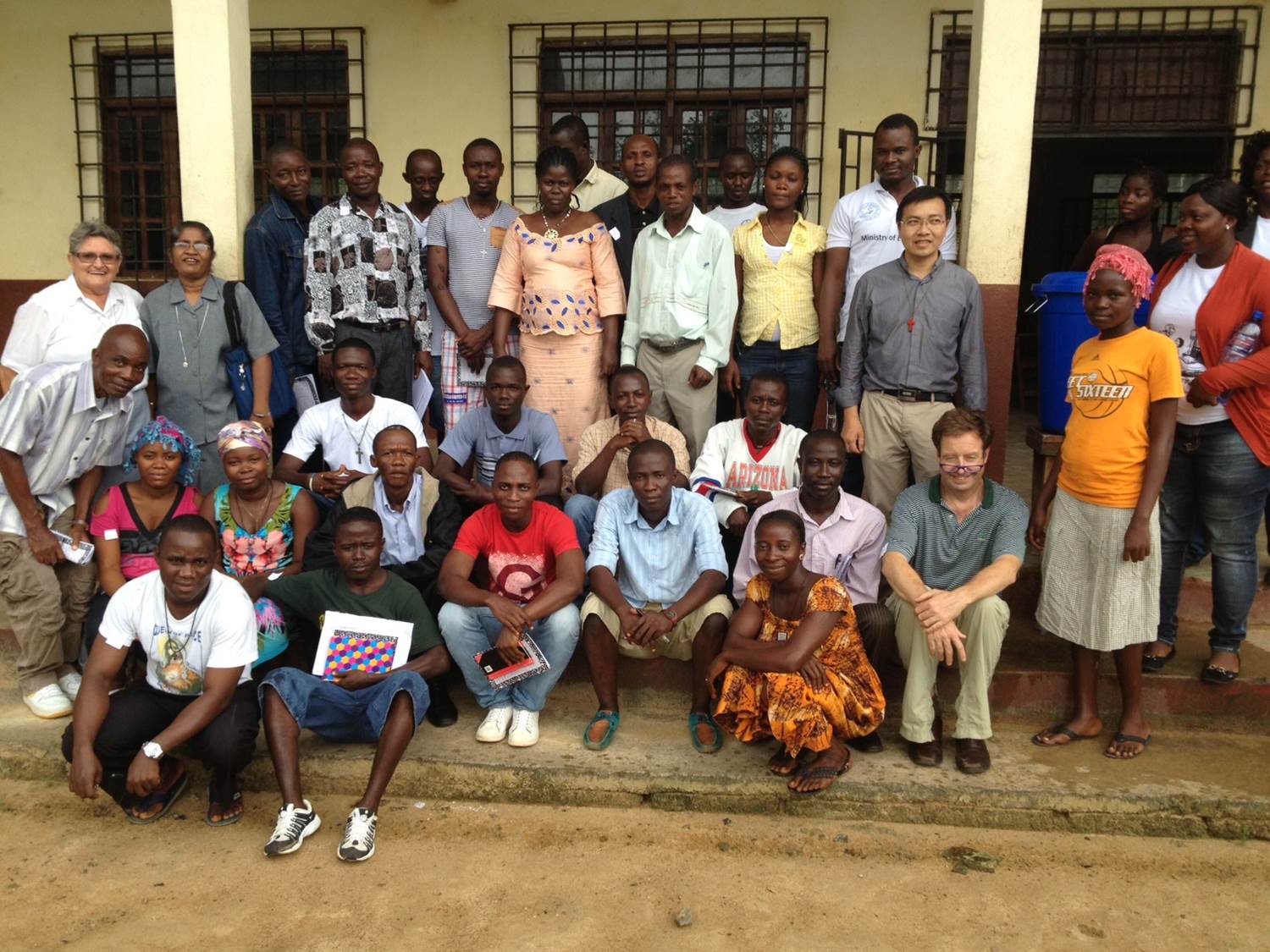 Though medical schools may not be comfortable on the subject of faith, Dr. Flanigan has no problem speaking about it.
"I am very open about the fact that I am a Catholic deacon. I always suggest to my patients that they dig deeper into their own faith—whatever that may be," he said. "No one has ever been offended. I always try to approach my patients in an open-ended and non-judgmental fashion."
Most of Dr. Flanigan's patients are Catholic because he is in Rhode Island, one of the country's most Catholic states. And he gets to see how some of them live their faith, even as they are dying.
"One of my patients has inoperable cancer, which has caused lots of infections. She has a very deep faith. She tells me that she is here for as long as God wants her here," he said.
Yet he sometimes meets patients who are alienated from organized religion.
"I encourage them to check it out again and I tell them that God loves them. Isolation and alienation is so common in medical illnesses. Having the support of others from a faith community is a beautiful thing and it doesn't cost a dime. I also tell them that we are all alone sometimes and we all need support. The conversation is natural," he said.
Dr. Flanigan noticed a difference in religious practice during the two months he spent in Liberia in 2015, in the midst of the Ebola crisis.
"In West Africa, faith is a rock-solid reality," he related. "People pray and sing to God all the time. It was a very beautiful thing. We as Americans intellectualize everything. But there, faith is extremely real."
The faith of Liberians was especially tested in the midst of the terrible suffering and death caused by Ebola.
"I came to have a greater respect for fear because I was afraid that I was going to get it," said Dr. Flanigan. "You prayed with more intensity."
Faith giving birth to courage was especially evident among Liberian nurses: "Nurses were particularly impacted. It was dangerous for them to help the sick, because they would often get sick. They were really heroes. Every day, they kept going back to work," he said.
For Dr. Flanigan, however the great challenge of our time is not a modern crisis of faith but how to take suffering – especially in the West.
"This is particularly a paradox in our world today. We are good at making life very comfortable but we can't prevent suffering of the human heart," he said.
The proof of this is suicide, depression and anxiety in people who are otherwise very healthy.
"As a physician, you rub up against human anguish and suffering. You either understand the love of our Lord in the midst of human suffering, or as some people do, you reject God. My personal take is that the Lord draws people who suffer very close to Him even if they don't have a great intellectual understanding of Him," he said.
Dr. Flanigan sees this frequently with his HIV and Ebola patients, many of whom one would think are far from the faith.
"One of my patients in the 1980s was a man from San Francisco. He was a gay man who had been alienated from the Church. He stayed in the hospital for six weeks with an infection. In the middle of his suffering, he turned to our Lord and prayed the rosary every day with his mother," he said.
Dr. Flanigan learned a great lesson about the Holy Spirit from this.
"The Holy Spirit does not have to live with our preconceived notions. I am always surprised by the penetrating power of grace. You never have it all figured out. The Holy Spirit is often present in situations where you wouldn't expect it," he said.
Dr. Flanigan's belief in the Holy Spirit keeps him going when he gets discouraged.
"There is a lot we don't understand. I was speaking to a friend yesterday who works with drug addicts. He went to the morgue and saw a woman who had overdosed. She was 8 months pregnant. There is no answer in the middle of that kind of pain. Yet I know our Lord is present and embracing her," he said.
When things gets overwhelming, he tells his students to HALT—something he himself follows.
"HALT means: if you are hungry, eat. If you are angry, take a walk. If you are lonely, then visit someone or call someone. If you are tired, then go to bed," he said.
Great advice from someone in the trenches of human suffering.