When someone you love is called to the consecrated life, it begins an enduring process of letting go
Nearly two and a half years ago our daughter, Nora, now known as Sister Frances Marie, entered the cloister of the Passionist nuns in Whitesville, Kentucky. I have described earlier in these pages the bitter-sweet experience of letting go as a mixture of awe, joy, lonesomeness, and an aching tenderness.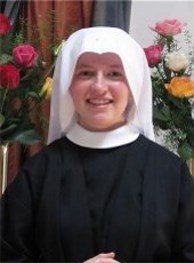 There are still moments we miss her presence in our home, and in our daily conversations, but our God is a God of consolations, and Sister Frances Marie is still accessible. We can write to her at any time, and she is permitted to write to us, monthly, and for special occasions such as our birthdays, Mother's Day and Father's Day and on major holidays. We speak on the phone four or five times per year.
Best of all, the Sisters graciously welcome us at the monastery twice per year for three day visits — with very liberal visiting times. These visits are a joyful reunion, punctuated by her prayer times, to which we are invited and in which we love to participate. In the chapel, we have a chance to praise God together, and get a sense of Frances Marie's everyday life.
Ironically, in "losing" our daughter to a cloister, our "family" has grown! It is an absolute pleasure to "touch base" with the entire community as part of our visit. The sisters have become true family to us. Our concerns and burdens are theirs and theirs are ours. In the parlor the sisters show themselves as joyful, even playful women of all ages; they are witty and funny, seriously prayerful, reflective and wise.
These visits also allow us to re-connect with the families of the other Sisters, and this is a true joy and comfort. One father and I reflected on how frequently we had cried while anticipating our daughters' monastic entrance, only to be awestruck at their joy. Our daughters' happiness in their vocations makes it hard to feel much self-pity for missing them.
Our daughters' choices for enclosure were made freely and we support them as we would had they married in the world — we wouldn't be choosing their spouses in either case, but only praying for their fulfillment. Remembering this helps in that "letting go" process, especially as our visits come to a close. It also discourages needless speculation on what might have happened had they become doctors, or lawyers, or teachers. Miraculously, God is calling them to this life of unique service to the world.
If someone you love is considering religious life, please support them in their discernment of God's will. Signature gifts and graces will come your way, if you carry the cross of discernment with them, and help them upon their journey.
The Passionists have a special charism — they remain on Calvary with Jesus and Mary, interceding for the world. Spiritually, I walk with my daughter on the via dolorosa, though she walks further up on the Way of the Cross; closest to Jesus. I follow behind and offer help and support as needed. She prays seven times a day, and more, with the Sisters. I find comfort in knowing that she is always "home," praying for all of us.
Read More: When I prayed for vocations, I didn't mean God could have MY daughter!
So often the witness of the saints tells us that what what initially seems like a burden will, through age, and grace, and wisdom, become a most valuable gift. A loved one's calling to the consecrated life can seem like that; there is pain of separation, but in fairly short order the gift becomes apparent, and then the privilege, which is paradoxically humbling.
In Matthew's Gospel, Jesus makes a challenging statement that whoever loves a mother or father, a son or daughter, more than God is unfit for heaven. As my daughter entered the cloister, I felt like he was directing that challenge right at me. Is he directing it toward you, right now? How will you respond? With thoughts of your own happiness or your child's? Of the Kingdom and eternity or the passing world?
Please don't think I'm preaching. If you're answering, "I'm thinking of my heart and our home and the world," that just means you're normal. This "ultimate gift" requested of you is a true sacrifice. Visiting Frances Marie at New Year's I told her how consoled I am that if our paths have the illusion of diverging in this world, they lead to the same heavenly home, because yes, I miss her.
But we're called to keep our eyes fixed on the big picture; our children are born to their own callings as we were born to ours, and if they are bravely answering "yes" would we rather lighten the weight the sacrifices they seek to carry, or add to it?
May God bless you and give you courage, deep, deep love and charity as you work this out. May you receive and experience the unequaled joy of sacrifice and generosity to give all, even "your own" to Jesus. You will receive blessings a hundredfold — in good measure, pressed down and overflowing.
Jesus is faithful and keeps ALL of His promises.
[Editor's Note: The community of which Mr. Wenke writes has recently celebrated the first profession of one of its nuns, Sr. Lucia Marie, and invites you to read about it here and here.]