I was able to view an extraordinary gathering of women who have risen from degradation to astonishing heights
Need an idea for Lenten almsgiving?
Help us spread faith on the internet. Would you consider donating just $10, so we can continue creating free, uplifting content?
Make a Lenten donation here
The thought of thousands of women marching in Washington, expressing the beauty and strength of women everywhere and demanding the dignity and respect they deserve, made me dream of a massive mural worthy of Michelangelo. The idea of women uniting to support single mothers, who make up the majority of below poverty-level households, and fighting sex trafficking and exploitation had me longing to grab a plane ticket and join them.
My sympathies were with those women who were offended by the denigrating comments Donald Trump has made about women, and which were disclosed during the election campaign. And yet, an abortion march is no solution; it is a big part of the problem. Furthermore, what kind of women's march discriminates against other women for daring to have their own thoughts?
The Women's March could have been an opportunity to reach across divides and try to find some dialogue amid the different sides of religious liberty and birth control/abortion issues. But when New Wave Feminists signed up to co-sponsor the march, they were thrown out for being pro-life. (I do thank the March for drawing my attention to those remarkable women; I'll be following them closely, now).
So, the reality of the Women's March, highjacked by Planned Parenthood and plagued by contradictions, made me grateful to be here in Rome where, from my vantage point, I was able to view an extraordinary Women's March depicted on our walls, carved in our stones and echoing in our streets. A Church that has welcomed all women from the holiest to the most sinful from its beginning.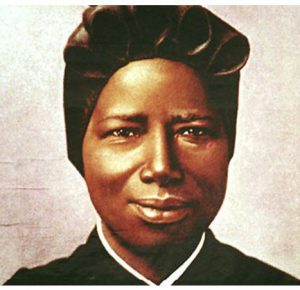 The Church knows "black lives matter." It was the Canossian sisters of Venice that brought about the freedom of African slave Saint Josephine Bakhita. Before her, St. Bathilda (whose feast day is Jan 26, btw) was freed in 649 by King Clovis who married her, and as queen, she used her authority to fight slave trafficking. Women in the front lines for other women.
Seeking to overcome violence and humiliation by men? Look at Saint Agnes, publicly shamed after "just saying no," she was stripped in a track and field stadium, brought to a brothel and ultimately stabbed in the neck by a big brute with a dagger. Her courageous conviction brought about the end of Diocletian's persecutions and gave rise to some of the most beautiful art and architecture in Rome.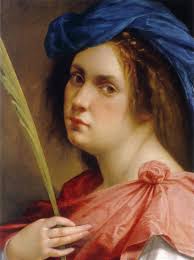 Hoping to help abused and marginalized women? Learn about Artemisia Gentileschi, who recovered and flourished within the heart of the Church. Raped at 17, she remained with her aggressor in a very degrading relationship, until her own father humiliated her with a public denunciation. Forced to leave Rome, she landed in the Counter-Reformation Medici court in Florence, where she became a world-famous painter of dramatic scenes of virtue conquering vice (Judith and Holofernes) and repentance (Mary Magdalene) and was the first woman inducted into the Florentine painters academy, thanks to her friend Galileo. Despite her "scandalous" past, her best patrons were the most serious proponents of orthodoxy in the face of the reformation: Grand Duchess Christina of Lorraine of Tuscany and Cardinal Ludovico Ludovisi.
Assault, blame and shame couldn't keep her down, and the Church that preached conversion helped her rise not only in spirit but in art.
And what about those women who have walked a complicated path, made wrong choices and felt lost along the way? Join hands with St. Margaret of Cortona, who after years of living off her sugar daddy in 13th-century Tuscany, found a path to sanctity for her and her son. Rome's churches are filled with memorials of the "reformed" women, who after the mistakes of youth found a fulfilling life by learning and then demanding respect for their bodies. Dorothy Day, a women's activist who had an abortion in 1921 and became a single mother in 1925, is such a model for the modern woman. The Church has placed her on the track to sainthood.
Read more: Inspiring story of the twice-divorced women who became a heroic, prison-ministering nun
Instead of taking, women are exceptional at giving. The image par excellence of charity in the Church is a nursing mother – women give their very selves for the future and for hope, something no man can do. Mary, the most represented woman in history, depicted by Titian, Leonardo, Ingres and Rublev, is the ultimate image of giving, from Fra Angelico's Annunciation to Michelangelo's Pietà.
Indeed, Emperor Constantine, perhaps not the deliverer the early Christians would have chosen, since he murdered his wife and stepson yet planned to be buried amid the apostles, learned to appreciate the value of Christianity thanks to his mother, Saint Helena.
Look through the liturgical calendar, at the beautiful paintings hanging in sterile museums and the in spectacular churches and you will find women everywhere – beautiful, inspirational, and brilliant, leading the most important Women's March of all — the march toward Heaven.
Read more: She Who Loved: Mary Magdalene in Art