If you've taken to hitting the "Endless Screaming" button on Twitter, maybe one of these recipes can help...
If we spend much time with the news or social media, probably a lot of us are feeling the need to calm down right now. At least that's the advice I've been giving myself. "Calm down."
Some of the ways I've followed that advice include praying a rosary or chaplet, going for walks, BBC movie marathons, and food—warm, rich, and filling.
I often feel insignificant and disconnected from our world with all of the major crises brought to my attention through my computer or TV. If I can, I help others financially, but when I can't, I share food.
I'm a soup maker and during the long winter days, I will make up a kettle or two a week and share or freeze the leftovers. There is a quietness that comes when cooking, and a sense of belonging and being blessed when able to share a meal.
I've offered favorite soup recipes before on Aleteia, and here are a few more.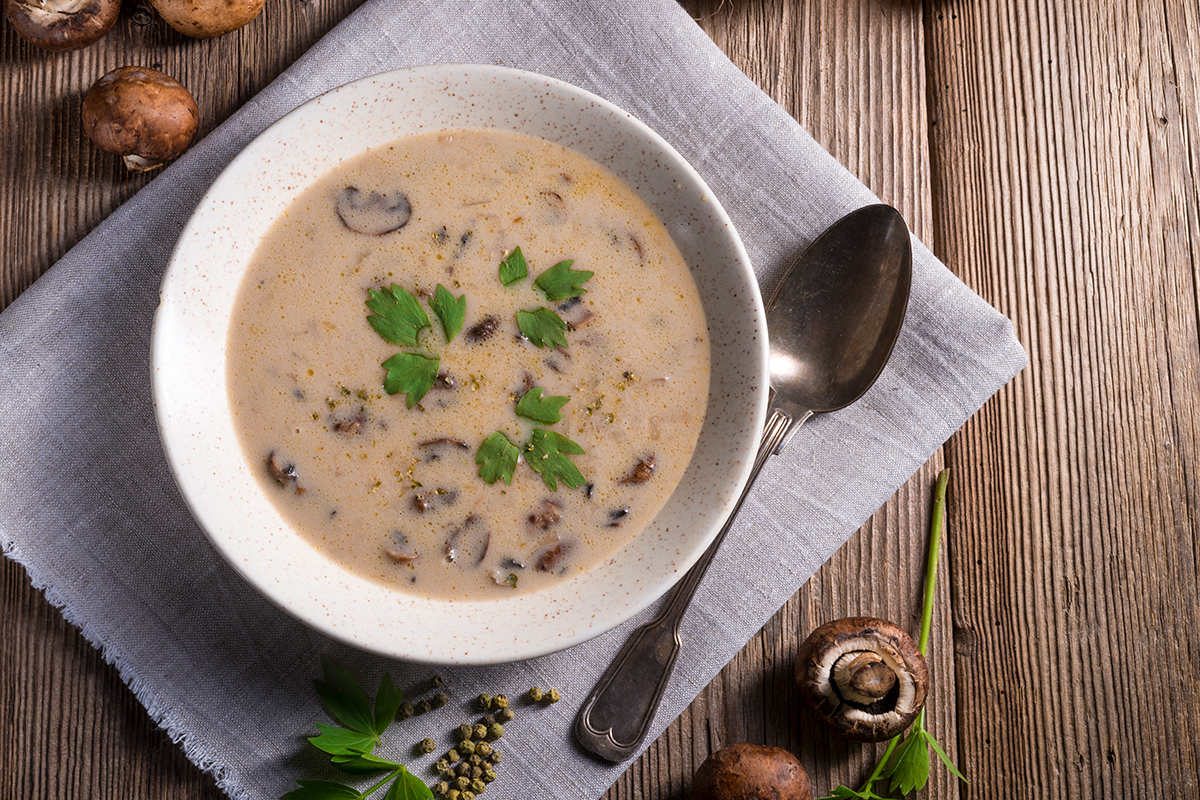 Mushroom Soup
A go-to soup for vegetarians and those meatless Fridays!
1 c. raw barley or brown rice cooked in:
6 c. vegetable stock (or 6 c. water and 2 tbl. bouillon paste)
2 c. onion, chopped
2 c. carrots, chopped
1 ½ c. celery, chopped
2 tbl. sunflower oil
4-5 c. Portobello button mushrooms sliced (usually about two to three 5-oz. packages)
1 tbl. dill weed (if using fresh, go with about 2 tbl.)
1 tsp. salt
1 tsp. ground black pepper
¼ c. fresh minced parsley
1 tbl. soy sauce
1 c. sour cream
Cook barley/rice in stock until done. Meanwhile sauté onions, carrots, celery in sunflower oil until tender, add mushrooms and continue sautéing until mushrooms begin to release their juices but are still firm. Add this to cooked grains. Add seasonings. Place sour cream in a bowl, dip out about a cup of hot broth and whisk it into the sour cream to temper it, then slowly add to soup.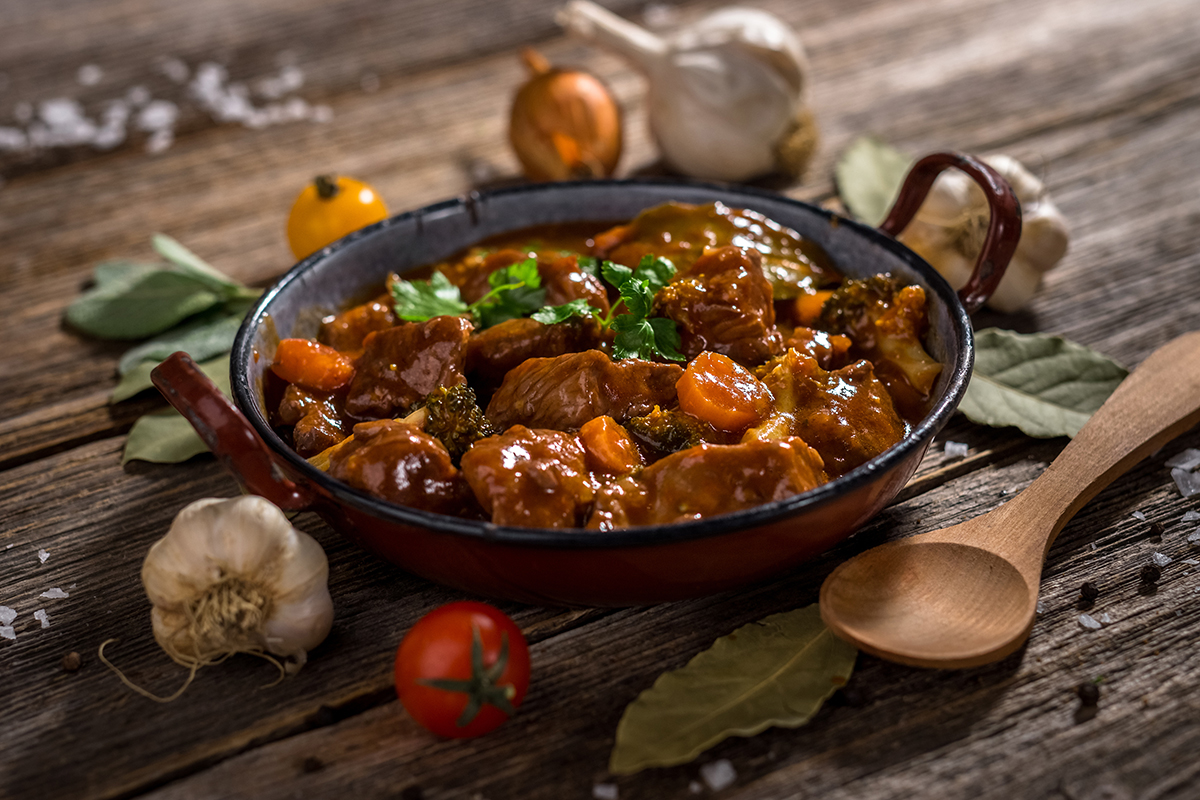 Beefy Sweet Potato Soup
This is an adaptation of a recipe I found in a magazine. It makes about five servings, but doubles easily.
1 lb. hamburger (the leaner the better)
2 small sweet potatoes, peeled and cut into about ¼-inch pieces
1 red bell pepper, coarsely diced
1 large Spanish onion coarsely diced (about 1 ½ c.)
2 tbl. olive oil, or 1 tbl. olive oil and 1 tbl. butter
3 c. water
1 tbl. beef bouillon paste (or sub water and bouillon with beef stock)
1 small can navy beans or black beans, drained
2 tsp. ground cumin
1 ½ tsp. curry powder
½ tsp. salt or more if using stock instead of bullion
½ tsp. fresh ground pepper or ¼ tsp. red pepper flakes
5 oz. bag baby spinach, coarsely chopped
Sauté the burger in olive oil until brown and crumbly, add potatoes, pepper, and onion and sauté about 3-5 minutes longer. Add water, bouillon, beans, and seasonings. Bring to a boil and cook until potatoes are slightly tender then add spinach and cook for another 3 minutes. This soup is best if left for about an hour for flavors to fully develop. Serve with a dollop of sour cream or grated cheddar cheese on top with a side of corn bread.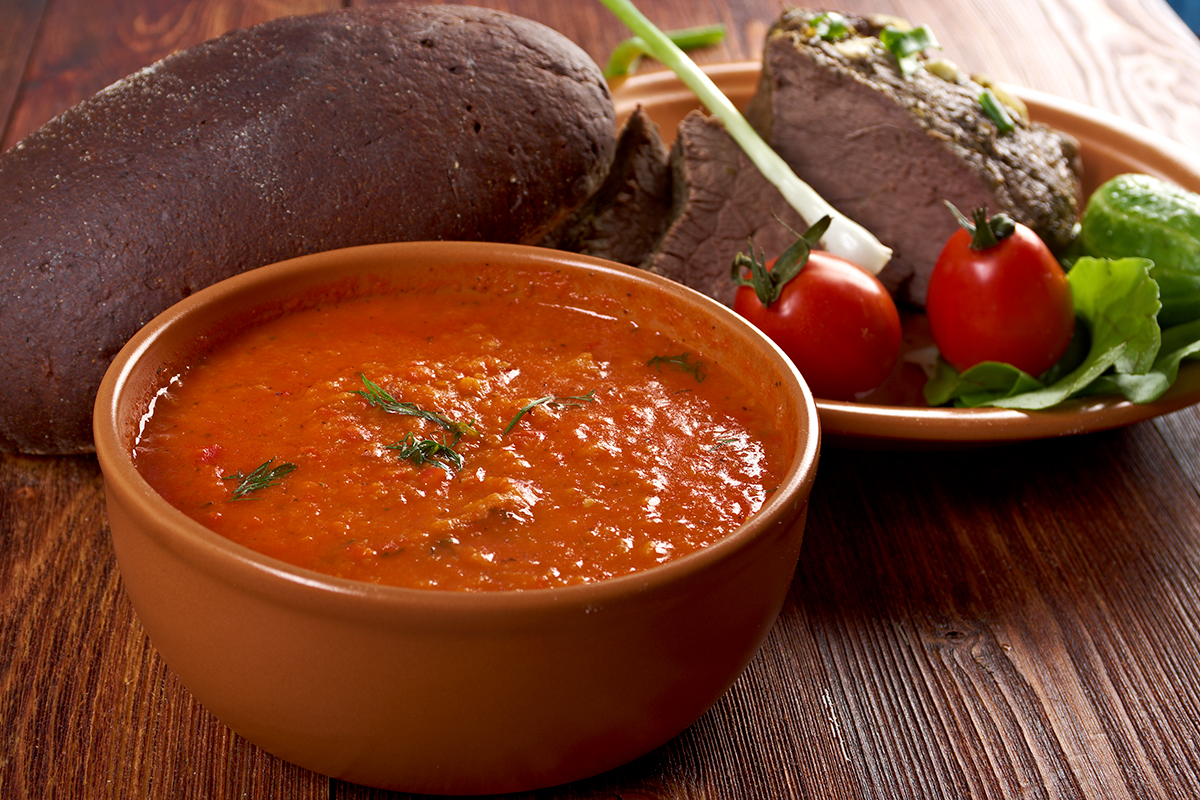 Hurry-up Italian Tomato Soup
A friend calls, all upset, and wants to come over… now! Toss together a batch of biscuits, adding ¼ c. of shredded Parmesan cheese, get them in the oven, and then make this soup. You'll be ready for your friend in about 15 minutes.
2 cloves garlic, diced
1 c. onion, diced
1 tbl. olive oil
1 28 oz. can diced Italian stewed tomatoes; puree half of it
½ c. water
1 tsp. vegetable or beef bouillon paste
5 oz bag baby spinach, coarsely chopped
Fresh grated or shredded Parmesan cheese
Sauté onions in olive oil until tender, add garlic, sauté a bit longer, add tomatoes, water, and bouillon and bring to a boil. Add spinach, reduce heat and simmer about 3-5 minutes. Serve with shredded Parmesan on top, a side of biscuits, and wine.
"If we have no peace, it is because we have forgotten that we belong to each other." ~St. Teresa of Calcutta