Strangely, painting an image that both attracts and revolts me brought me peace
In my early 60s I began taking painting classes. After about a year, a friend sent an image of a ceramic tile with a childlike Sacred Heart. She asked if I could paint something similar, and yes, I could. It was an uncomplicated design of saturated purples, reds, and greens.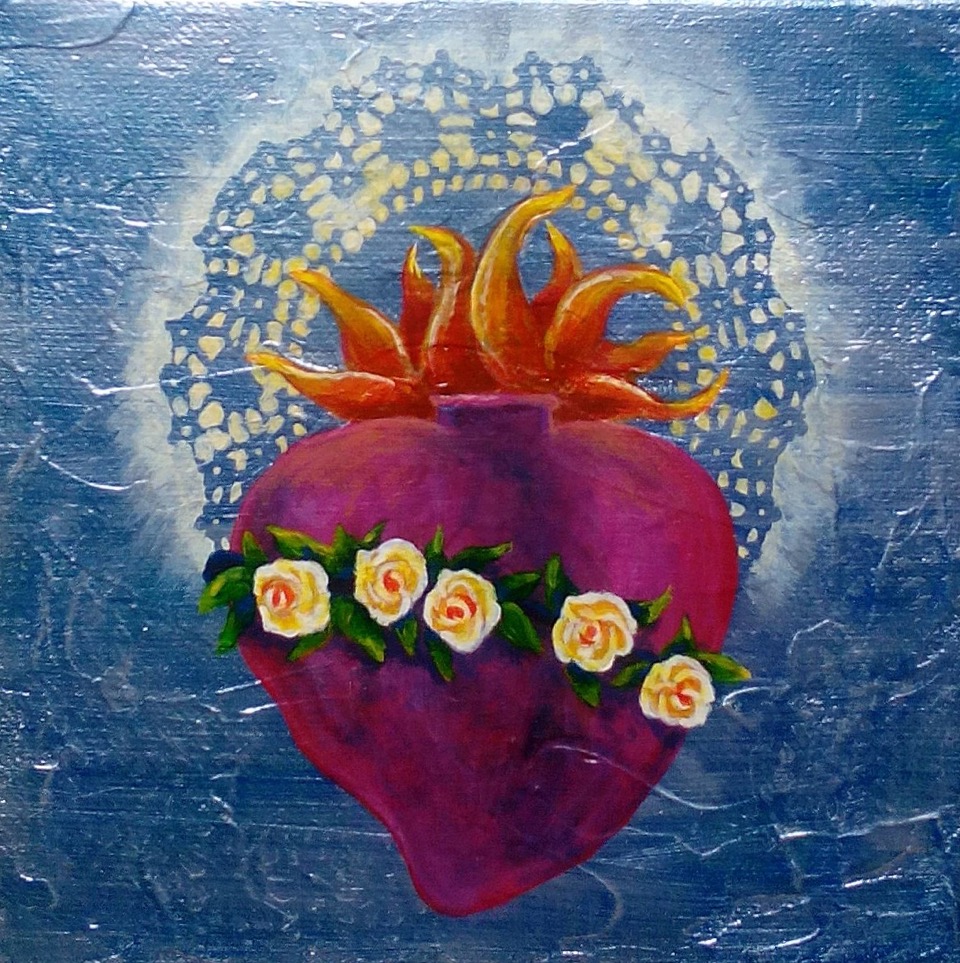 I've an odd attraction and revulsion to the Sacred Heart. The earliest images I remember from childhood were of the Heart ripped open, blood dripping—usually into a waiting cup—all surrounded by pretty birds and ribbons with flowers. To meditate on that oozing blood was too much for my childhood sensibilities. As I matured in faith, the beauty of a love which would go that far reduced me to tears. The bloody horror of the Passion made me want to turn away, but still I was drawn into His Heart.
Now, painting the image, I was startled at the movement in my soul. I struggle with anxiety, and discovered that painting displaced that emotion. While painting that first Sacred Heart, anxiety was replaced with peace. As I worked on the painting I found myself praying for the recipient. With each stroke of the brush a prayer was being embedded into the canvas… and I was quiet.
That quietness was familiar to me from my experience gardening. When I was still able to garden, I had that same peace, alone working with God's creation.
Gardening has brought me knowledge of plant horticulture, and plant symbolism in Christian art. I incorporate this "language of flowers" into my garden designs and books. I soon found myself doing the same with my paintbrushes. Botanical Sacred Heart images have been the result.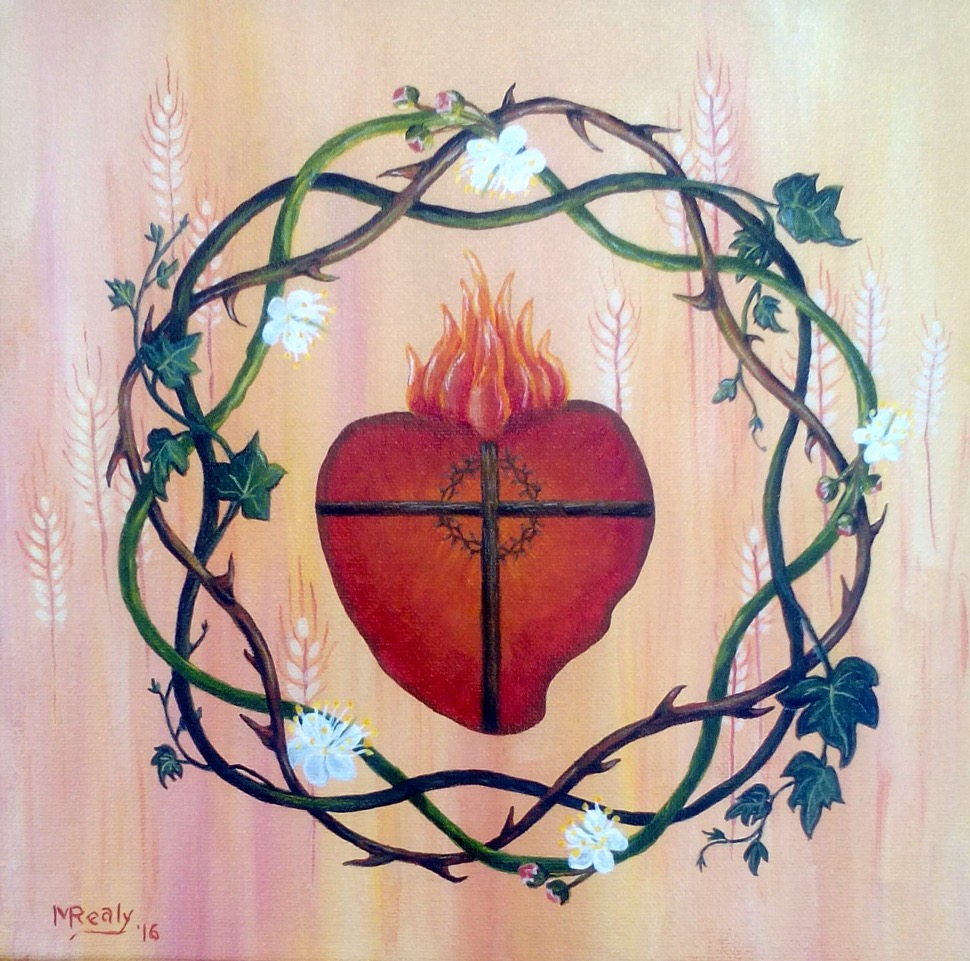 The commissioned images of the Hearts—Sacred Heart of Jesus, Immaculate Heart of Mary, or Chaste Heart of Joseph—include botanical elements specific to the recipient. A bride's might include the white Jerusalem myrtle that symbolizes marital bliss; a Christian writer's could have the hickory nut representing strength and endurance; a field of wheat and weeds as a backdrop to an emerging heart could suit a consecrated religious.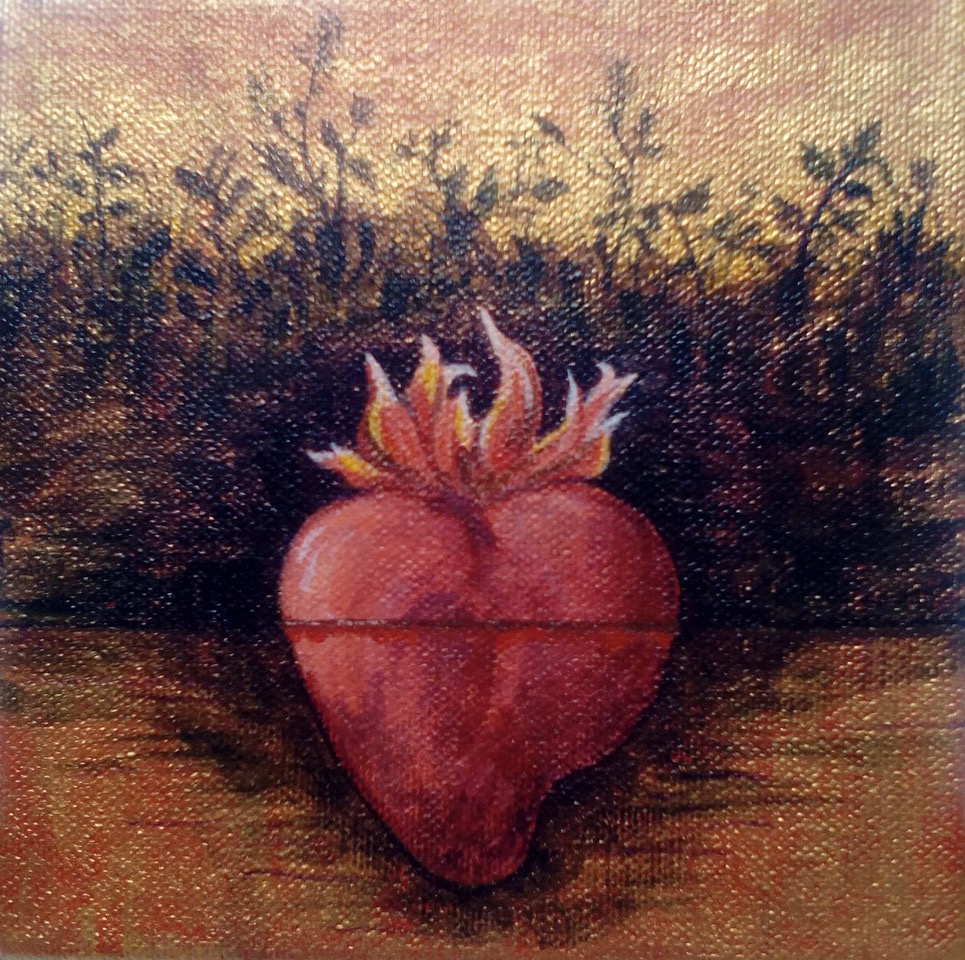 In painting Botanical Sacred Hearts I seek the One who stands with me always and who, at times, I do not feel close to. There is a longing, a frightening distance between myself and the Holy. Painting quiets that fear and allows a sense of God's presence.
For each patron guided to my work, the image on canvas is embedded with prayers from concept to completion. There are no expectations for perfection. It is only paint and prayers, and a restoration of peace.