Pope Benedict XVI especially encouraged married couples and parents to turn to St. Joseph, saying: "God alone could grant Joseph the strength to trust the Angel. God alone will give you, dear married couples, the strength to raise your family as he wants. Ask it of him! God loves to be asked for what he wishes to give. Ask him for the grace of a true and ever more faithful love patterned after his own. As the Psalm magnificently puts it: his 'love is established for ever, his loyalty will stand as long as the heavens' (Ps 88:3)."
And Pope St. John Paul II, with Pope Benedict and their predecessors, held up St. Joseph as a model of the interior life, pointing to the silence of St. Joseph which speaks louder than words. "The Gospels speak exclusively of what Joseph 'did,'" Pope John Paul II said. "Still, they allow us to discover in his 'actions' — shrouded in silence as they are — an aura of deep contemplation. Joseph was in daily contact with the mystery 'hidden from ages past,' and which 'dwelt' under his roof."
The liturgical feast of St. Joseph, Spouse of the Blessed Virgin Mary and Confessor of the Faith, is celebrated each year on March 19th. In preparation for this feast, we offer our readers a powerful 30 Day Prayer to St. Joseph.
Why 30 days, you might wonder? According to tradition, St. Joseph died just before Jesus entered into his public ministry. The prayer therefore honors St. Joseph for each of the 30 years he spent with Jesus and Mary on earth.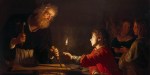 Read more:
This ancient prayer to St. Joseph has "never been known to fail"


This prayer can be said during any 30-day period, but with St. Joseph's feast fast approaching, now is a particularly opportune time to turn to him asking his help and guidance for all your needs, the needs of your family, loved ones, friends, and all those in need of prayer.
And if you begin one or two days late, no need to worry. St. Joseph lives outside of time, and has been known to answer on the March 25th Feast of the Annunciation.
Click to page 3 to read the THIRTY DAY PRAYER TO ST. JOSEPH IN HONOR OF THE 30 YEARS HE SPENT WITH JESUS AND MARY