A consummate news hound and political commentator discovers something about God... and herself
Back in December, just before Christmas, Kathryn Jean Lopez had announced on one of her weekly newsletters: "BY THE TIME YOU READ THIS, I SHOULD BE OFFICIALLY DISCONNECTED."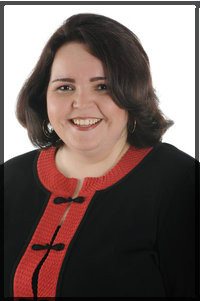 It sort of sounds like what some people put up on their Facebook wall around the beginning of Lent, swearing off social media for 40 days in order to focus more completely on prayer and fasting.
But this was Christmastime. Lopez, a long-time editor at National Review and now with the National Review Institute Center for Religion, Culture, and Civil Society, was bidding her readers farewell for a month. She was about to go on a 30-day retreat according to St. Ignatius Loyola's structure for Spiritual Exercises.
It's something she had wanted to do for a very long time, and she finally had a chance, several months before, to schedule it. That was before Andrew Sullivan published an article about how the internet had changed him radically—and not for the better. "He went to silence for some detox from all the constant online-ness," Lopez wrote, thinking aloud about the role she's played as a journalist in the digital age, "making everyone think you must have an online rapid response to everything, immediately, 10 minutes ago."
Aleteia reached out to her for a look at her experience on retreat, and though she did not provide an "online rapid response," perhaps that only means that her 30-day retreat had some effect.
A 30-day retreat! Wow, most people, if they even think about going on retreat, might do it for a day or two, or a long weekend. Why so long? What prompted you to do this?
St. Ignatius Loyola's Spiritual Exercises are a guided 30-day program. I'd been coveting my neighbors' month-long silence for more than a few years—a number of priests, some very good friends, and sisters I know have done it. So it was time.
And I had the flexibility to do it. A few years ago I went from having to be ahead of the news as an online editor at National Review Online (days when I never took a vacation for many years) to having a lot more freedom to organize my time as a "senior fellow" at the National Review Institute now. I'm not always good at that, but this Advent I was, for once, because I gave it to God. He really does order the days in His peace if we give Him a "yes."
And I was further nudged to do it by a three-year spiritual-direction certification program I'm going into my third year of at the Cenacle of Our Lady of Divine Providence in Clearwater, Florida. That's a long story unto itself but suffice it to say that it requires one do the Spiritual Exercises before "graduation."
Obviously not everyone can do what I did. But Ignatius also has a version of the Spiritual Exercises that take into account most people's weekly realities. One of the actors who played one of the Jesuits in the recent Martin Scorcese Silence movie recently talked about doing that in America magazine.
Whatever you can work out, a little silence is a great gift. I love a little book Gary Jansen wrote that points out that 15 minutes a day is one percent of your day. So start there. Some days that may feel impossible, but we know better. Don't we all know moms who pray in the shower, commuters who pray the Rosary in traffic? There's time. God directs things when you let Him, when you give Him time. So there's really not a better way to spend 15 minutes, for a start.
Give us some particulars. Where was it, and who conducted it? Where there other people on the retreat? What was the set-up like? How does it work?
Mine was little more customized than most—the time I could get away was the end of the year, which happens to be off-season for tourism in Assisi. I was on my own and stayed at a Bridgettine house there (that's a longer stay than they usually accommodate but their charism of hospitality led them to say "yes") and was directed by a diocesan priest for whom Ignatian spirituality has become second nature.
It was a remarkable opportunity God carved out for me, with time alone in many cases in places where St. Francis and St. Clare spent days and nights, and where their earthly remains rest. Holiness is palpable there. I cannot do it justice with words, but you smell it in the smoky late-Fall/early-winter air, you see it in the sky, you feel it in the walls of the basilicas and churches.
At the heart of the Exercises are five hours of prayer a day with Scripture. Ignatius tells you the verse or gives you an image for a deeper encounter with Christ. God does the rest. In 30 days, you experience deluges of grace where the hour feels like 30 seconds and struggles where the day seems like it might never end.
It's a little like being on an operating table. You know you're in need of healing and you know the Divine Healer is at work. You feel His hand mending. He gives you prescriptions. He shows you what you need to do differently and how He's going to make it possible. And that the only thing you need to remember going forth is to trust Him completely.
Ignatius's Exercises and rules for discernment are being rediscovered by priests who find themselves at the Institute for Priestly Formation in Omaha as well as the Cenacle. And the Oblates of the Virgin Mary are a community whose charism is this: Ignatian formation and direction—giving and teaching the Spiritual Exercises and all of Ignatius' practical guideposts for spiritual direction, a toolkit for identifying the movements of the spirits in one's life. Father Timothy Gallagher's books and talks (I know he just filmed a new series this fall to air on EWTN) are a treasure trove of practical applications and familiarity with some of the best and most needed of Ignatius.
What sorts of challenges did you have to overcome, and how did you work through them?
There were a ton.
There's a book that is a great preview of the Exercises called Stretched for Greater Glory that sorta says it all in the title. There is no such thing as a "comfort zone" during the Exercises. If you let Him, He leads you to confront everything you wouldn't otherwise. Because He wants nothing holding you back from living in the freedom that is the true Christian life. When you're done, you realize you're only beginning. And beginning again every minute of every hour of every day, to be truly His in the world.
You said in your initial note to your readers that you would dedicate all your time to prayer. Didn't that start to get boring?
I'm the first person to let the world and my self-centeredness distract me from prayer. But, goodness, when I go to Him in prayer, I can't imagine it ever being boring. Even when the Devil's on the prowl or God's training me to love more in dryness, the Creator of the universe is in communication with you; you're giving Him just a little of your time. I can't imagine the word "boring" every applying.
Reentry was harder than entry. Ignatius is all about the Word and encounter, as Pope Francis might put it. So you're praying with Scripture and in many ways the world—and in a particular way your life and God's hand in it—is being revealed to you on a whole different level than you've been aware.
What are some of the effects you noticed this experience having on you?
I think it's harder to be indifferent to injustices you contribute to by your indifference or worse. And the paradox of Christ's peace leading to an insatiable restlessness becomes more normal. I'm such the sinner and work in progress but I know hope in a more life-giving way. You see the possibilities rather than the obstacles. You want to try rather than come up with lists of reasons to justify a "no" to a seemingly crazy idea you know probably wasn't your own so it might just work because it might just be God's idea.
You also talked, in your note to readers, about your empathizing with Andrew Sullivan's reaction to social media and the kind of person he had become. Did you go cold turkey on this retreat, leaving home your laptop and phone? How did it go? Did the retreat help you find a healthy way to use digital technology and social media? Do you find yourself falling back into your old ways?
I aspired to be a purist and find a wind-up clock and only use a watch (I even bought a $15 big red watch at JFK airport before I boarded the plane) but those things were with me (I had a few deadlines I was meeting as I was flying over and before shutting down). In the end I always had my phone around, in large part because I pray the Liturgy of the Hours, and forgot to bring the book version along. Which, frankly, made it all feel less artificial. The phone praying is a part of my every day and I could continue to do that while choosing not to check in on Donald Trump's Cabinet choices and all the rest. I accidentally found out Fidel Castro died one day, but then figured there might have been a reason for that, too.
Andrew Sullivan's essay in New York magazine a few months back was about a different but similar experience, and boy did it resonate. As many different views as we have on issues, I've always felt a kinship with him because there has always been a beautiful transparency about him and his writing—something Rod Dreher exemplifies, too—during pioneering days of internet commentary and blogging. We were living different and yet similar lives in that way, a cyber experience of life before it went mainstream. So I appreciated his essay inasmuch as I was grateful he got time away for silence and unplugging, it resonated because of my own history of hyper-connectedness and news addiction, and made me even more eager to shut down.
He had a stirring few sentences, I thought, where he quoted the comedian Louis C.K. on the Conan O'Brien show explaining why he didn't want his kids to have cellphones:
For if there is no dark night of the soul anymore that isn't lit with the flicker of the screen, then there is no morning of hopefulness either. As he said of the distracted modern world we now live in: "You never feel completely sad or completely happy, you just feel … kinda satisfied with your products. And then you die. So that's why I don't want to get a phone for my kids."
Habits are habitual and all, so yes, it's human to fall back. But free will is also more real than ever, and the liberation that is. There's a new gratitude and an intolerance for artificial limits on the goodness and possibilities of creation. There's a deeper and growing peace about Who is in charge and why trusting Him is just about the most powerful thing you can do. People today feel such bondage. It's false. We Christians have to help everyone see by living in the truth of how God made us, in His image and likeness. That may be a line you memorized before First Communion or Confirmation, but how many of us make it our reality—the reason we get up in the morning and the air we breathe? During the Spiritual Exercises, you see how that looks in the every day in a more unmistakable way.
The Spiritual Exercises are obviously a particularly intense way to discover this but any time given to God will deepen an appreciation that unquiet is where the Devil thrives. Resting in Him is the only way for something different.
But that "yes" I mentioned before, it's not a one-time deal. It has to be renewed.