These catacombs are the last dwelling place of almost 2,000 of the faithful departed
The Catacombs of the Capuchins of Palermo are the last dwelling place of approximately 1,800 faithful. Some better embalmed than others, they all rest in the subterranean corridors of a convent of the Order of Friars Minor Capuchin, erected in the 16th century.
Launch the slideshow
Tradition claims the first person to be buried in these catacombs was the Franciscan friar Silvestro de Gubbio, back in 1599. Although originally reserved to house only the bodies of the friars who died in the convent, over time Palermitans who were close to the Franciscan community asked the friars to receive the bodies of their relatives, so that they could rest forever on holy ground.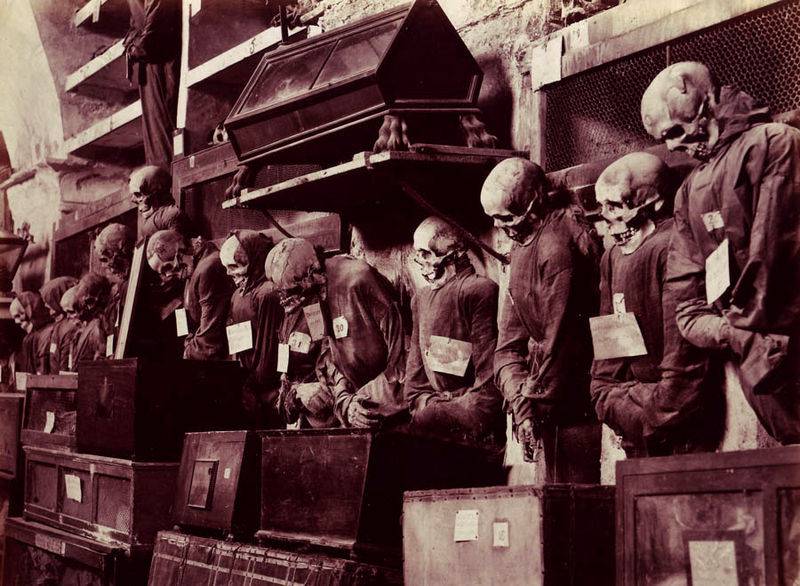 That is how these catacombs eventually became populated not only with deceased friars and priests, but with the mortal remains of the neighbors of Palermo.
In addition, these bodies were not buried, but perfectly embalmed to preserve them properly in the catacombs, and not underground.
The process, which included the dehydration of the bodies to be preserved and the application of vinegar to facilitate preservation, was not at all a novelty, or an uncommon practice. In fact, it was quite normal in Italy, at least until the 19th century.
Nowadays, the catacombs of the Capuchins of Palermo are separated into sections dedicated to priests, professionals, children, and the elderly. Professor Piombino-Mascali, also a native of Palermo, is dedicated to studying the "mummies" inhabiting these catacombs.
To see the full article published in Mental Floss, specifically on the work of Professor Piombino-Mascali, click here.