There aren't as many as there should be, but here are some of our favorites.
A defiant little girl stares down Wall Street's iconic bronze bull, and causes a sensation.
When the investment firm State Street Global Advisors decided to install Kristen Visbal's sculpture last week on International Women's Day, they were hoping to make a point about the need for more women involved in board-level and management positions in the financial industry.
"One of the most iconic images on Wall Street is the charging bull," State Street deputy global chief investment officer Lori Heinel told Business Insider. "So the idea of having a female sort of stand against the bull or stand up to the bull just struck us as a very clever but also creative and engaging way to make that statement," Heinel said. "Even though it's a little girl, her stance is one of determination, forwardness, and being willing to challenge and take on the status quo."
Beyond the firm's intended point, Visbal's artwork drew attention from tourists and media. Some, like the young girls seen copying the statue's pose in selfies, obviously loved it. Others thought she looked a little too forward, maybe – "like a brat."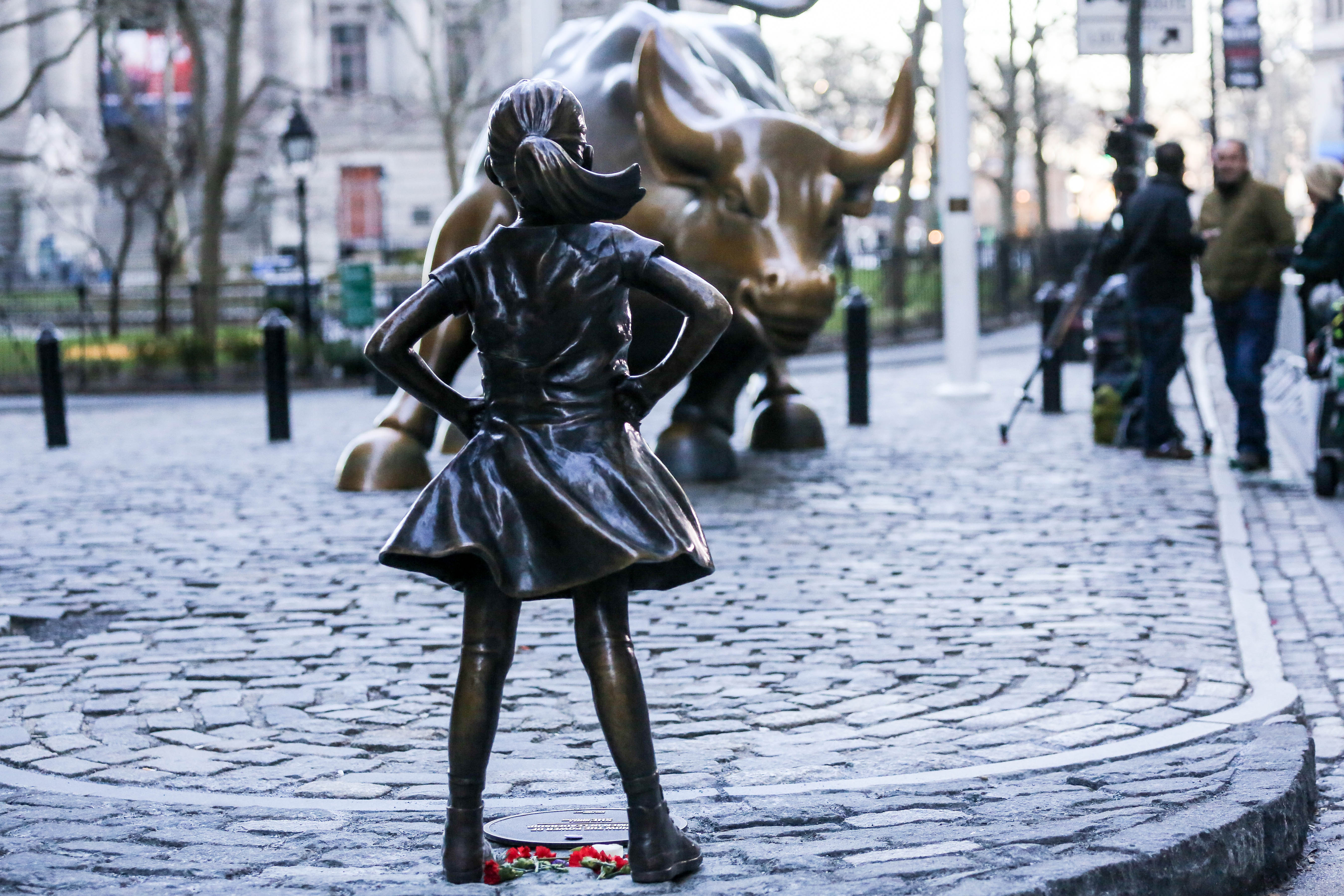 Whatever your reaction, the story got us thinking about public art depicting women, both religious and secular, that inspires and challenges us. We found that the vast majority of women depicted in public sculpture and other forms of art are allegorical. They represent civic virtues like liberty (the Lady in New York Harbor), justice (blindfolded, holding her scales), and temperance. Or they embody the emotions of joy in victory or, most often, grief in passing.
Public artworks depicting woman as themselves – as famous personalities, saints, even anonymous realistic females like the little girl of Wall Street – are as rare as seats for women on corporate boards. Here are a few of the ones we like.
"Margaret"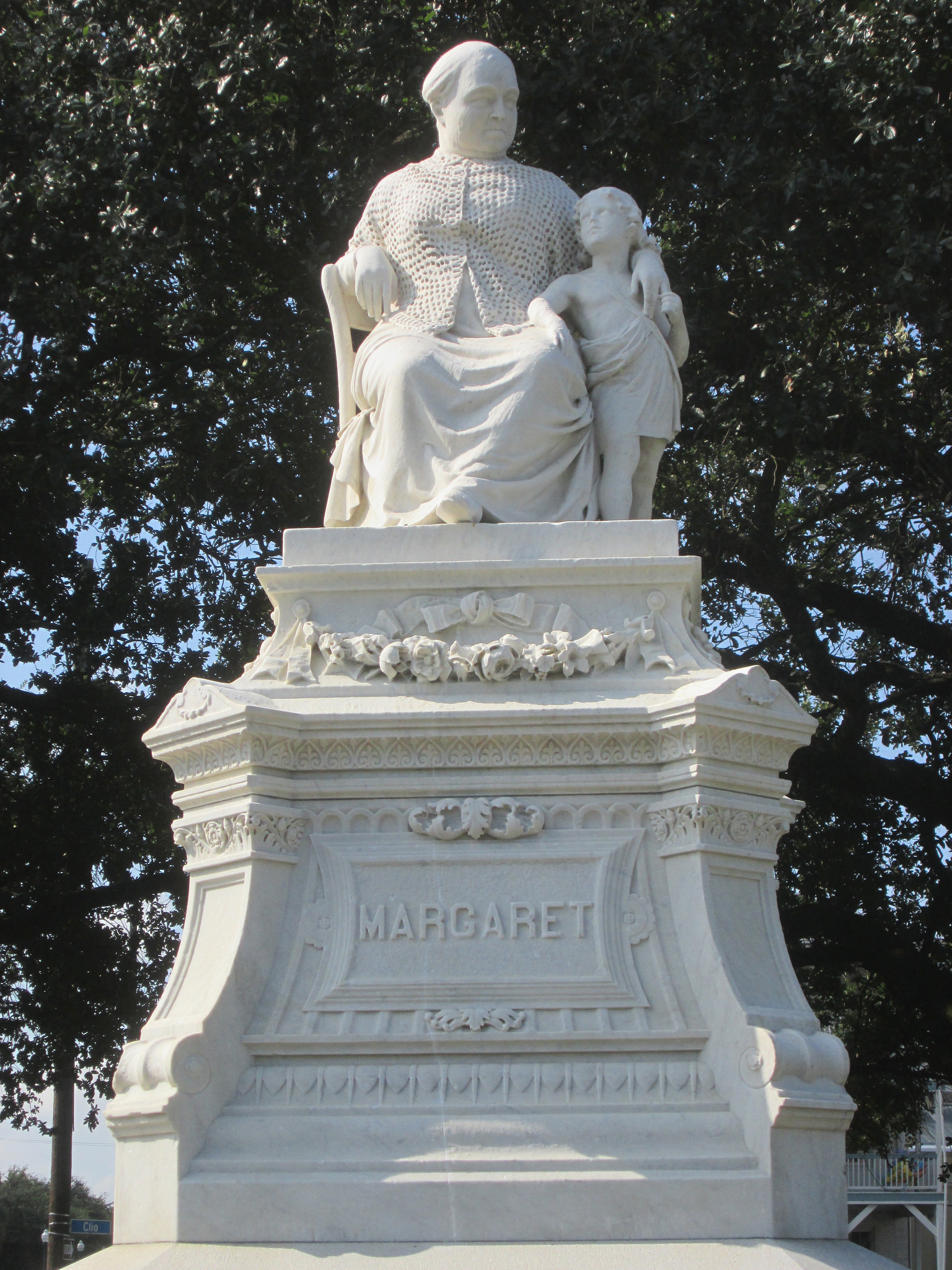 Alexander Doyle, 1884
Margaret Place, Camp and Prytania streets, New Orleans, Louisiana
The first public monument honoring a real woman in the United States, "Margaret" depicts New Orleans' "Mother of Orphans," Margaret Haughery, whose story deserves to be more widely known. An Irish Catholic immigrant orphan turned widowed businesswoman and down-to-earth philanthropist, "Our Margaret" fed the hungry, cared for families of Civil War casualties, and mothered hundreds of orphans in the homes she founded along with the Sisters of Charity. Margaret's $6,000 Italian marble statue, which depicts her seated with one of "her" children, was paid for in contributions of nickels and dimes.
Joan of Arc
Anna Vaughn Hyatt Huntington, 1915
93rd Street and Riverside Drive, New York, New York
(Replica outside the Palace of the Legion of Honor, Golden Gate Park, San Francisco, California)
The first real-life woman to be depicted in public art in New York City (even today, she is joined by only 4 others – Eleanor Roosevelt, Harriet Tubman, Gertrude Stein, and Golda Meir), the Maid of Orleans lifts her sword and our spirits in larger-than-life bronze in Riverside Park. A committee raised funds for the monument, a tribute to US support for France at the start of World War I. Stones from St Joan's prison at Rouen were incorporated into the statue's pedestal. The sculptor Anna Hyatt Huntington was the first woman to have an equestrian work placed in New York.
Saint Monica
Eugene Morahan, 1934
Palisades Park, Santa Monica, California
Passersby in the Santa Monica park that overlooks the Pacific often mistake this 18-ft Art Deco statue of the city's namesake for the Blessed Virgin Mary. Saint Monica, mother of St. Augustine, was renowned for her patient love and prayer for her son's conversion. Sculptor Eugene Morahan, commissioned by the New Deal's Works Progress Administration (WPA), perfectly captures Monica's steadfast care. The monument was intended "to be a tower of strength for mothers everywhere." Rushing to make the dedication deadline, Morahan received assistance in completing the statue from Gutzon Borglum, sculptor of the Mount Rushmore Memorial.
"Roses" (Our Lady of Guadalupe)
Mural by street artist Twick (Mel Waters)
Lilac Alley and 24th Street, Mission District, San Francisco, California
Perhaps no woman is more frequently depicted in public and private art than the Blessed Virgin Mary. In the US, as in Mexico and parts of Latin America, Mary's most striking public representation is as street art – murals – of Our Lady of Guadalupe, patroness of the Americas. From art projects like this one to graffiti to rough representations on the bodega walls and freight train overpasses, the dark Virgin of Tepeyac spreads her protective mantle across the country. In a way, the Lady's first appearance, as a miraculous image on the cactus-fiber tilma of St Juan Diego, was public art that converted millions of hearts.
Barbara Jordan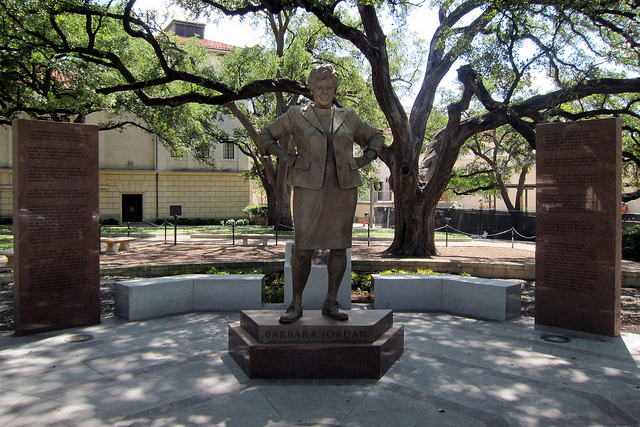 Bruce Wolfe, 2009
University of Texas at Austin
With a slight smile and a determined stance, Bruce Wolfe's bronze sculpture of Civil Rights advocate Barbara Jordan draws every eye under the Battle Oaks of the University of Texas at Austin. A student-led movement to add women to those commemorated on campus resulted in the selection of Jordan, who was a professor at the university's LBJ School of Public Policy for 17 years. At the memorial's unveiling, it was said of Jordan, who in her career as a state legislator, Member of Congress, and lawyer fought for African-American rights and immigration reform, "She never sought recognition. In fact, she was typically humbled by any praise. She simply sought justice for all – Justicia para todos."
"Peace Monument" (Comfort Women Memorial)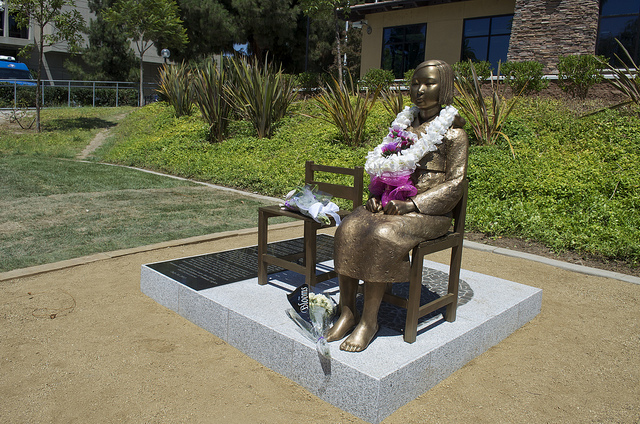 Kim Woon-sung and Kim Seo-kyung
Various cities (shown here in Central Park, Glendale, California, 2009)
This memorial's tranquility is deceptive. The sculpture of a young Korean woman, seated next to an empty chair and with a bird perched on her shoulder, is intended as a tribute to the "comfort women" of World War II – the "more than 200,000 Asian and Dutch women who were removed from their homes in Korea, China, Taiwan, Japan, the Philippines, Thailand, Vietnam, Malaysia, East Timor and Indonesia to be coerced into sexual slavery by the Imperial Armed Forces of Japan between 1932 and 1945," according to the memorial's Korean sponsors. Japan has never acknowledged that the comfort women were forced into their role, and Japanese groups continue to pose legal challenges to the placement of replicas of the monument in communities around the world. In 2016 the city of Glendale, California, prevailed against one such lawsuit. Surviving "comfort women," known as Grandmas, and their families find solace in sharing their little-known story.
Do you have a favorite public monument that depicts a real-life woman? Share your choices in the comments!