Not eating meat on Fridays? You can still have an authentic Irish meal.
This year, America's most beloved Irish holiday falls squarely on a Friday. While many dioceses have made a special dispensation for their parishioners this year, others will have to make some adjustments to their traditional corned beef and cabbage meal. 
Nevertheless, St. Patrick is an important figure in our history, and should be remembered and celebrated. Known for his piety, humility, and gentleness, St. Patrick and his legacy, which has endured for roughly 1600 years, will be honored by any of these recipes. Give any of these modest, authentically Irish, and equally delicious dishes a try to participate in the Lenten abstinence as well as celebrate the life of a beloved and great saint.
Irish Soda Bread
What St. Paddy's Day menu would be complete without a classic Irish Soda Bread? This Brown Irish Soda Bread recipe from Proper Tasty is a true staple of Ireland and isn't difficult at all to execute! Bake it, toast it, butter it, and enjoy a classic—and delicious—Irish recipe simple enough for Friday's abstinence. (And maybe even pair it with the Leek and Potato Soup recipe below!)
Ingredients:
250 g brown wholemeal flour
250 g plain flour
1 tsp salt
1 tsp bicarbonate of soda
350-400 ml buttermilk (There is a note below on how to make your own buttermilk if you choose.)
Method:
1. Combine all of the dry ingredients in a large bowl.
2. Make a well in the center and pour in the buttermilk.
3. Form your hand into a 'claw' shape and starting from the center of the mixture, rotate and stir it all together until it's just holding together; the mixture should feel a bit wet and sloppier than other doughs and should only take a few seconds to combine.
4. Turn onto a floured surface and with flour-dusted hands form the dough together into a circle; you don't want to knead it as you'll end up with tough bread. Just shape it into a circle; again this whole process is quite quick.
5. Cut a deep cross shape into the bread and bake in a preheated oven for 35-40 minutes 200°C.
6. You'll know it's done when you knock on the bottom of the bread and it sounds hollow. If not, turn it upside down and cook for a further 5 minutes.
7. Cool completely on a wire rack covered in a clean tea towel.
8. Serve! (With real Irish butter if you can.)
NOTE:
A quick and easy way to make buttermilk yourself at home is to stir 2-3 tbsp of white vinegar or lemon juice into 350 ml of regular milk and leave it for 5-15 minutes!
Irish Smoked Salmon & Egg Boxty
The Irish are, of course, famous for their potatoes and all the amazing things they're able to create out of a humble spud. This recipe is a simple potato pancake, topped with an egg and some smoked salmon, if you wish. With just the right amount of seasoning and crunch, this recipe could be enjoyed for breakfast, lunch or even dinner. Give Kathleen from Hapa Nom Nom's video a watch and see just how simple (and tasty!) this recipe is. Find the full recipe at the blog here.
Traditional Irish Leek & Potato Soup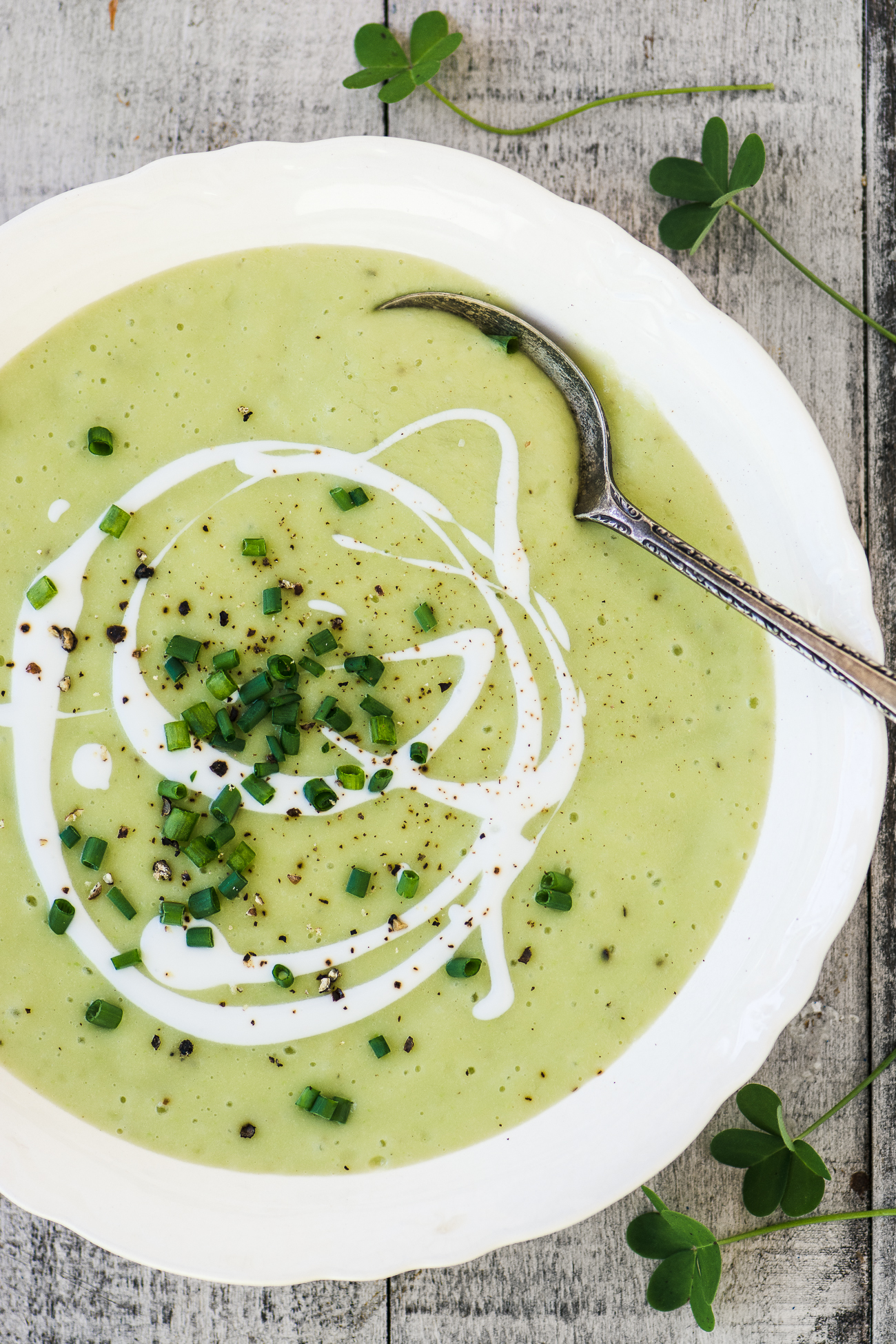 This simple leek and potato based soup is the perfect way to commemorate St. Patrick's Day with a warm and uncomplicated meal. Fresh, quality ingredients are the staples here, and Sue from The View from Great Island advises adding enough salt and pepper to liven things up, since traditionally Irish dishes don't use many spices. Whip some up for a comforting and wholesome meal, straight from the Irish countryside. Find Sue's full recipe here.