A look back at the wedding dresses of style icons like Lady Di, Grace Kelly, and Audrey Hepburn.
They were admired for their style and elegance every day and on special occasions. We associate them with famous photographs, movies, and special events. Generations of women have emulated their looks, haircuts, and mannerisms, right down to the shoes they wore. So why not steal a little bit of their wedding style for your own, too? Take a visual journey, and learn who was behind the most beautiful gowns worn by the most stunning women in the history of weddings.
Grace Kelly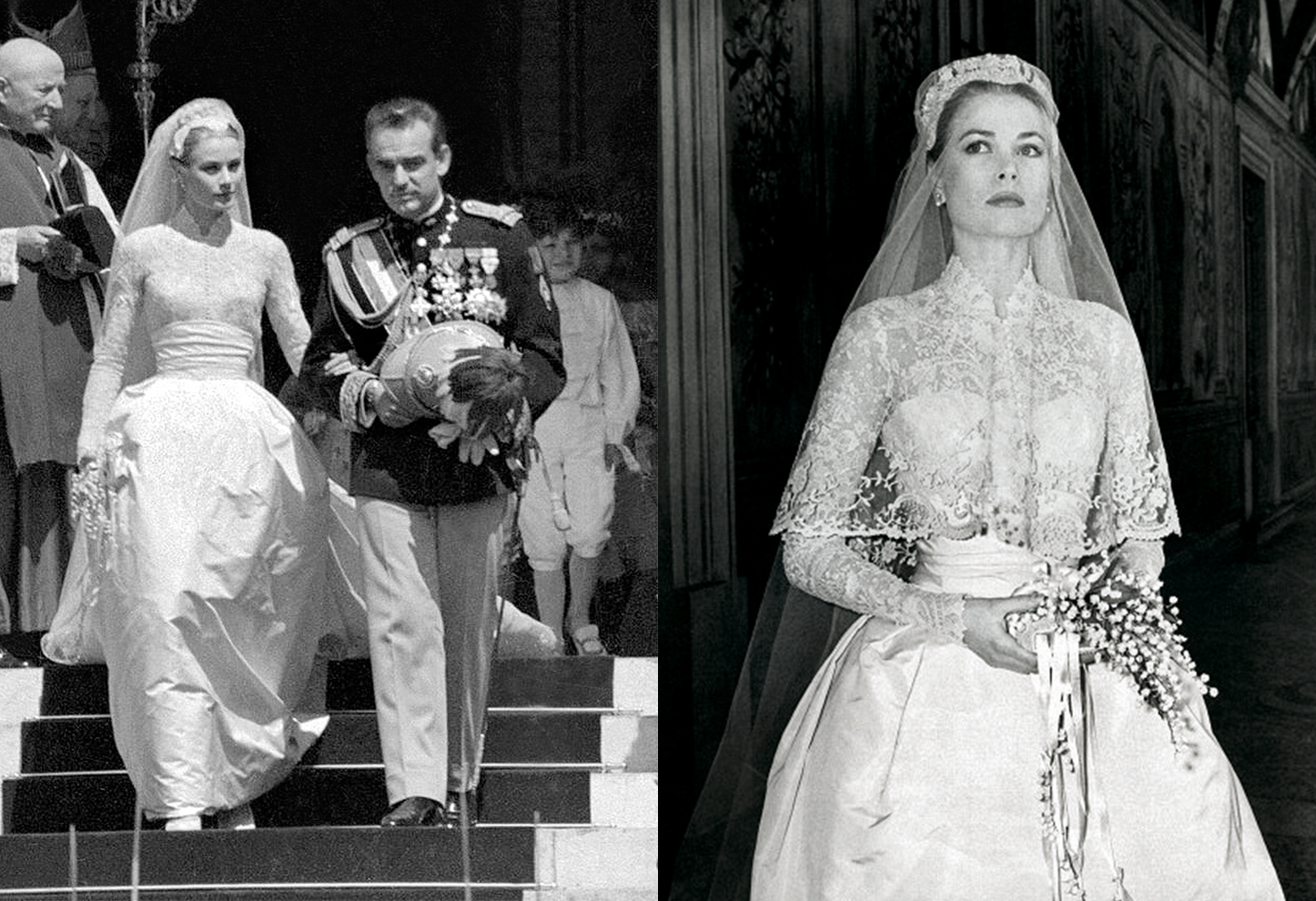 To call Grace Kelly's dress "the single most beautiful bridal creation of all time" is not an exaggeration. The dress was made by 36 seamstresses who took many weeks to finish it. Recently, because of the 60th wedding anniversary of Monaco's princely pair, many journalists took another look at the famous dress, and new photographs from the ceremony which, until now, were only part of the family archives were revealed to the public .
More to read: 11 Gorgeous wedding dresses with long sleeves
There's no question that Princess Grace looked absolutely stunning in her full-skirted gown and fitted lace bodice; she was the paragon of wedding elegance, both in 1956 and today. She kept to the classics and paid attention to the details: smooth hair, a tiara, and small shiny earrings.
Audrey Hepburn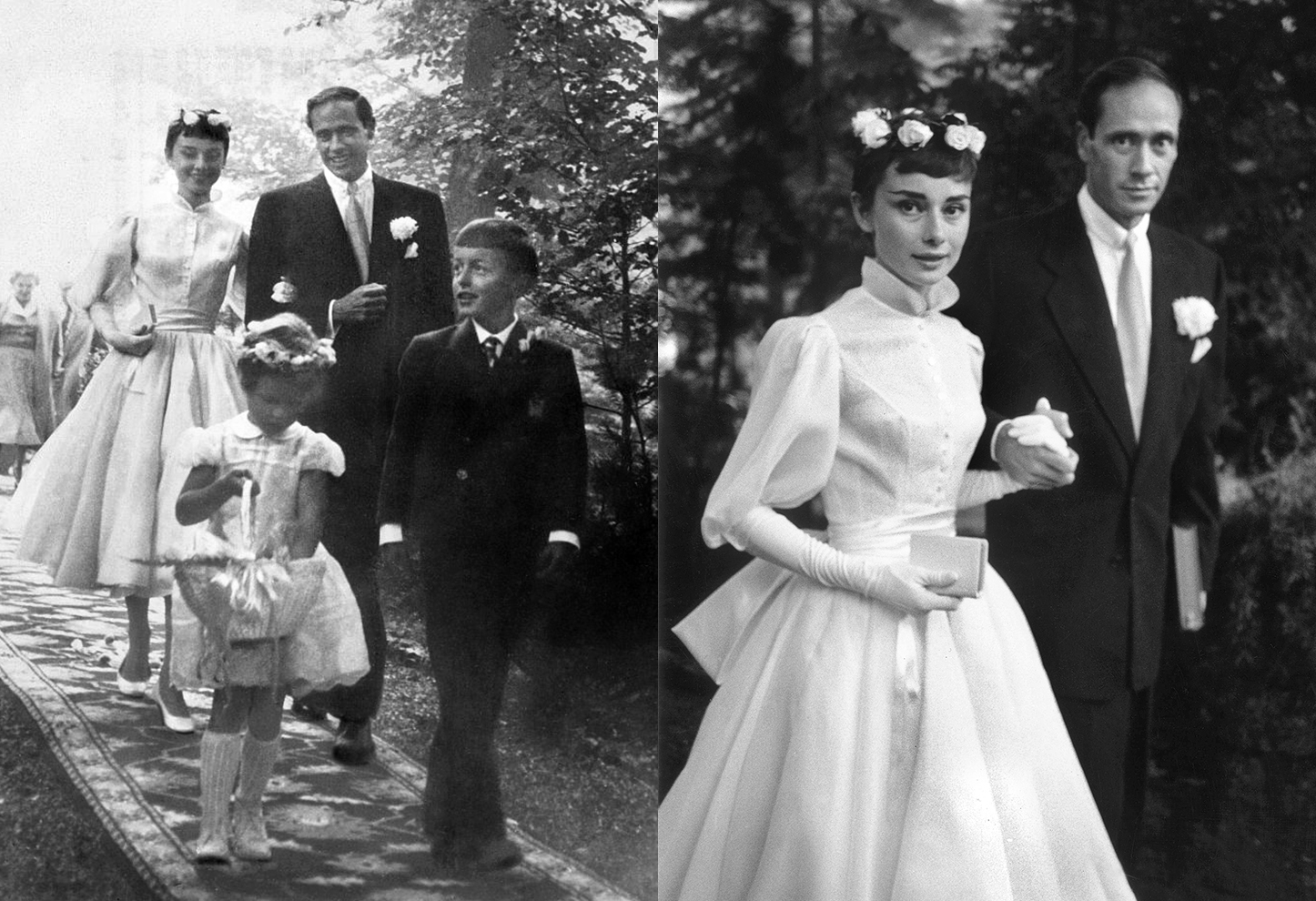 This unquestionably cult-favorite wedding creation proves that shorter dresses are just as traditional as long ones (though they get a reputation for being avant-garde). The Pierre Balmain dress made of delicate organza, which Audrey wore for her wedding with Mel Ferrer, was slightly reminiscent of her wedding look from the movie Funny Face, but lacking the veil and bouquet. Instead of flowers, Audrey chose her iconic accessory: gloves. 
More to read: 4 Audrey Hepburn inspired outfits you can wear
Jackie Kennedy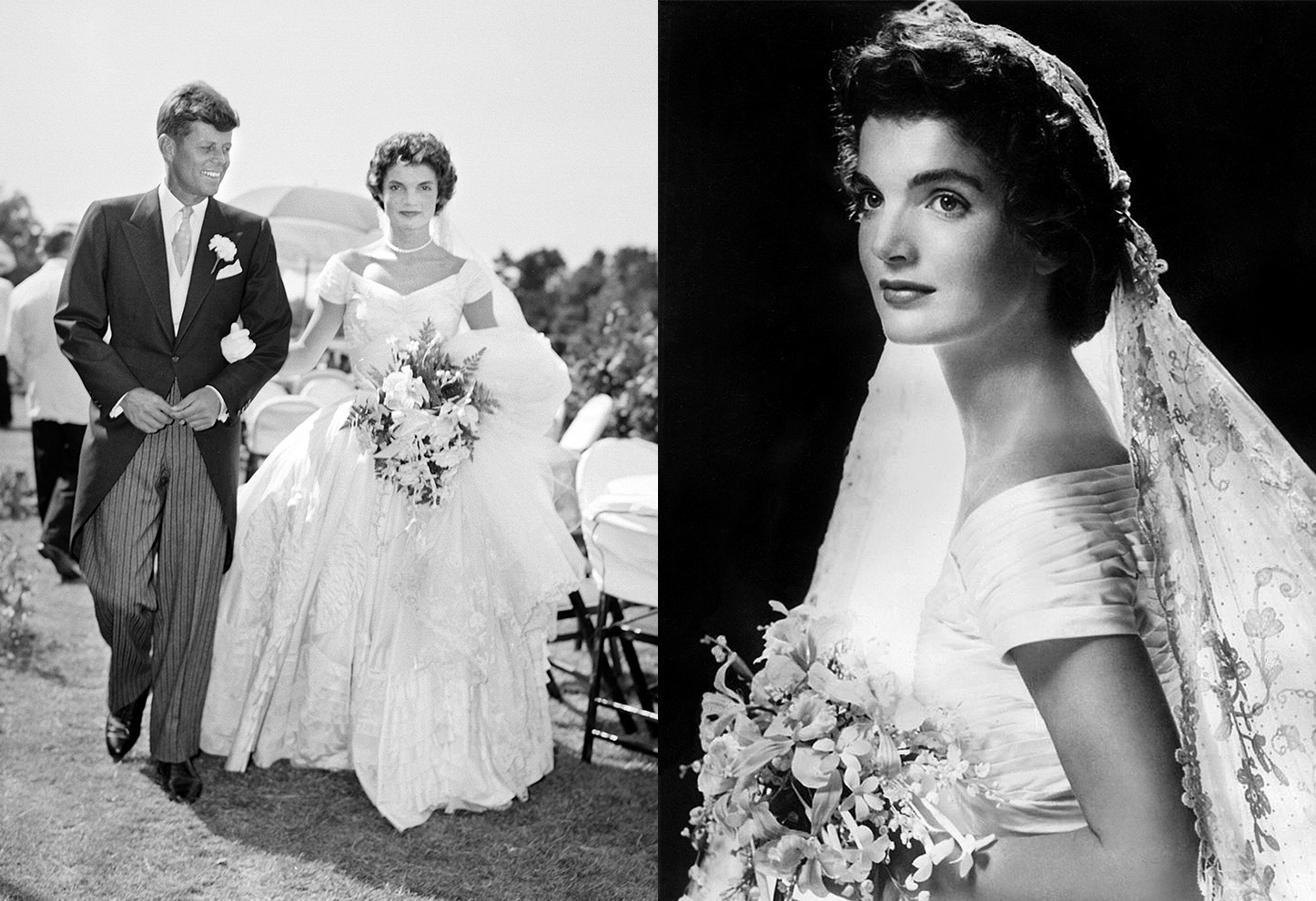 Senator John F Kennedy married the beautiful Jacqueline Bouvier in 1953. Her wedding gown—made of 40 meters of cream silk taffeta—is still coveted by women today, and still inspiring contemporary fashion designers. The dress was created by designer Ann Lowe. Lowe, likely the first ever acclaimed African-American fashion designer, was a pioneer in her field. Unfortunately, she was only officially recognized posthumously.
More to read: View original sketches of Jackie Kennedy's wardrobe
Incredibly, Ms. Lowe created the dress for Jackie Kennedy twice! The first dress was damaged ten days before the ceremony, and so a second needed to be made. The talented designer was able to recreate this quintessential wedding dress in just a few days. If you'd like to take a closer look, Jackie Kennedy's dress can be seen today in the John F. Kennedy Library in Boston.
Lady Di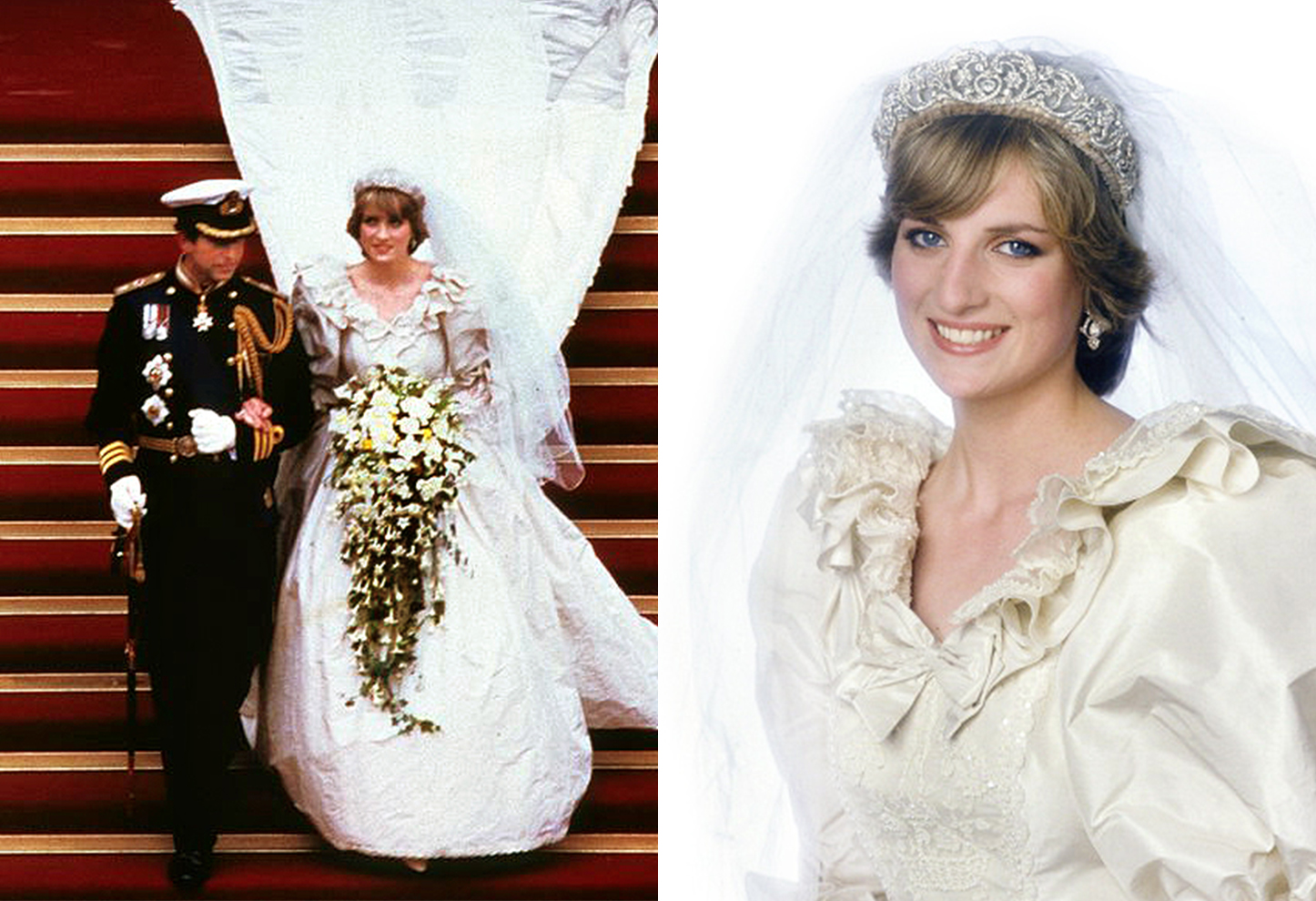 Hundreds of millions of people watched the wedding ceremony of Diana and Prince Charles in 1981. Even though royal weddings always arouse the interest of the media, this one was exceptional. And it created wedding fashion canons for the next 20 years. Although millions copied the princess's creation, today few remember that it was designed by David and Elisabeth Emanuel.
More to read: Princess Di's royal style is now on display for all
The delicate ecru colored dress looked like a romantic meringue, referring to the style of Victorian times, but also highlighted style that was strong, lavish, and spectacularly feminine. And everyone wanted to see the 25-foot train that followed Diana through the cathedral. Though not many brides today might want to wear those 80s-style puffy sleeves, the dress still holds an iconic place in history and in our hearts.
Kate Middleton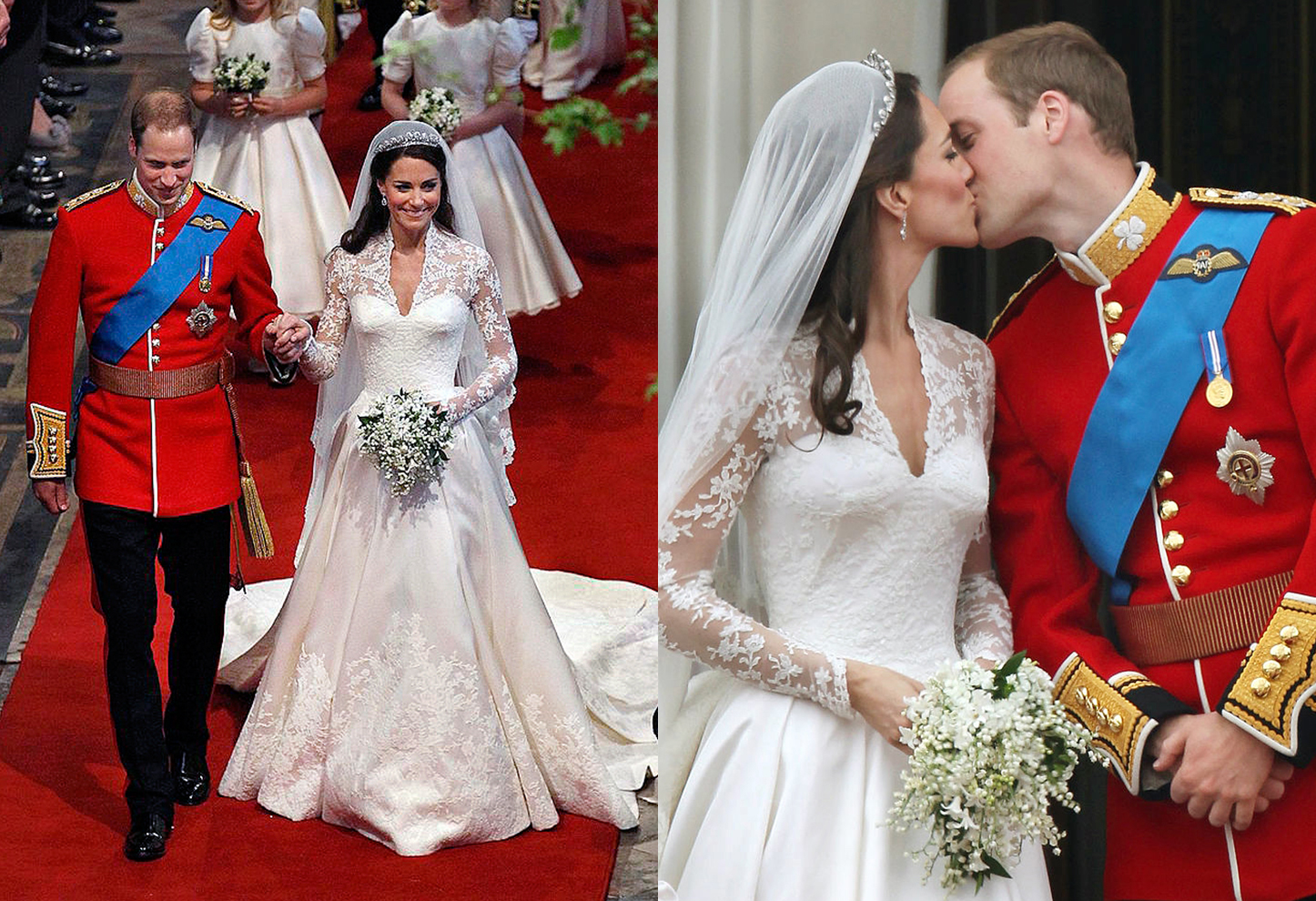 The wedding of the British heir to the throne was called "the wedding of the century" before it even took place. Speculations about the dress Kate Middleton would wear gave many a journalist palpitations, both in Great Britain and abroad. Everyone tried to guess which British designer would be chosen for that most important day.
The fresh Princess of Wales dazzled the subjects and supporters of the British monarchy with a beautiful creation from the fashion house Alexander McQueen (designed by Sarah Burton, who took over the artistic direction of the brand after the death of its founder).
More to read: Kate's fashion evolution from preteen to princess (PHOTOS)
Kate's lace dress with long sleeves, lily of the valley bouquet, simple hairstyle and subtle make-up will go down in history as an aesthetic jackpot. It became a symbolic seal of Kate's status as a style icon.