Did you know the first people to wear heels were actually men?
From Ancient Greece to the Renaissance, from the era of Marilyn Monroe through today, few trends have stayed as constant as the high heel. Forever a staple of women's fashion, high heels come from not so humble beginnings. A status symbol, both then and now, variations of the high heel were worn by ancient civilizations. But what is perhaps most surprising about this heightening shoe is that it was originally popularized not by women, but by men.
Fashion before function
One of the earliest versions of high shoes, called "cothurni," was worn by the ancient Greeks. The shoes were quite literally a platform shoe with platforms of cork raising the person's entire foot (more like something Lady Gaga might wear) instead of the raised-heel with lower-toe design we're more used to seeing in offices the world over today. Cothurni, though, were not worn to work unless you were an actor. They were a dramatic tool only worn by the actors in Greek plays—the height of the shoe indicated the status of the character. (I'm going to pause here for a moment so that we can all be thankful that today we've ditched this concept, and don't need to wear higher and higher heels with every job promotion.)
Read more: The controversial origin of red lipstick
Many centuries later, aristocratic European men, much like the Greeks, began wearing heels again as status symbols. Just take a look at prominent paintings from the Renaissance era, and you'll find most men wearing what resembles a chunky pale ladies' pump. That's because heels were a way for wealthy men to show that they were so affluent they didn't need to wear practical shoes; they need not worry about working or even walking (something to think about the next time you're deciding between heels and flats). Originally these booties were not made for walking!
Perhaps the most famous proponent of high heels during this era was King Louis XIV, showing off his shoes clearly in several surviving portraits. The French King even took it a step further by painting his heels crimson, which would later inspire the classic red-soled Louboutin stiletto that is so famous today.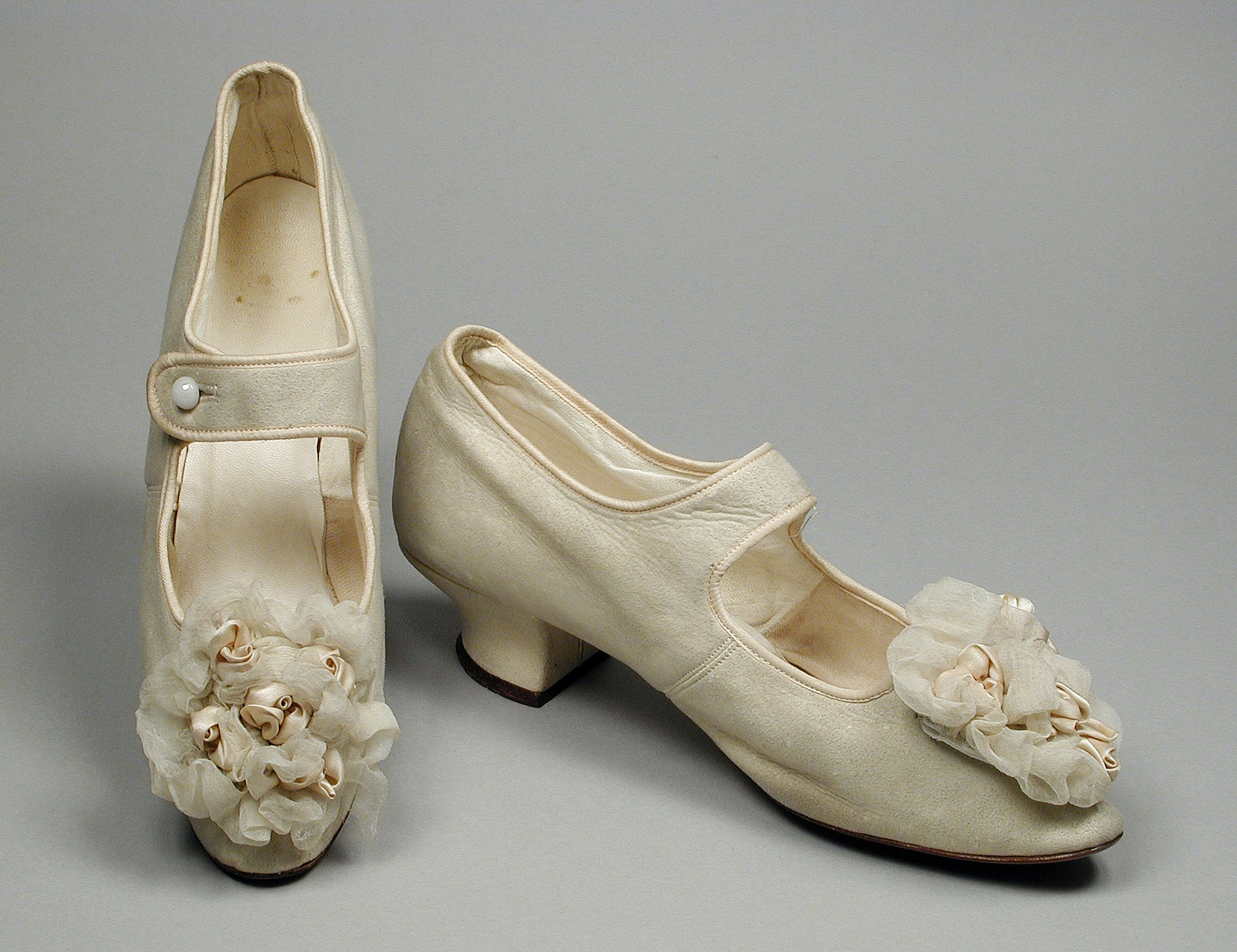 According to Elle, the high-heel fad caught on among women in the 1500s for more functional reasons. Similar to the Greeks, Europeans wore heels called "chopines" to keep dress hems from collecting dirt by dragging on the ground. This trend was originally popularized by prostitutes in Venice, but eventually caught on with the upper class, too.
Read more: Louboutin introduces 7 new shades of nude
It wasn't really until the roaring 1920s when hemlines left the ground that heeled shoes became more decorative than merely functional, playing with new strap designs and different kinds of fabrics.
Alluring or sexist?
As time goes on, the high heel remains a symbol of confidence and female strength, but to some the heel may not be the most feminist trend around. Research suggests that wearing high heels every day can shorten the muscles and tendons in your feet, causing some long-term issues. Heels "are known to increase injury risk in other muscle groups," says Neil Cronin, a biology professor at the University of Jyvaskyla in Finland who has studied the effects of wearing heels. He points to the hamstrings and upper leg as prone to injuries as a result—never mind the risk of falling.
Injurious or not, however the high heel has become a staple not only to women's closets, but also to many company dress codes today. In fact, in the UK, Parliament recently debated the legality of mandatory high heels based on a petition started by a receptionist who was sent home for wearing flats to work. A similar situation occurred in 2015 at the Cannes Film Festival when several women were turned away from film screenings because they weren't wearing heels. (Julia Roberts also famously kicked off her heels to climb the steps of Cannes in 2016, but was allowed in.)
Read more: The truth about TOMS shoes
And this is isn't anything new. The old saying goes that Ginger Rogers did everything that Fred Astaire did except backwards and in high heels. And many airline stewardesses have been required to wear low heels for decades. So much so that many brands call these particularly bland navy heels "crew shoes."
But outside of the work world, the heel has other implications: alluring ones. Heels, of course, have a lengthening effect on the leg (wearing nude pumps with a bare leg, for example, is one of the oldest tricks in the stylist book). And they give your rear end a pretty nice boost, too.
Because of these desirable enhancements, it's not so surprising that the heel has become tied to everything from lingerie shops to the runways for its sex appeal. If you want a G-rated example, just look at Barbie's feet—they're still perfectly formed to fit a high heel. (Though they've made some progress on Barbie's body type over the last few years.)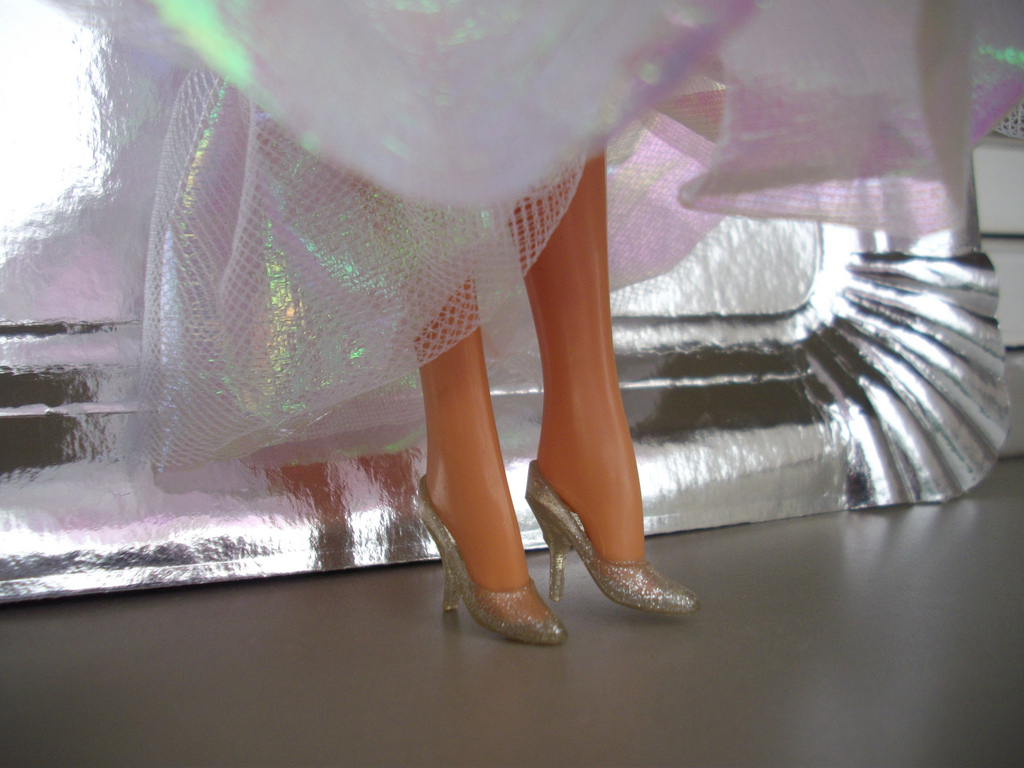 But overall women today are able to choose to wear whatever footwear they desire. So why do we still teeter around on teeny stiletto heels or opt for an extra two-inch lift in our boots when the flat ones are probably more comfortable? Is it empowering or appalling? That's something every woman will need to decide for herself.
High fashion
High heels have been around for so long, and reinvented by so many different designers and skilled cobblers, that now we also consider them works of art. There are museum exhibits like "Killer Heels: The Art of the High-Heeled Shoe," which debuted at the Brooklyn Museum in 2014 or the London's Design Museum 2012 exhibit starring the shoes of Christian Louboutin.
Read more: 5 Shoe origin stories, from Converse to clear sandals
And there are fashion icons who collect their own not-so-small museum of shoes, like Imelda Marcos, the first lady of the Philippines, who owned 3,000 pairs of shoes. (Taking up more space than most of us have in our kitchens, let alone our closets.)
So whether you're a flats girl, or a 6-inch stiletto style maven, it seems high heels have made a lasting impression on the world of fashion. And, as heels continue to be reinvented and remodeled by designers, maybe we'll see even more shoes that can somehow find harmony between good-looks, lift, and comfort. Or maybe men will start wearing them again … who knows what the future holds?