Emily Hardman was getting married in 24 hours and still didn't have her dress. And she didn't care!
The most vivid memory I have from my rehearsal dinner is sitting in the big wooden swing in the front yard of my fiance's parents' house with tears streaming down my face, begging my fiance to get in the car with me and drive to Vegas.
Granted, our relationship wasn't exactly the type that usually gets a white wedding at all, but this particular stress had nothing to do with our turbulent past and 1-year-old daughter. It had everything to do with the literal hell that is wedding planning.
Read more:
3 Questions to ask before saying 'I do'
Behold, Emily Hardman, the visionary who planned her wedding in 5 (yes, FIVE) days:
"Rob kept saying to me throughout the five-day planning process, 'What do you want me to do?' I told him there really wasn't a lot that has to be done to plan the wedding, and here's why:
With each social expectation for weddings, I asked myself: Does this achieve the goal of making the people at my wedding feel loved and appreciated for the role they play in my life? Will it help strengthen my marriage and the promises we made to each other? If the answer was no, I didn't waste any more time."
This is next-level brilliance, y'all. My reticence to wedding-planning was equal parts laziness and fear of flowers, but this woman has a rock-solid reason that our wedding-planning-insanity has gone way, way too far. Her two questions are the perfect way to evaluate each and every aspect of wedding planning, and pare it down to what matters. Will this show our love for our families and friends, and will it speak to and strengthen our love for each other? If not, then get rid of it!
Granted, I was never the wedding-planning type. As a girl, my dream wedding was to never have one at all. I certainly didn't spend years planning out colors and flowers—which came back to haunt me, actually, since no one approved of orange and red as a color scheme, and choosing flowers required me to sit down and learn their names and what they looked like. Other whimsical things I suggested were similarly rejected. No, personalized lunchboxes eaten picnic-style was not a good idea. No, silly string instead of rice was definitely not happening. No, we certainly couldn't expect everyone to play poker at the reception because we both hated dancing.
Read more:
Helping a homeless bride plan her wedding
You'll notice that all these details are part of the reception. That was actually the part I hated planning. I loved planning the wedding itself—writing the prayers , choosing the verses, the songs, and just the right portions of Little Gidding to print on the programs … those were the details that interested me. That was the part of the wedding that mattered to me, the part that I remember every second of, the part that made a we out of two me's.
The reception is just a party. But it's not the fun kind, with kegs and groundhogs and dubiously-clad rugby players. It's the formal kind, with dress codes and handshakes and ten thousand forks. And when I was killing myself trying to plan it, I knew there had to be a better way. Emily's two questions are—unquestionably—that better way.
This is not to say that the perfect flowers or the coordinated bride-and-groom cakes won't matter—for some couples, and for some of their families, they matter a great deal. My mother-in-law is a genius gardener, and flowers matter to her. They speak to her soul in the way poetry speaks to mine. For my part, the groom's cake was a big deal, since it was shaped and decorated like a stack of books (whose titles we strategically chose, being English majors and big-time nerds). But as a culture, we should allow for these differences in taste and preference and let go of the idea of THE BIG WEDDING in favor of remembering that the point is the sacrament, not the party.
The wedding can be planned in 5 days. The party … eh, it's a party! Just have fun with it, and let the rest go.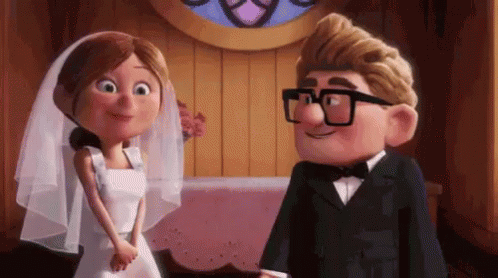 Trust me, you'll be glad you did.