What better way to celebrate #TolkienReadingDay than to hear from the author himself?
What can God do in your life with one Bible verse a day?
Subscribe to Aleteia's new service and bring Scripture into your morning:
Just one verse each day.
Click to bring God's word to your inbox
Each year on March 25, Tolkien fans around the world mark the day by reading one of the many works penned by the popular Catholic author. According to the Tolkien Society, the annual event "has been organised by the Tolkien Society since 2003 to encourage fans to celebrate and promote the life and works of J.R.R. Tolkien by reading favorite passages."
Read more:
Tolkien's Middle-Earth love story, Beren and Luthien, to be published in 2017
The date of March 25 has special significance to fans and Catholics alike. It is the day in Tolkien's Middle-Earth when the One Ring is destroyed in the fires of Mount Doom and the evil empire of Sauron is defeated. In medieval Europe this day was believed to be the actual date when Christ died on the cross and destroyed death, opening the gates of heaven. Being a medievalist and a faithful Catholic, Tolkien likely knew the significance and specifically chose March 25 for the most earth-shattering event in his fantasy realm.
Read more:
Was the world of Tolkien's 'Lord of the Rings' based on a kingdom in East Africa?
A most appropriate way to commemorate Tolkien Reading Day would be to listen to the author himself read portions of his great works. Thankfully, Tolkien recorded himself reading his own writings and left us with a rare treasure that brings his stories to life.
According to the website Brain Pickings, "In the summer of 1952, sixty-year-old J.R.R. Tolkien encountered a tape recorder for the first time [and]…So enchanted was Tolkien with this novel technology that he proceeded to record himself reading much of his work over the years to come." A reader of that website compiled many of these recordings and shared them with Brain Pickings, which posted them online for all to enjoy.
So sit back and listen below to the entire compilation, which begins with one of the most famous lines from The Fellowship of the Ring:
The Road goes ever on and on
Down from the door where it began.
Now far ahead the Road has gone,
And I must follow, if I can,
Pursuing it with eager feet,
Until it joins some larger way
Where many paths and errands meet.
And whither then? I cannot say.
Happy Tolkien Reading Day!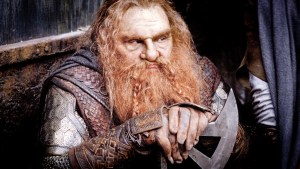 Read more:
"Lord of the Rings" actor believes Saint Patrick's life is as relevant as ever