As in today's Gospel, God still uses material things to accomplish his plan.
During his public ministry, Jesus went out of his way to use material things to bring about healing.
For example, as we hear about in today's Gospel, when a man born blind approached Jesus, he "spat on the ground and made clay of the spittle and anointed the man's eyes with the clay" (John 9:6). After washing in the pool of Silo'am, the man born blind was miraculously healed and could see.
Jesus didn't have to use physical things (mud, spittle, water) to heal the blind man, but he did. And Jesus continues to do similar healings today through the intercession of the saints and the sacramentals of the Church. One such sacramental that has brought about many miraculous healings over the centuries has been oil that is collected at the tomb of a saint.
Read more:
3 Things you might not know about sacramentals
This oil, thought to be miraculous and because of its association with a particular saint, is distributed to the faithful. However, as with the healing of the man born blind, a person typically must have a child-like faith that trusts fully in the providence of God in order for any miracle to possibly occur. The oil is not meant to be some "miracle dispenser," but is a material thing that God can use as an instrument to reach the hearts of his children. Any cure that takes place is already in his plan and is for the spiritual benefit of that person.
There are numerous saints who have an oil that exudes from their tombs. One of the most famous of these is St. Walburga.
According to the abbey where she now rests, "For one thousand years, a mysterious moisture has collected every year on St. Walburga's relics. This water became known as 'Walburga's Oil,' and was seen as a sign of her continuing intercession. The oil has always been collected and given to pilgrims. Healings attributed to St. Walburga's intercession continue to be reported up to the present day."
Another famous example is St. Nicholas (Santa Claus), whose relics are found in Bari, Italy. There is an oil that drips from his tomb that is collected each year on May 9 and distributed to the faithful. Sometimes it is called "manna," and for "hundreds of years now, the manna has been collected, mixed with holy water and bottled in small glass vials decorated with icons of the saint."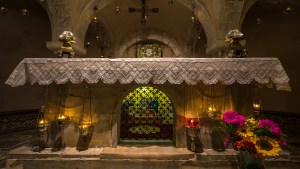 Read more:
The bones of St. Nicholas still exude a mysterious oil, with a mixed reputation
Saint Charbel's tomb in Lebanon is a more recent example of a tomb that had oil exuding from it, and miracles continue to be attributed to the saint's intercession. According to a news report, "One Norman woman said she was healed by oil from St. Charbel after bruises appeared on her body … doctors couldn't figure out the cause of her bruises. When she applied the oil to them and took a shower, the bruises disappeared. She said it was a miracle."
These three saints are not alone, as there is an entire list of saints who are associated with a holy oil.
In the end, sometimes God uses materials things, like oil from the tombs of saints, to bring about a healing or conversion. It is something God has always done throughout salvation history and is something he will likely continue to do for the rest of time. Why? Only God knows.