Promoting the art of conversation, one encounter at a time
The idea of walking across the United States first came to Chris Andrews during his last year of college after he realized he was spending more time interacting with his smartphone than with people.
"Whenever I had free time, or even when I was spending time with others, I was pulling my phone out and draining hours into it — I would just wake up, roll over, and browse. I found myself becoming so connected to my phone that I was disconnecting from the people around me," he told PassionPassport.com.
Concerned about what this might mean for society, especially as children grow up in a digital age, he did a little research.
"I learned about Sheri Turkle's research at MIT about the effects of phone usage on patience and empathy. From there, I did more research on conversation as a skill and an art," Andrews said in the interview.
In Turkle's book, Alone Together, she suggests that when we replace actual conversations with texting, we begin with the assumption that texting is "better than nothing," but end up preferring the more superficial, virtual conversation to a real one.
Andrews decided it was time to act, and the "Let's Talk" project was born. During his 9-month-long, 3,000-mile walk across the United States, pushing a cart he calls "Goose" along the road, he camped out on lawns, knocked on doors, and talked to anyone who cared to join the conversation.
[protected-iframe id="06c88f1013a9c10ea3be5b2a98fc190d-95521100-92964681″ info="https://www.facebook.com/plugins/video.php?href=https%3A%2F%2Fwww.facebook.com%2FLetsTalkUsaProject%2Fvideos%2F310052632701520%2F&show_text=0&width=560″ width="560″ height="315″ frameborder="0″ style="border: none; overflow: hidden;" scrolling="no"]
Along the way, Andrews struck up conversations with people (according to his website, 10,924 conversations) often touching on the subject of  technology and how it has affected their lives. Their photos and  conversations can be found at his the Let's Talk website. The young man he met on "Mile 2,094," for one, was already scaling back his technology use.
"I downgraded to a flip phone," he told Andrews. "I've seen too many of my homies get wrapped up in their phones. All that time lost and all that drama…"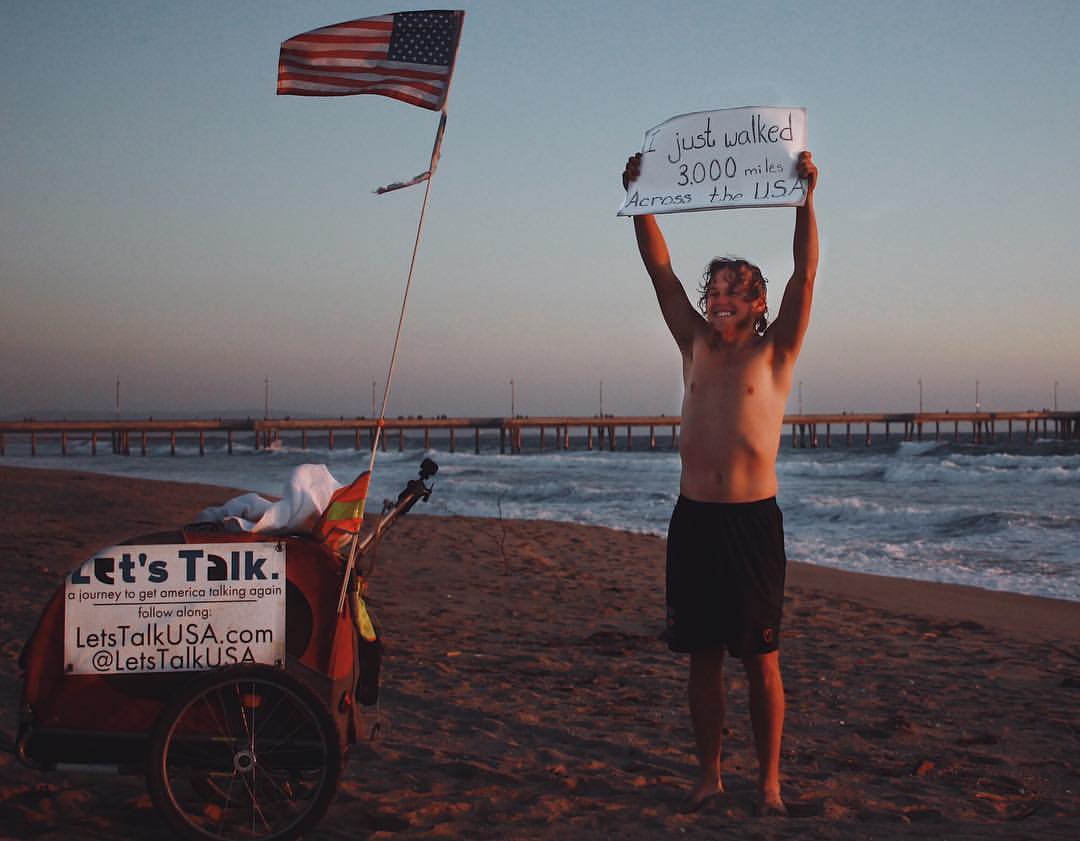 When Andrews' journey came to an end on a California beach, he posted this message on his Facebook page:
I learned that through honest conversation and vulnerability I could connect with people on a level that danced above politics, religion and culture. I didn't speak like them. I didn't look like them. But I learned to be honest with them. I learned to lean into the vulnerability of being myself. Again and again I was welcomed in and I slowly realized how authenticity shines in this world. We must allow ourselves to be vulnerable. But most importantly, we must listen. Not only to others, but to ourselves. Only then are we truly alive.
What's next for Andrews? "3,000 miles is just the beginning," Andrews wrote. "In the coming months I will be working on a book, a short documentary and will be speaking around the world."