The amount of prayer involved in creating this beautiful bedding practically guarantees a serene and peaceful sleep.
In Verdun, where one of the longest battles of World War I took place, the Carmelite nuns pray for permanent peace. But as with any monastic community, they must live off their own labors. So in between hours of prayer, these women manage to slot in enough time to make high-end quilts and duvets.
Read more:
How to enjoy beer like a Trappist monk
Quilting is a natural fit for these particular nuns because it's a craft that's been deeply embedded in their home region of Lorraine for decades. In 1948, with the help of a Mother Superior whose family came from the lace-making center of Meuse, they started hand-making quilts and bedspreads. It's long and meticulous work that each nun makes time for daily—in between all the time they spend praying, maintaining the garden, working in the kitchen, and cooking for the group. Although the productivity itself isn't the nuns' main concern, it has become a quiet passion for these women—and is never far from their minds!
As a result, the order has maintained a flourishing business, operating since 1978 under the name Ateliers Plumlaine. Today, it's managed by the youngest nun of the Carmel of Verdun, Sister Laure, age 39.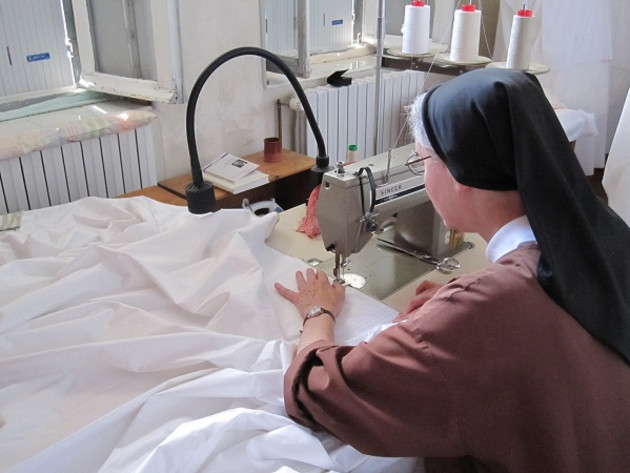 Ethical demands and economical imperatives

Artisan work of this caliber requires both quality and durability, which is guaranteed by this monastic community that puts its stamp on these top-end products. But the nuns recognize that the downside of creating such long-lasting products is that they always have to find new clients. In this case, they must reconcile ethical demands with economical needs. Sometimes this proves to be a tricky balance. For example, although traditional quilting is now currently in fashion, in the 1990s the nuns had to adapt to the changing market by trying their hand at duvets.

Read more:
Too anxious to sleep? 7 bedtime strategies

A quality duvet
The nuns select the best down feathers, taken from poultry that's fed and raised in the open air. The other materials used are also held to high standards: they must be fine, light, and waterproof, in order to make the quilts as fluffy and airy as possible. The nuns special order fabric from Germany. And each duvet or quilt purchased comes with an added bonus: soulful serenity. Just imagine the amount of prayer that accompanied their fabrication! The quilts and duvets from Ateliers Plumlaine practically guarantee a serene and peaceful sleep.
For more information, visit the Ateliers-Plumlaine website.