The University of Dayton's Marian Library highlights a "growing" devotion
You can get Aleteia inspiration and news in your inbox. Our specially curated newsletter is sent each morning. The best part? It's free.
Sign up here
Ever since the 7th century, when the Irish gardener St Fiacre designed the first Mary's Garden, Catholics have honored Mary by planting gardens devoted to her. These Mary's Gardens feature flowers and plants associated symbolically with the Blessed Mother.
There are roses, of course, recalling the Rosary and Mary's biblical title of Mystical Rose, and Madonna lilies, symbols of her virginity. And there are the myriad of garden plants and wildflowers that during the Middle Ages were renamed devotionally: Mary's heart (Bleeding heart), Mary's eyes (Forget-me-not), Mary's tears (Larkspur). There are plants and flowers linked in legend with the life of Mary and her Son: Carnations (said to have first bloomed at the Nativity, in honor of the Incarnation), Snowdrops ("Candlemas bells," said to have bloomed at the Presentation in the Temple), Marjoram ("Mary's bedstraw"), and the familiar Passionflower (whose petals, corona and stamens recall Christ's five wounds, the crown of thorns, and the crucifixion nails). The list is endless.
The notion of a garden is itself symbolic of Mary. The original meaning of the word paradise is the Persian word for "a walled garden." Mary, the new Eve, makes it possible by her "Yes" to the Annunciation for fallen humanity to regain Paradise. And the walled garden is a biblical symbol for Mary's perpetual yet fruitful virginity.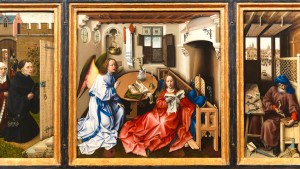 Read more:
(Not so) hidden meanings in Annunciation images
This week the University of Dayton's Marian Library, an internationally respected collection of research materials on Mary, opened a special exhibition devoted to Mary's Gardens, with a new twist: this Mary's Garden is indoors. The exhibit will feature changing displays of container plantings to represent the four seasons.
The Ohio Catholic university's Mary's Garden pays special tribute to the founder of the modern Mary's Garden movement, John S. Stokes, Jr, whose writings are part of the Marian Library collection. Stokes would approve of the indoor exhibition, which demonstrates "an opportunity for everyone to think about how gardening can play a role in their lives and to reflect on the spirituality of our interactions with nature," says Marian Library Director Sarah Cahalan.
"Stokes really wanted to make Mary's gardens accessible," Cahalan said. "They were meant to be places of meditation and prayer, and he wanted them to be available even in the hustle and bustle of modern life. He wanted there to be options for people who didn't have a lot of space or time, so he had suggestions for kitchen gardens, dish gardens. There isn't just one way to plant a Mary's garden. It can be different things to different people."
If you can't make it to the exhibition in Dayton, which runs through May 10, you can visit the Marian Library's extensive online collection of resources on John Stokes and his Mary's Garden movement. You don't need a green thumb to start a Mary's Garden of your own: a "blue thumb" of devotion to Mary is all it takes.