For everyone who thinks a traumatic experience means giving up your dreams in life, read this story.
We all love a happy ending, but this real-life harrowing tale of a brave college student truly deserves it.
At 20-years-old, Melissa Dohme, a college student from Florida, was looking forward to fulfilling her dream of becoming a nurse. While applying for different universities Melissa started to notice a change in her boyfriend, Robert Burton, whom she'd been dating since high school. The ordinarily charming and funny "gentle giant" became possessive and, as Melissa explains in an essay she wrote for the BBC, he threatened to kill himself if she broke up with him.
Read more:
Although pregnant, imprisoned and severely abused, she refused to deny her faith
This form of blackmail-manipulation is typical in domestic abuse cases and Melissa, understandably, felt trapped. Although she knew Burton's actions were wrong, she didn't know how to extricate herself from the relationship safely. Things reached a climax in October 2011 when Burton, in a drunken state, physically abused her. Police arrived and arrested him and he was sentenced to just 10 hours in jail for domestic battery. "I thought I was finally free of him," Melissa reflects. But, even though Melissa and Burton officially split after that night, she had not yet escaped him for good.
A few months after the incident, Burton was supposedly in a new relationship. But Melissa received a call from her ex-boyfriend in January of 2012 saying, "he needed closure from our terrible relationship and just wanted a hug. If I saw him just one more time he said would leave me alone forever." Although alarm bells rang, she pushed them aside. "I didn't listen to my intuition telling me it was wrong, and that was the biggest mistake I ever made," she says.
He left me lying in the road and I thought I was going to die. I just prayed to God to save me.
When he reached out to hug her at their meet up, it was with a switchblade in hand. The stabbing attack that followed is so horrific we won't go into details.
In Melissa's own words: "He had every intention of killing me. He knew the police were going to come and he wanted to get it finished. He left me lying in the road and I thought I was going to die. I just prayed to God to save me and give me a chance."
And it seems God was really listening. Despite dying several times on the operating table, Melissa came back to life with very severe wounds including a broken skull, jaw, and fractured nose. When Melissa was stable, she caught sight of herself in the mirror, and immediately knew that the road to recovery would be long: "Nineteen of the 32 stab wounds were to my head, neck and face so I didn't look like myself. I was missing teeth. My hair was shaved because they had to stitch up wounds on my head. Half of my face was paralyzed."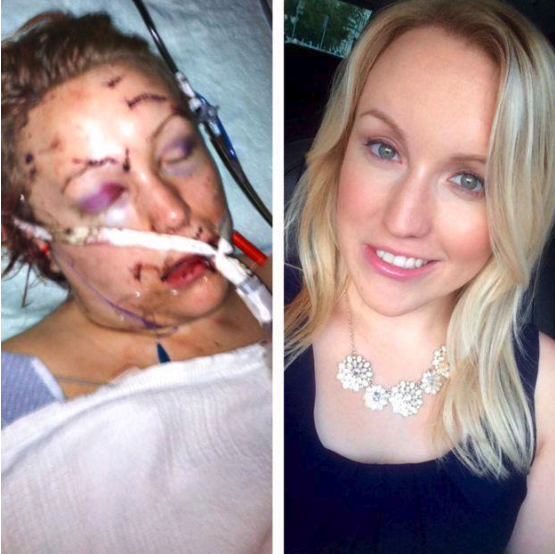 But after shedding tears, it was Melissa's unbelievable gratitude that helped put everything in perspective: "My faith was strong and I knew I wasn't still here on Earth to be mad about what I looked like. I just felt blessed that I was alive."
I assumed I would be single for the rest of my life … because I was damaged.
With surgery and other medical interventions the physical scars began to heal and Melissa was impatient to get back to her schoolwork, as well as give back to her community. "I thought I could still use my experiences to help others. I wanted to speak out to let people in abusive relationships know that they deserved to be loved and respected and valued."
Read more:
Conceived in Rape, Writer Extols Her Mother's Courage
At a speaking event in October 2012, nine months after the attack, Melissa met up with the emergency crew who helped save her life. One of the crew, Cameron, invited Melissa and her mom to a dinner at the fire department the following week.
An excited Melissa began to have feelings for Cameron after the meal but understandably felt confused about it: "Am I feeling this way because he was one of the firemen who helped me?" she remembers thinking. But after realizing how much the couple had in common they started dating. With Cameron by her side Melissa had a renewed sense of self: "I assumed I would be single for the rest of my life. I never thought anyone would want to date me because I was damaged and had all this baggage."
Cameron also gave her the strength to face Burton in court, and watch him be sent to prison for life without parole. "I walked out of there with my life back," she says.
In 2015 Melissa went to give first pitch at a Tampa Bay Rays baseball game in recognition of all her work for domestic abuse. Standing on the mound with no ball to throw yet, she was surprised to see Cameron come out onto the field. Getting down on one knee he gave her the ball with the words "Will you marry me" written on it. Followed be that one little word: "Yes!"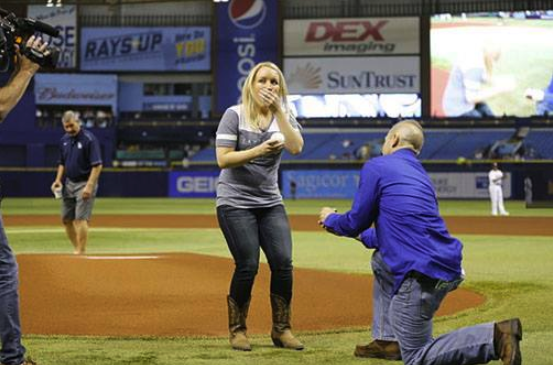 Cameron proposing to Melissa Dohme a Tampa Bay Rays baseball game. Mark Loren Designs| Facebook
The couple is planning to marry in April this year, and all those who helped Melissa during the traumatic event will be there to witness a very strong woman making the most of life, and a loving hubby-to-be offering the healthy relationship she deserves. As Melissa explains, "Today I just feel very blessed to be here. I know that the attack was just one day in my life and it will never define me."
Although Melissa's attack was sickening, the full harrowing essay she wrote is available on the BBC. A worthwhile read, it gives insight into victims of abuse and their abusers and also demonstrates the impressive strength she had, and how faith in part was her great healer.