He's not the only one to have gone from "minor character" to "star of the show."
What can God do in your life with one Bible verse a day?
Subscribe to Aleteia's new service and bring Scripture into your morning:
Just one verse each day.
Click to bring God's word to your inbox
I've been watching a lot of college basketball during the NCAA men's tournament and was especially enthralled with the ending of the Kentucky-North Carolina game.
Luke Maye hit a 19-foot jump shot with 0.3 seconds remaining to give North Carolina a 75-73 victory and a berth in the Final Four.
A 6-foot-8 sophomore, Maye averaged less than five points and four rebounds during North Carolina's regular season.
But in the first four games of the tourney, he averaged almost 13 points and seven rebounds, and he was named the Most Outstanding Player in the regional tournament.
Read more:
How a Christian invented basketball and made it an evangelization tool
Maye's gone from a mostly anonymous minor character to star of the show. His story displays the fruition of hard work, patience and pursuit of a dream.
People who knew him in high school call him a "role model." Said Eric Grube, Maye's high school coach: "He was a really good basketball player. But he was an even better kid."
"I'm trying to stay humble," Maye said this past week. "But my teammates keep bringing (the shot) up."
The player's sudden rise to (brief) stardom has me thinking of other "nobodies" vaulted into a special moment of immortality: the minor characters of the Gospels.
They lived most of their lives in obscurity. But in a brush with the Son of God, they enjoyed a "Luke Maye moment" of glory, a moment that Providence has chosen to extend for all time.
Consider Peter's mother-in-law, for example. We don't know her name or anything about her beyond her relationship to the first pope … and that she had a fever one day when Jesus was passing by.
Jesus healed her; she immediately got out of bed and waited on him. She presents a lesson of gratitude to God and showing our love with service. Maybe she went on to be one of Jesus' biggest supporters.
Another example: Matthew writes about the time the Lord called a little child into the midst of the disciples. Again, we know nothing about this child, but Jesus used him or her to teach us a key Gospel lesson: "Whoever humbles himself like this child is the greatest in the kingdom of heaven." Such a wonderful portrait of the tender love of Jesus and the value of simplicity. I like to think the child grew up to be a "disciple of the disciples," one of the earliest Christians.
I have a couple more favorite Luke Maye-type fleeting stars of the Gospel. These ones have personal relevance for me because, well, I'm kind of like one and wish I were like the other.
A faith-filled pagan
Matthew tells us about a Roman centurion — a pagan soldier — who asked Jesus to heal his servant. The Lord offered to go to the centurion's home to cure him. Yet, despite the Roman's powerful position, he declined Jesus' offer and asked him simply to heal the servant by saying the right word. Jesus granted the man's request.
In the example of that centurion, we learn of true humility and the power of complete faith. Oh, that I might be like the centurion! Yet I hold back. I rely on my own relatively powerless abilities. It's no wonder I whisper at Mass that Roman's words, "Lord, I am not worthy that you should enter under my roof."
I am optimistic that this pagan also became one of Christ's early followers.
A kid given another chance
The story of Jesus' encounter with the lad known to us simply as "the rich young man" is related by Matthew, Mark and Luke. He asked the Lord what he needed to do to attain eternal life. Keep the commandments, Jesus said. I've done that, said the young man. Instructed next by Jesus to sell all his possessions, give the money to the poor and follow him, the rich man sadly walked away.
Yet there was hope — because Jesus looked upon him and "loved him." How fervently I pray that when something the Lord asks of me seems too big a challenge and I walk the other way, that I will notice him looking upon me with that great love as well and turn back. I pray I can release the grip I have on any attachments preventing me from following him.
I like to think that at some point later, maybe after the Resurrection, the rich man found life-changing faith and became a devoted Christian.
Thinking of these "nobodies" who were just like us reminds me of a truth we have to keep in mind, especially when we're wishing for a little Luke Maye fame and success: Only Jesus can bestow a glory that endures past a season. It is in Him that lives — theirs and ours — are changed forever.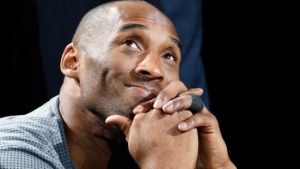 Read more:
Kobe Bryant—How his Catholic faith saved him