"Our hearts are restless, O Lord, till they rest in Thee." St. Augustine (Confessions, Book 1)
Yearning. That is where our story begins.
Faced with diocesan schools offering minimal religious instruction and the Common Core curriculum, more and more faithful Catholic families are fleeing parish schools and desperately looking for other alternatives.
While some choose homeschooling or hybrid school-cooperatives, others dream of a more traditional, school-based approach to Catholic education for their children.
Inspired by the model of several successful independent Catholic classical schools around the country – St. Jerome's in Maryland, the Regina schools in Philadelphia, Our Lady of the Atonement in San Antonio, St. Benedict's in Massachusetts and, closer to home, Regina Pacis in Connecticut – several families in our area of the New York Archdiocese set out to create a school of their own in 2014.
They wanted a school that would offer a rich, classical curriculum, a pedagogy grounded in a Christian understanding of human flourishing, and an authentic formation in the Catholic faith, taught by instructors faithful to the Church and Her Magisterium.
If such schools could exist in so many cities and states, why not in the New York City region, they wondered?
So Neumann Classical School was opened in September 2015. Starting with a handful of students and just two grade levels, Neumann launched itself in a converted rectory building at the Church of the Assumption in Tuckahoe, NY, a commuter suburb in Westchester County, about 40 minutes north of Manhattan.
Now in its second full year of operation, Neumann has nine kindergarten and first grade students, a Head of School, two full-time teachers instructing the children in a classical curriculum – reading, writing and arithmetic – as well as several guest teachers offering formation in Gregorian chant, choral singing, classical drawing and French.  This semester, Head of School Mrs. Dorothy Amorella has arranged for members of a professional theatre company to help the students devise a play based on Aesop's fables. The play, with its cast of 4-6 year olds, will be memorized and acted for the parents and the school community.
Christie Cortez, whose daughter is a kindergarten student at Neumann, could not be happier with their choice of Neumann. "The teachers are wonderful and offer so much individualized attention. Our daughter is really flourishing and growing in confidence. She is doing and learning things we would not have imagined possible at such an early age."
Schools like Neumann seek to cherish and develop the rich patrimony of the Church – Truth, Beauty and Goodness – given to Her by Christ Himself. Students are taught Latin – the language of the Church – and schooled in great literature, art, music and architecture.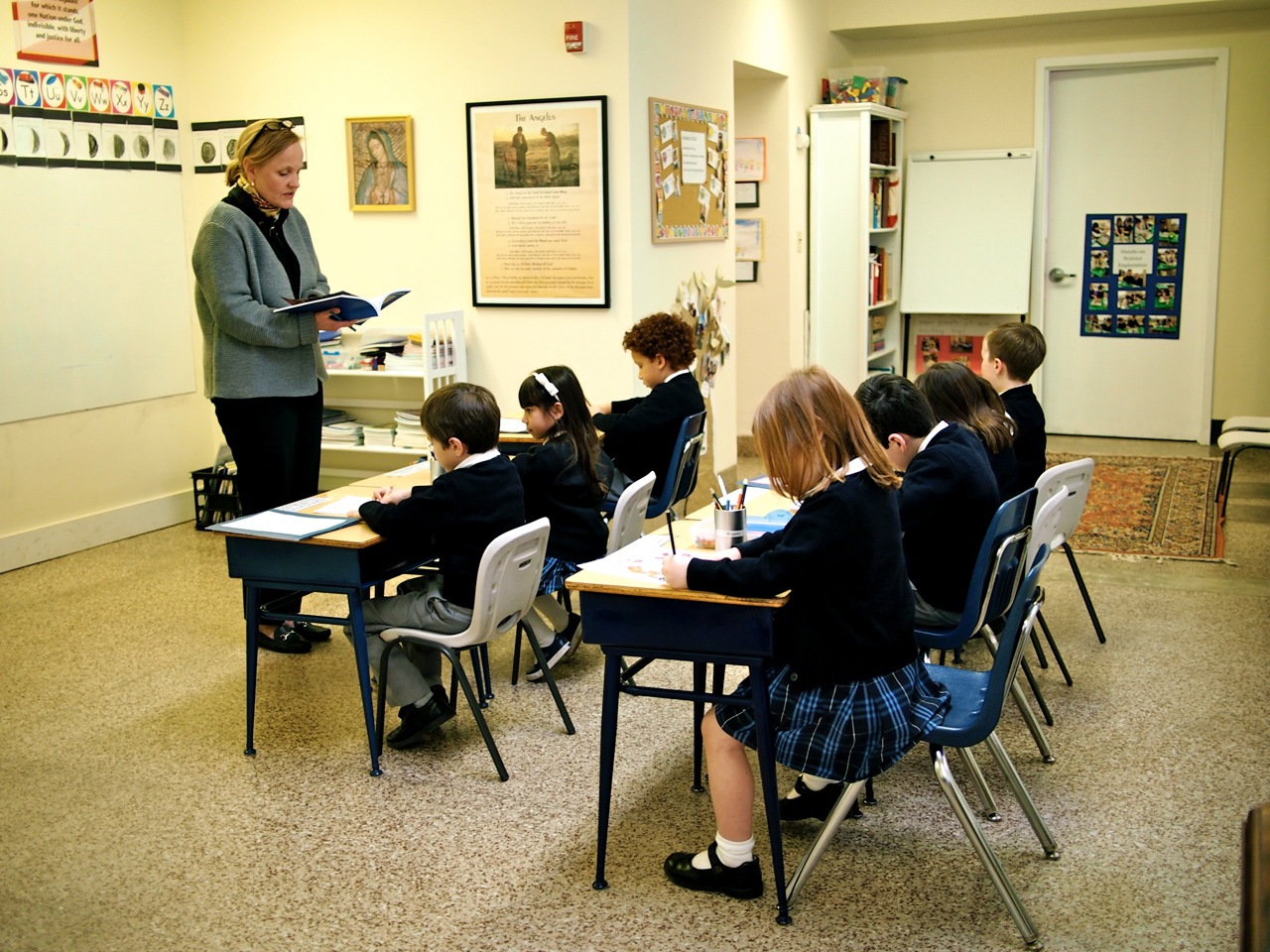 But what is a "classical" Catholic education?
According to the school's founders, "classical education liberates and illuminates the mind. Just as exercise and wholesome food give strength and health to the body, so a classical education trains a mind to integrate knowledge into a coherent whole."
They also note Bl. John Henry Newman's definition of education is an even better statement of what Neumann seeks to give children:
"True enlargement of mind…is the power of viewing many things at once as one whole, of referring them severally to their true place in the universal system, of understanding their respective values, and determining their mutual dependence."
Mrs. Amorella, Neumann's Head of School, has a strong background in Catholic religious education in the archdiocese of Chicago, and many years' experience homeschooling her own children – now all adults. She brings wisdom and experience to Neumann. "One reason I turned to homeschooling", she says, "was to escape experimental techniques that quickly became fads that proved inadequate. I wanted to expose my children to the order of a curriculum rooted in logic and truth. I was fortunate to find that for my children. Neumann not only answers this desire for order, but also offers a wonderful sense of camaraderie and unity for the students."
According to Mrs. Amorella, families are choosing schools like Neumann because they want an authentic Catholic education for their children that stands the test of time, and does not rely on gimmicks or experimental methods.
This way of thinking explains why Neumann eschews iPads and wired education for something more timeless and profound. As one of the founders put it,"Use of electronic gadgets is often a distraction from the proper goal of the study. We should be challenging children to strengthen their minds. Real education is difficult and can't be replaced by games. We do want our children to master modern technology, but from a position of strength. We want them to be able to use these tools for good ends, not to be at their mercy."
Schools like Neumann hope to build the Church of tomorrow, by giving a solid intellectual and spiritual formation to the children of today.
Mrs. Amorella already sees great fruits coming out of the school. "We already see the children applying what they have learned, not only in their academic progress but also in their interactions with each other and their continued growth in piety."Ultimately however, "the fruits of our curriculum will be evident in the mature lives of our students. We want them to use the tools of faith and reason to determine the path they take as adults. We want them to save their souls."
That is a goal worth yearning, and working for.
Learn more at http://neumannschool.org