What to say and wear when it's time to be acknowledged for all your hard work.
Need an idea for Lenten almsgiving?
Help us spread faith on the internet. Would you consider donating just $10, so we can continue creating free, uplifting content?
Make a Lenten donation here
It's not a matter of being a feminist; it's simply a fact that for most women, asking for a raise is difficult. We can have the same responsibilities as someone else, and we don't get the same pay. But that doesn't mean you shouldn't continue to ask for the compensation you deserve.
Dress the part
You know the saying: "Dress for the job (or in this case, the salary) you want, not the one you have." And it's true.
The right outfit can signal to others that you value yourself, and that you are a valuable person to the company. Dressing sharply tells others that you take pride in what you do, and are a dedicated professional. And bringing all of that into a raise conversation with your boss? It shows you want to continue working with them in the future, and that you take this conversation about money as seriously as you take your work.
Yes, it sounds like too great a responsibility to hang on a blouse or the right earrings, but you really can achieve it—and here's how:
1. A suit
This can vary according to the dress code at your office, of course, but if you're in a pretty dressed up work culture like a bank, law firm, or other large corporation, you, too, can don a power suit. When I say a suit, it could be a pant suit just as well as a skirt suit (which should hit about an inch above the knee so as not to be too sexy or too drab). Go to the store and play around with the type of fabric that suits you best, but stick to neutral colors. 
The most important thing with a suit, though, is the fit. Look for something slimming, but structured. Then make sure every piece is well ironed, properly hemmed, with no loose threads or lint, and no folds where there shouldn't be. When you put it on, you should feel like it channels strength and respect. Choose the one that makes you feel most confident because you think it makes you look your best.  
2. Shirt or blouse
Think of the pieces of your suit like a protective outer shell, so the blouse you display underneath can be your softer side. Opt for solid colorful fabrics or with a mild, pleasant print. (Experts advise being careful with prints during a raise negotiation because they can end up becoming a visual distraction and you want the focus to be on your words.)
And, believe it or not, you should even pay attention to your buttons: If you prefer to go for the safe option of a dress shirt, don't button it up completely, because that would give the impression that you are inflexible—but don't unfasten more than two buttons either, because that would be inappropriate.
3. Accessories
Less is more! When it comes to the raise conversation, you don't want to wear items that are noisy or eye-catching. Your boss needs to be looking at you and hearing what you have to say (not the statement your earrings are making). That said, experts do recommend adding a small touch of red (like earrings or a scarf) because it's a sign of power.
4. Shoes
Even if you tend to wear flats, it's time to raise the bar and put on those pumps. Because when you walk with high heals on, your posture changes, and that can empower you. Choose a pair that makes you walk tall and feel sure of yourself with every step. (Read: No wobbly stilettos.)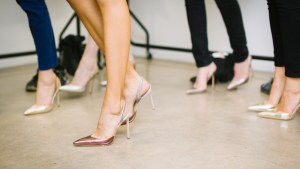 Read more:
The surprising (and often painful) history of high heels
Be careful, though: this doesn't mean you are going to use the same high heels that you'd put on to go to a party; remember to look for closed toe in a classic style, that boost your posture while still looking professional.
5. Finishing touches
Your hairdo and your makeup are just as important as the clothing items you select. I'm not saying you need a trip to the beauty salon, but it does mean you have to make an extra effort with your hairdryer at home. If you're an expert at the self-blowout, you can keep your hair down, but my favorite options are a braided bun or a medium-high ponytail.
Read more:
What a simple ponytail taught me about empowerment
Keep your makeup simple and safe; don't get any ideas about trying out a new product that day, and don't exaggerate the amount you would normally use. Dab on perfume, but only a little, and aim for a very mild floral fragrance that's not invasive.
What to say and when to say it
Make no mistake, the most important thing when asking for a raise is that you're organized, know what you want to say, and choose the most appropriate moment to do it (according to experts, afternoon is preferable to morning).
1. List your accomplishments
Make a list of your greatest achievements over the past few months, and show your boss that you don't just fulfill the duties of your position, but are a proactive person who is important to the company in achieving its grand objectives.
2. Be assertive but not arrogant
Remember that list of accomplishments you just wrote out? You are worthy of this money, and you can say so. Bring out the warrior you carry inside, and go to the meeting convinced that your effort deserves to be compensated. But knowing your worth doesn't mean bragging. So practice a few key phrases like, "I work hard for this company," (rather than blurting out, "You need me!" or other language along those lines).
3. There are other forms of compensation
Sometimes, regardless of gender, a raise just isn't in the cards for budget reasons. But that's why you should also start thinking about a Plan B in case a boss says she can't give you more money right now. You can ask her to change your job title, give you more vacation days, or provide scholarly funding to take a specialization course you're interested in.
4. … and if you still don't get the raise?
Don't be discouraged. Keep working hard and don't stop asking. When your boss says no, accept it, but calmly say you'll be revisiting the subject again soon. Then try again in a few months. Or maybe you'll simply see that it's time to look for another job with more growth opportunity. And here's a silver lining: often experts report that the moving jobs is the best way to increase pay.
Good luck, and don't let anyone make you doubt what you're really worth!
This article was originally published in the Spanish edition of Aleteia.