Inspiration for how to feel rested, less rushed, and more present for your family's celebration.
The beginning of Holy Week signifies a very busy period in the Church calendar as we prepare, finally, to celebrate Christ's resurrection on Easter Sunday. Although we've spent over a month preparing ourselves spiritually for this occasion, what about those more practical preparations? In between work, family, and heading to different church services this week, it's tricky to get everything in order for the big day itself. So we looked to Maria von Trapp, the real-life former novice whose book The Story of the Trapp Family Singersinspired the Sound of Music, for some guidance.
Read more:
Last Von Trapp Singer, Who Served as Missionary, Dies at 99
You might ask why would we look to Maria to solve this problem? Well like many of us, von Trapp had to juggle a lot. She not only managed to look after the well-being of her seven stepchildren and three children, organize concerts in which the family performed, and write books, she also managed to ensure that God was at the heart of her family life. In fact, she only left the nunnery to marry Georg von Trapp because she felt it was God's will. In her autobiography she explained: "I really and truly was not in love. I liked him but didn't love him. However, I loved the children, so in a way I really married the children." She did learn to love her husband, but God would always play a huge part in her life. This is highlighted in her book Around the Year with the Trapp Family, where she talks about the rituals she'd experienced with her family in rural pre-war Austria in making Sunday the holiest of days.
These rituals might be a touch out of date now but there are many that we can adapt to make our Easter Sunday, and any other Sunday, the holy day it should be. And what you'll find is it's all in the preparation.
1. Choose a time to start on Saturday eve
Back in the Austrian countryside, church bells would ring on Saturday afternoon to signify it was time to put down tools, store them all away, and start preparations for the following day. Today we might decide a time on Easter Saturday when we stop what we're doing — maybe even put those devices away! — and start preparing ourselves spiritually and practically for Sunday. This can include preparing elements of your Easter Sunday meal — get the kids to help peel the vegetables if they're old enough — or making sure you have everything you need, like enough chairs or chinaware for any visitors coming to your home.
2. Prepare clothing in advance
Local farmers and their families would take their baths, shave and prepare their clothes for Mass on Saturday. Luckily we have modern-day conveniences to make these tasks less onerous. While we can hop in the shower Sunday morning, we could also lay out our clothes the day before. Von Trapp talks of clothes that are the "Sunday best," clothing that is "set aside for the day of the Lord. When we put it on, we invariably feel some of the Sunday spirit come over us." These days, our closets are crammed with clothes and choice, but perhaps we can get the kids, and ourselves, to select a special outfit that is worthy of Easter celebrations. Not only does this save time as you're trying to get to Mass on time, it makes us reflect on how we want to look on this most special of days. You could even get the family to make sure their selected outfits are all pressed and ready to go, so you don't end up walking into church with a dress hem hanging down, or a shirt-sleeve left unpressed!
3. A tidy up
Von Trapp shared how "it is usually the custom to put one's room in order — all drawers, cupboards and closets" on Saturday afternoon, so that you can start the week with everything in place. If we allot a certain amount of time on Saturday afternoon, we could all help in putting our house in order. We could encourage our younger kids to put their toys away and get older ones to make sure their rooms are tidy … ish — we're not expecting perfection, it really is the thought that counts! If you're lucky enough to have flowers in bloom in your backyard, you could pick a small bouquet to decorate your Easter table, or hallway to welcome any guests.
4. Take time to dine
In yesteryear, weekday meals were rushed and Saturday evenings were a time to talk and spend time together as a family. So this Holy Saturday, instead of wolfing down a quick meal, take the time to eat together and properly catch up. You could even start your own family ritual of choosing a certain dish to prepare for the eve before Easter — after all it's these traditions that help cement who we are.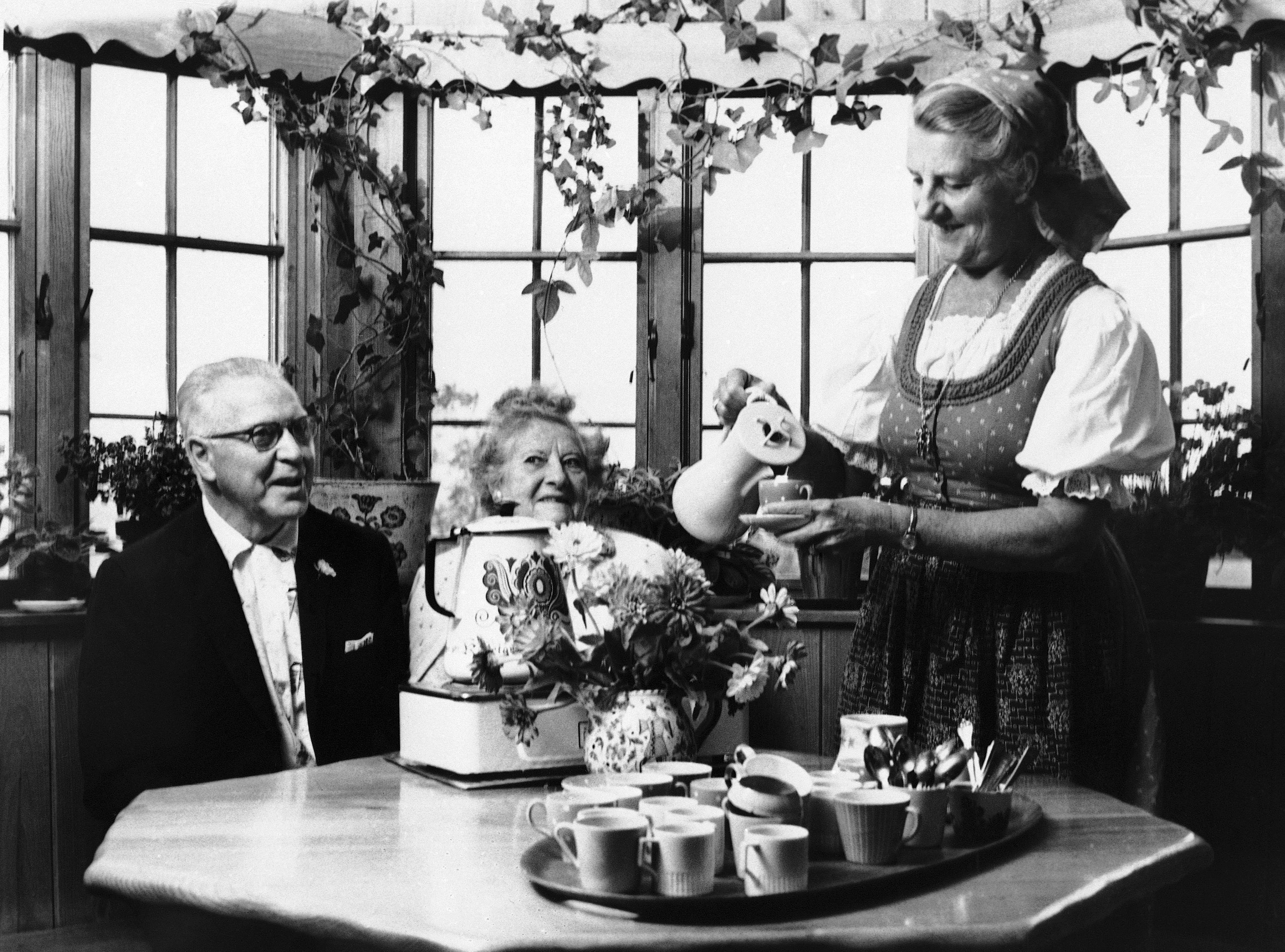 5. Before going to bed
Von Trapp talks of the spiritual preparations, too: "After the evening meal the rosary is said. In front of the statue or picture of the Blessed Mother burns a vigil light." With your own family perhaps you could say the Rosary, a prayer, or a reading that is special to you. With your children you could take the time to light a little candle reflecting on what is to come on the following day.
6. A peaceful evening
In order to be up and ready for Mass the next day, Austrian countrymen would have a peaceful Saturday evening and get to bed early. If possible, try and get the kids tucked up in bed early, then read a book or spend a relaxing moment in contemplation before you go to bed.
7. Get to church on time
With all these preparations in hand, getting to church on time should be a breeze. For the von Trapps, it required a bit of a hike. "In those days everybody used to walk to church even though it might amount to a one or two hours' hike down and up a mountain in rain or shine," said von Trapp, adding, "I feel sorry for everyone who has never experienced such a long, peaceful walk home from Sunday Mass." So why not try abandoning your car — if you can — but make sure you give yourselves enough time to get to church. For the songstresses among you, why not have a family sing-along en route: nothing quite beats a family or if you happen to live on a hill then obviously you'll be singing "the hills are alive with the sound of music!"
If you'd like to know a little more about the fascinating rituals of the von Trapps and their friends and neighbors, read this excerpt called "The Land Without Sundays" from Maria von Trapp's book Around the Year with the Trapp Family.