A delicious dinner featuring traditional faves, spiced simply with herbs, and presented elegantly for your family table.
Hosting Easter this year? We created a simple, beautiful menu that your family will remember for years to come.
Spring salad with mango and avocado
(From Talking in All Caps)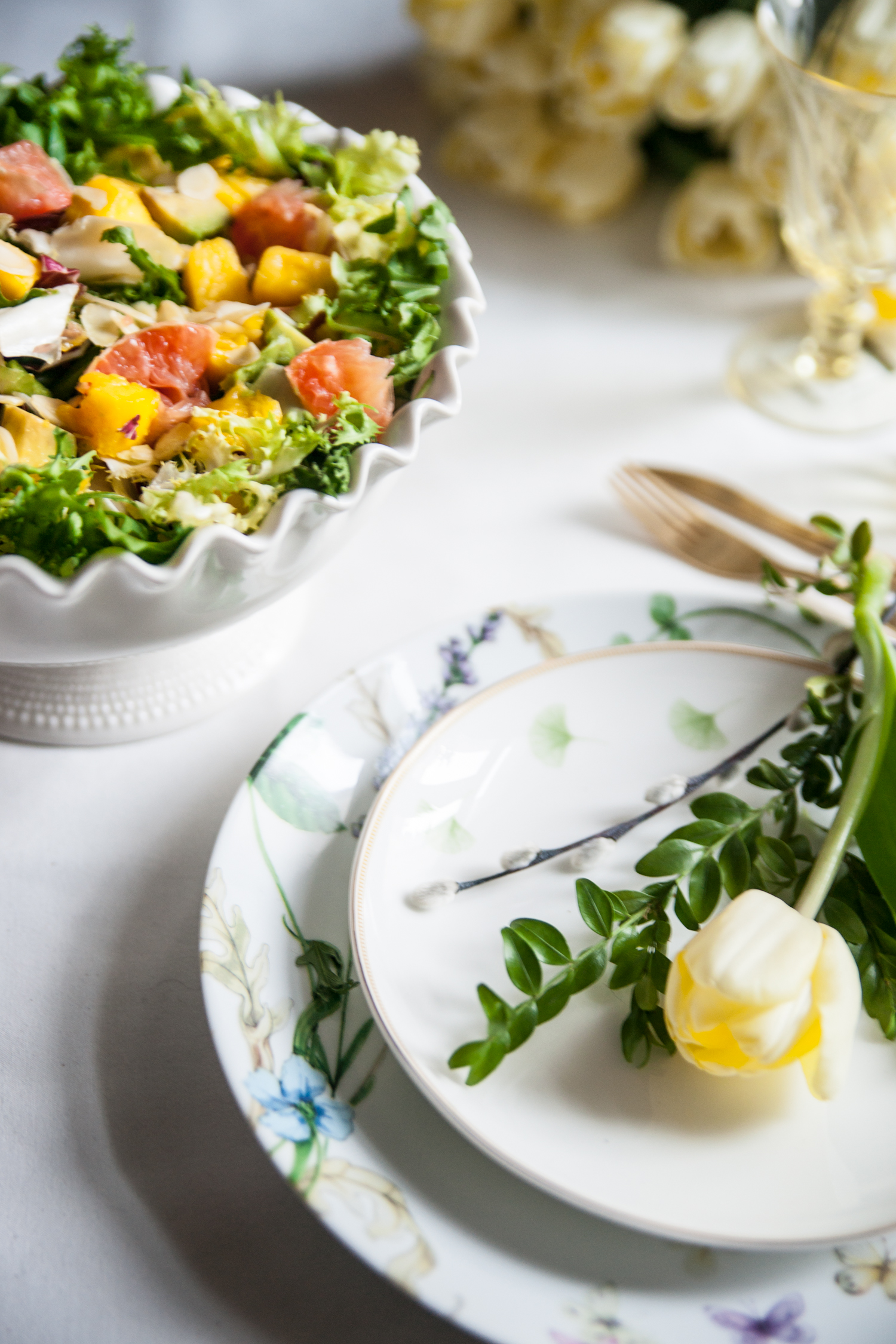 Ingredients:
For the salad:
1 bag of spring mix lettuce
1 avocado
1 grapefruit
1-2 mangoes
sliced almonds
For the dressing:
2 tbsps of grapefruit juice (or you can use extra vinegar)
1 tbsp of extra virgin olive oil
1 tbsp of balsamic vinegar
salt and pepper
Method:
1. Put all the dressing ingredients in a small container with a lid and shake until blended (or you can use a bowl and whisk).
2. Put the lettuce in a large bowl (or multiple smaller bowls) and drizzle with a bit of dressing. You won't need a lot because the other salad ingredients are moist and flavorful.
3. Cut the mangoes, grapefruit and avocado into chunks.
4. Put the chunks of mangoes, grapefruit and avocado on top of the lettuce and sprinkle with sliced almonds
Easter ham with Riesling and mustard
(Adapted from Bon Appetit)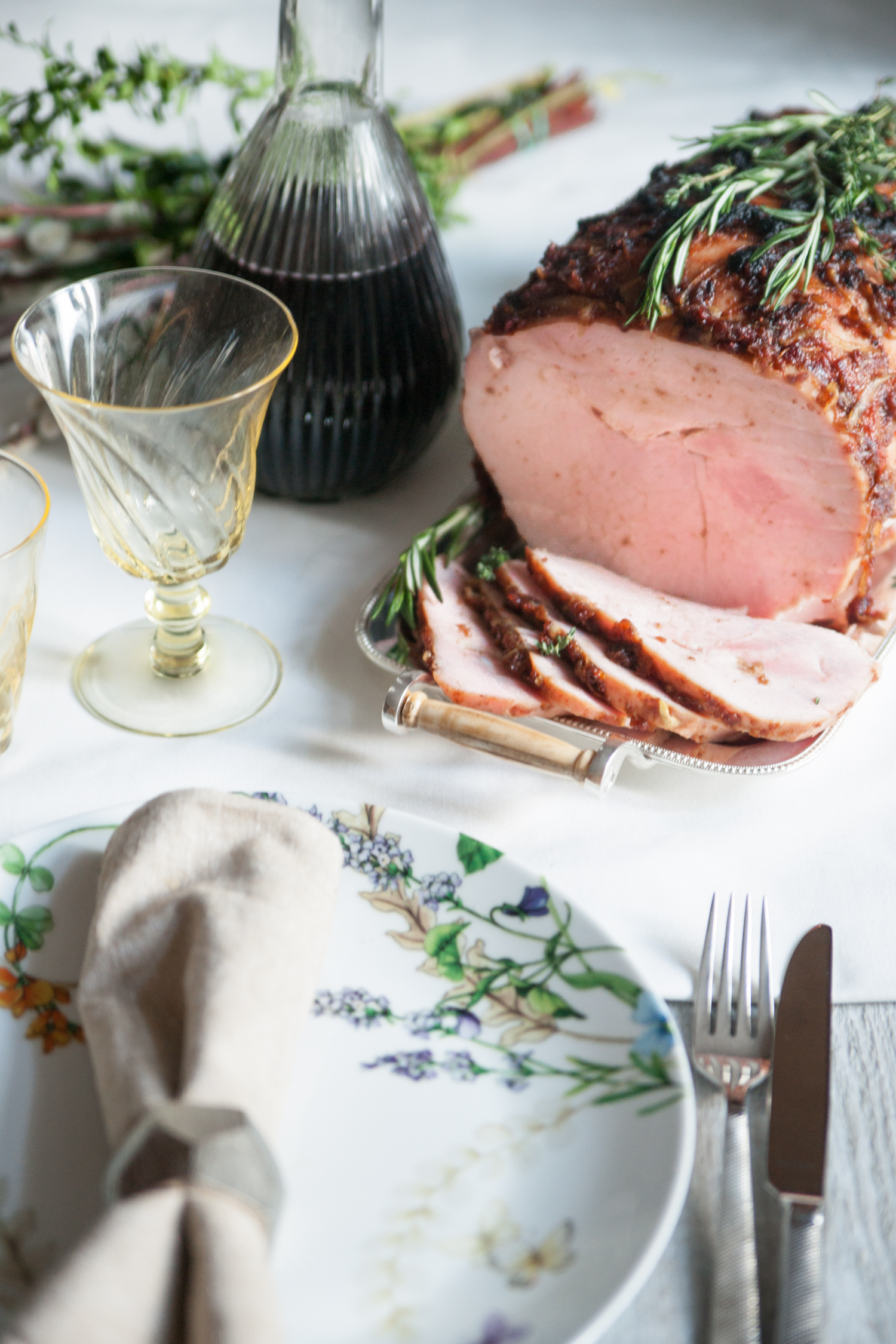 Ingredients:
14–16 lb whole cured, smoked bone-in ham
2 cups sweet (Auslese) Riesling, divided
2 tbsps (1/4 stick) of unsalted butter
1/4 cup of finely chopped shallots
3 sprigs of thyme plus 2 tsps of fresh thyme leaves
1/2 cup of whole grain mustard
1 tbsp of honey
1/2 lb of dried cranberries
1/2 tsp of freshly ground black pepper
small pinch of kosher salt
small bunch of fresh rosemary and of thyme for platter
Method:
1. Arrange rack in lowest level of oven; preheat to 300°F. Leaving fat intact, remove outer rind from most of ham, leaving a band around the end of the shank bone. Score fat crosswise (do not cut into meat) on top of ham with parallel cuts spaced 1/2" apart. Place ham in a large roasting pan. Boil 1 cup of Riesling and 7 cups of water in a saucepan for 5 minutes. Pour into bottom of roasting pan. Bake ham, basting with pan juices occasionally, until an instant-read thermometer inserted into the center of the ham registers 110°F, 2 1/2–3 hours.
2. Meanwhile, melt butter in a medium skillet over medium heat. Add shallots and thyme sprigs; cook, stirring often, until shallots are very soft, about 10 minutes. Remove pan from heat; stir in the remaining 1 cup of Riesling. Return to stove. Increase heat to medium–high, bring to a simmer, and cook until reduced to 1/4 cup, about 8 minutes. Remove the thyme sprigs and transfer mixture to a food processor. Add thyme leaves, mustard, honey, dried cranberries, pepper, and salt. Blend but stop before completely blended
3. Remove pan from oven and increase heat to 350°F. Using a pastry brush, spread Riesling mixture over ham. Return pan to oven and bake ham, tenting with foil if browning too quickly, until internal temperature registers 135F° and crust is golden brown, 15–30 minutes.
4. Transfer ham to a large platter. Let rest for 30 minutes before carving.
Roasted potatoes with garlic & herbs
(Adapted from Life Currents)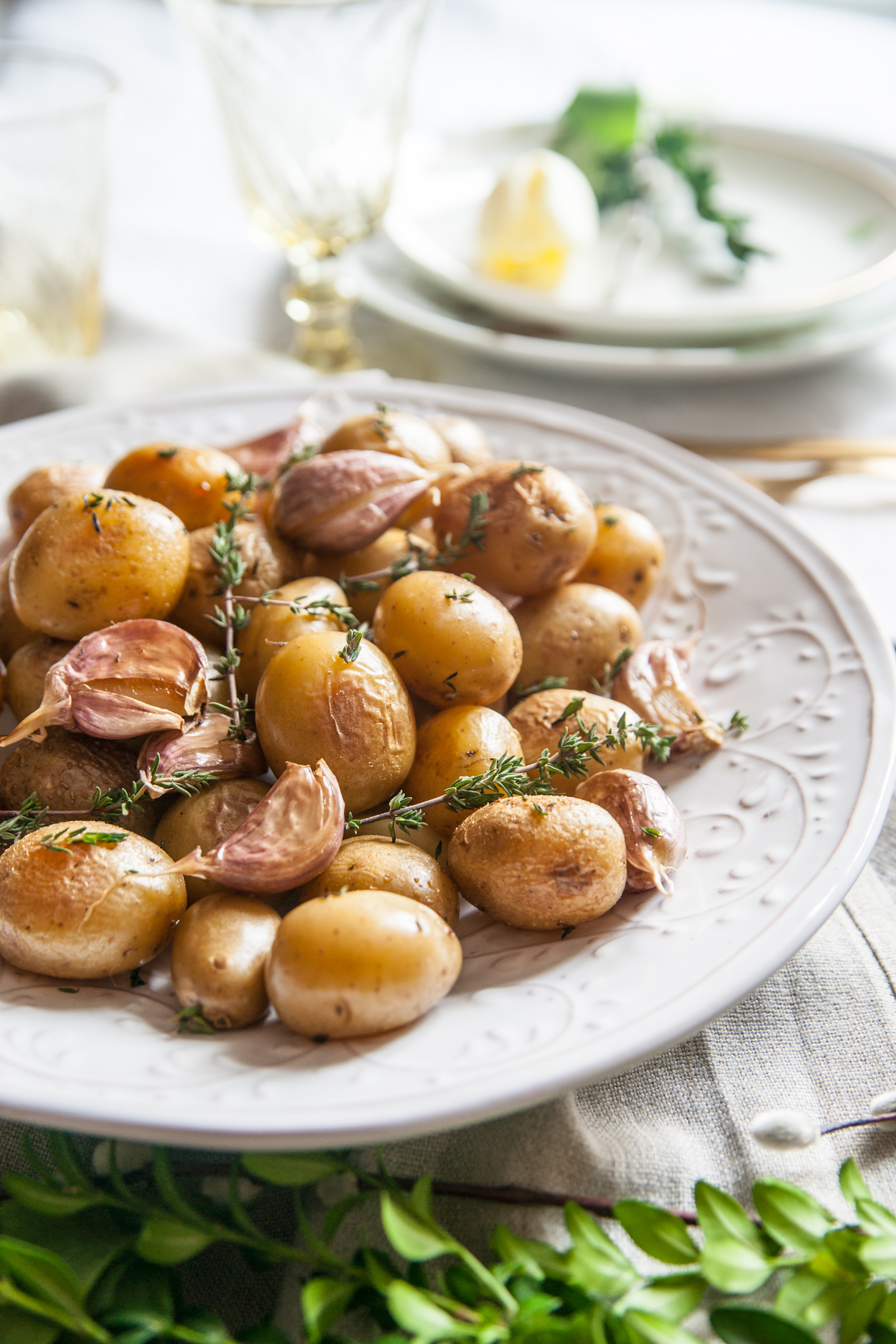 2 lbs of baby Yukon Gold potatoes (20 to 25 potatoes, 1 ½ to 1 ¾" in diameter)
1 sprig of fresh rosemary
2 cups of homemade or low-salt vegetable broth
2 tbsps of good-quality extra-virgin olive oil
1 garlic bulb
1 tbsp of unsalted butter
1 tsp of kosher salt (less if the broth is salty)
fleur de sel or other coarse grain sea salt for serving (optional)
Small bunch of fresh thyme for platter
Method:
1. Trim the potatoes of any eyes or damaged areas and wash well in cold water. Arrange as many potatoes as will fit in one layer in a 10–12″ cast iron or other non-stick skillet (there should be a little room to spare, they'll need the extra room later when they're cracked).
2. Add the broth, oil, butter, and salt to the potatoes in the pan. Bring to a boil over high heat. Reduce the heat to medium, cover the pan but leave the lid slightly ajar, or loosely cover the skillet with foil, and boil until the potatoes are tender when pierced with a fork, about 20 minutes. The liquid should still surround the potatoes.
3. Add whole cloves of garlic without removing the skin and cook, uncovered, until all the liquid has evaporated and the potatoes have browned on one side, about 10 minutes. Gently turn the potatoes and brown the other side, another 4–5 minutes.
4. Remove the pan from the heat and let the potatoes rest for 5 minutes, and transfer them to a serving platter. Sprinkle potatoes with fresh thyme and fleur de sel.
Rustic honey-mustard roasted carrots
(Adapted from Country Living)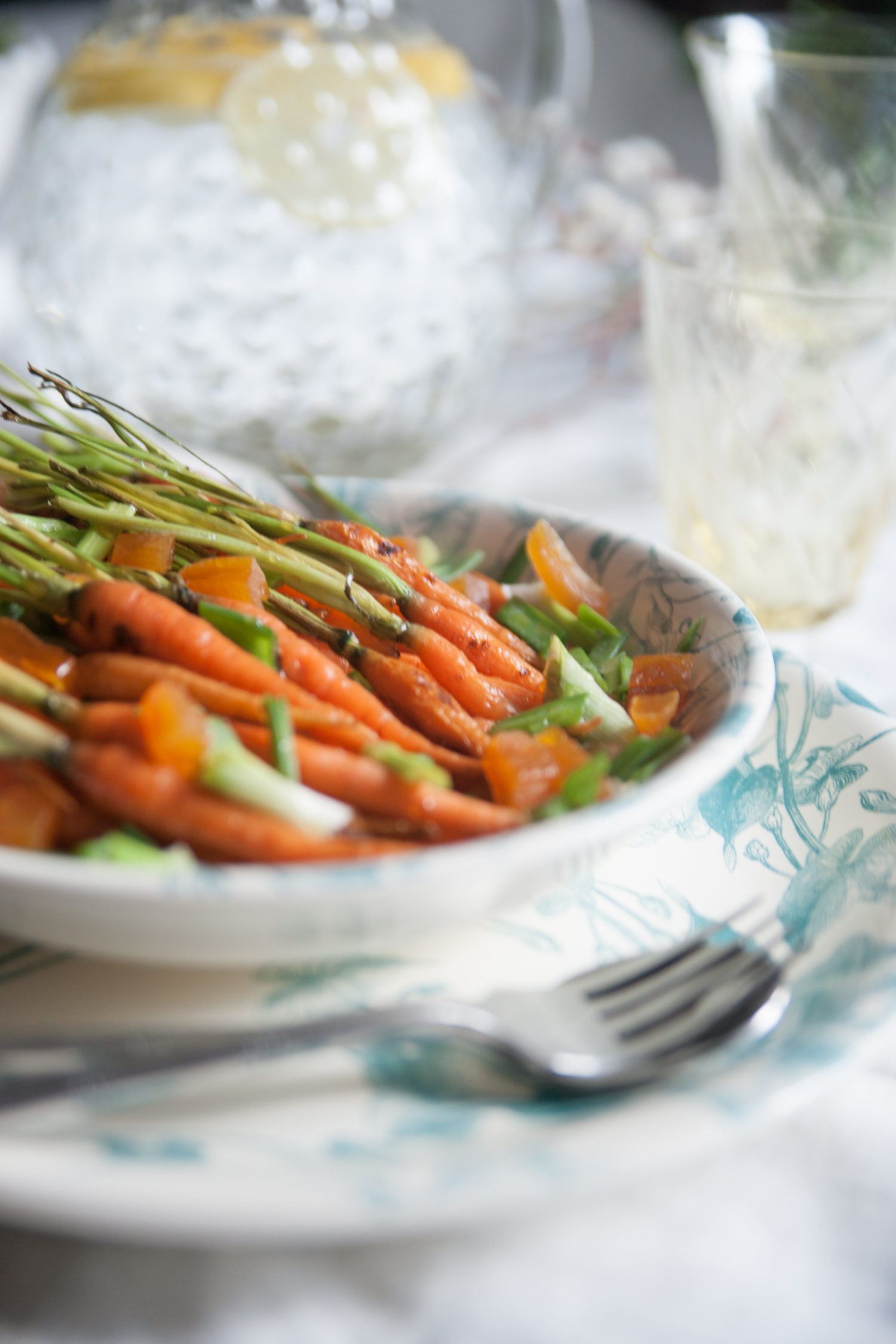 Ingredients:
zest and juice of 2 limes
4 tbsps of extra-virgin olive oil
2 tbsps of honey
1/2 tsp of dry mustard
pinch of crushed red pepper
salt to taste
1/4 lb baby carrots
1/2 cup of sliced dried apricots
3 small scallions
Method:
1. Preheat oven to 300°F. Put washed carrots into a pan. Using a pastry brush, spread 1 tbsp of olive oil over carrots and bake them for 20 minutes. Transfer carrots to a serving bowl.
2. In a medium pan over low heat, cook lime juice, 3 tbsps of olive oil, honey, mustard, and red pepper until warm, about 1 minute. Remove from heat and cover.
3. Add dried apricots and scallions, then toss salad with warm honey-lime dressing. Sprinkle with lime zest.
Traditional hot cross buns
(From Country Living)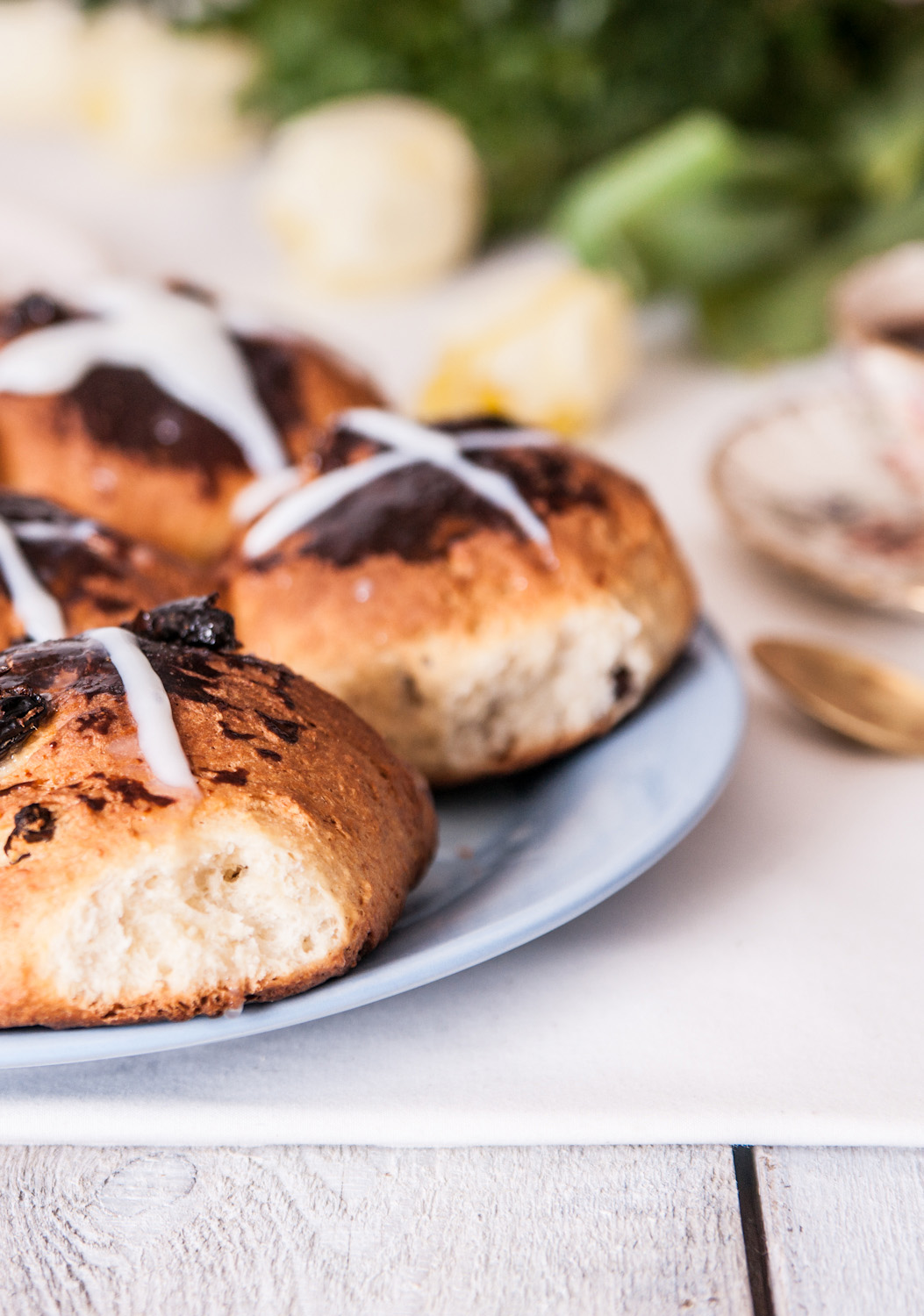 Ingredients:
1 cup of milk
1 tbsp of milk
1 package of dry active yeast
¾ cup of sugar
1 tsp of sugar
2¼ cups of all-purpose flour
2 cups of bread flour
½ cup of black raisins
2 tbsps of candied lemon peel
2 tbsps of candied orange peel
1 tsp of salt
½ tsp of cinnamon
¼ tsp of ground nutmeg
pinch of ground cloves
4 tbsps of unsalted butter
2 large eggs
1 large egg yolk
1 heaped tsp of confectioners' sugar
¼ tsp of vanilla
Method:
1. Coat a large bowl with oil and set aside. Combine the 1 cup of milk, yeast, and the 1 tsp of sugar in a small bowl and let stand until bubbly. Combine the flours, remaining sugar, raisins, candied peels, salt, and spices in the bowl of a standing mixer fitted with a dough hook (or in a large mixing bowl) and mix on low speed. Add the butter, 2 eggs, and the yeast mixture and continue to mix until a sticky dough forms, about 3 minutes. Transfer the dough to a lightly floured surface and knead by hand until smooth, about 5 minutes. (If dough has been combined by hand, increase kneading time to 10 minutes.) Form the dough into a ball, place it in the prepared bowl, and turn to coat all sides with oil. Cover with a clean, damp kitchen towel and let rise in a warm, draft-free place until it doubles in volume, about 1 hour.
2. To shape the buns, start by lining a baking pan with parchment paper and set aside. Punch the dough down, transfer to a lightly floured surface, and knead for 3 minutes. Divide the dough into 12 equal-sized pieces, about 3 1/2 oz each. Shape each piece into a ball and place the balls about 1″ apart in three rows of four on the prepared pan. Cover and let rise until the buns double in volume and touch one another, about 1 1/4 hours.
3. Preheat oven to 500°F. In a small bowl, combine the egg yolk with 1 tbsp of water. Using a pastry brush, lightly brush the mixture on the top of each bun. Place buns in the lower third of the oven and reduce oven temperature to 400°F. Bake until golden brown, about 20 minutes. Transfer to a wire rack. In a small bowl, combine the confectioners' sugar, remaining milk, and vanilla. Stir until smooth. When buns have cooled slightly, drizzle a horizontal line across each row of buns followed by a vertical line to form a cross on the crown of each bun.