Want to create a basket full of beautiful eggs this year? Get cracking with these easy ideas.
The celebratory part of Easter isn't just about eating candy. It's also about eye-candy … in the form of fantastically colored and uniquely decorated eggs.
Need a little help on how to gussy up your own basket of eggs? We've got a dozen and one ideas that will amaze you with their creativity — from eggs crowned with delicate wild flowers to ones disguised as cute fruits or fuzzy bunnies — that you can proudly display in the garden, around your home, or at the dining table.
A rustic crown of flowers

With a touch of delicacy and forest whimsy, these eggs are a charming edition to any Easter occasion. Just use a marker to draw on a sweet looking face, then make a teeny tiny crown with wild flowers. The idea works equally well with small budded flowers like daisies, mimosas or buttercups. Bonus: If you're an expert daisy chain maker, you can make your daughter a larger, matching crown.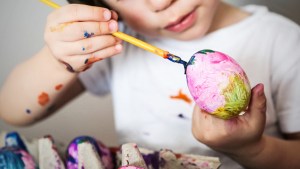 Read more:
The surprising holiness of Easter eggs
Marble masterpieces

Almost as refined as a Fabergé egg, these marbled creations lend a chic touch to any Easter dinner table. But you'll be surprised by how quick they are to create using just a dash of dexterity and nail polish! To replicate these little masterpieces, simply follow the tutorial on the blog, Stylizimo: First, select a nail polish color of your choice. Then fill a plastic cup with some tepid water and add a few drops of polish inside. Put on some rubber gloves, and gently stir the water with your finger to create a pattern. Dunk the egg in the water and swirl it around so that the polish covers the entire surface of the egg. Finally, take out the egg and leave it to dry on clean paper. Yes, it's that easy!
A fuzzy Easter bunny
The rabbit is an inescapable symbol of Easter. So it seems only natural that it should be a part of your Easter collection. This s a great one if you're prone to the dreaded #PinterestFail because it's adorable but so simple: Paint the egg all white, and when it's dry, draw on a face with a marker. Then, for the ears (as well as the feet), cut out shapes on white felt before coloring the central areas in pink. Last, attach the ears and feet to the egg with glue. Now hop to it!
Pineapple passion
If you haven't noticed, the prickly, pretty pineapple is taking over the world of home decor. And now your Easter display, too, thanks to this DIY colored version! Very easy to recreate, this pineapple-egg is painted yellow, then decorated with sheets of fluorescent green paper.
Berry cute

Technically, the season for strawberries starts around May, but we can't resist these sweet fruits, even if it's just to devour them with our eyes. To make this design, collect some empty shells — after eating a hard-boiled egg, for example —then paint them in red and pink. For the little seeds, draw them on with a golden marker or paint. Cover the top with some red crepe paper and add some petals cut out from green paper to create the stalk.
Pinata-style presents
Anyone who's ever been to a children's party will be pretty familiar with the pinata. Originating from Latin America, these hollowed-out objects covered with colorful paper fringes are filled with sweets. The kids are blindfolded and take turns to hitting it with a stick until the pinata bursts open and all the treats fall out.


Read more:
Looking for a different Easter-themed movie this year? Try these!



Help entertain the kids during your Easter celebrations with this mini version made out of eggs. Simply empty the egg by

following this helpful Youtube tutorial

, then delicately make the hole large enough to slip in some small sugared Easter eggs, or sparkling granulated sugar in a fun color. Cover the egg with strips of crepe-paper, that you've already cut little fringes into. It's also possible, as in the photo, to make Easter pinatas with balloons made out of paper-mache.
Golden goose eggs
All the glamour with none of the excessive bling! To make these elegant golden Easter eggs you'll need to paint the whole shell in the complementing color of your choice first, before adding gold leaf to achieve the mottled effect. The color is created through a mix of water, white vinegar, and food coloring in which the eggs were dunked for about a minute.
Fast food eggs, any style
Completely off-beat, these hamburger Easter eggs will add a smile to anyone's face. Some sharpies or colored paint to make up the different layers of the burger, a triangular yellow sticker for the cheese, some green crepe-paper for the lettuce, some sesame seeds made by a white marker, and voila … bon appetit! (We think you can even turn this into a series: Why not also create a hot dog and a packet of french fries for the complete buffet effect?)
Doily decoration
Try contrasting these natural brown paper-mache eggs with a strong white accent. Simply cut out some doilies and stick in bands over the surface of the egg. You'll end up with a collection of quaint eggs that are pretty unbreakable and you can even use them next year!
Read more:
Simply elegant 5-course Easter dinner menu
Creative crochet
Crochet-lovers will easily replicate this traditional egg-coutrement. Simple and sweet, we love the authentic touch of these designs, which lend a natural spirit to any Easter table centerpiece.
Super-hero huevos

If you're extra savvy with those crochet needles, consider bringing a little personality to your Easter decorations with this cute caped crusaders. Children will love to see how you dress up eggs in their favorite crocheted super-hero costumes!
Adorable donuts

Got a sweet tooth? No one will be able to resist these multicolored donuts. Just paint a brightly colored ring around the egg and add some "sprinkles" using a few different colored marker pens. (Extra points if you can figure out how to fill a blown egg with jam!)
Doodle-do

To finish this inspiring list, here's an idea that can not only be done in a flash, but you don't need to empty the eggs insides, as they can still be used (and eaten) after Easter is over! All you need to do is grab an egg and get creative with a touch of white paint. This tactic is especially great for those who love doodling patterns.
This article was originally published in the French edition of Aleteia.