Stay fashionable with things you probably already have in your closet.
Whether or not the temperatures have actually inched up in your home town this month, spring has officially begun. So it's time to rearrange the closet and start thinking about what to wear on warmer days.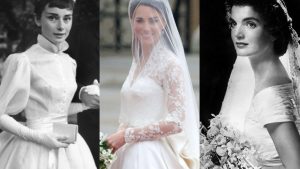 Read more:
The 5 best wedding gowns in style icon history
Want to keep up with what's trending, but don't want to splurge on a new wardrobe? We've picked out this spring's five biggest trends that aren't difficult to follow using what you probably already have in your closet — or just by buying one or two accessories.
1. The return of the 80s
If you (or your mother) have an inner hoarder … congratulations! At the back of your closet, you'll probably find everything you need to be the trendiest woman of the season. Designers are going back to wide belts, big ruffles, leggings, everything metallic, oversized accessories, and yes, even those huge shoulder pads you feared might reappear someday. These blasts from the past are setting the tone this season.
But it's the "rocker" side of that decade that you'll see most, so don't be afraid to use your leather jacket, and even your red tights (which many fashion bloggers advise wearing under torn jeans, to make them less daring). You can avoid the perm, though; there's no need to look like you're wearing a costume.
2. Happy (not mellow) yellow
When it comes to colors, yellow sets the tone this spring — and that's fabulous, because it signifies happiness and optimism. (Basically it's the kind of color we should all wear every Monday morning to keep morale up). Yellow can be a tricky color to wear, but there's an ideal tone for each kind of skin, you just need to find yours. If you are very fair-skinned, you can choose something tending more towards mustard; if you are darker-skinned, it can be a more fluorescent tone.
Read more:
Your work wardrobe, reinvented
Plus, yellow combines nicely with tons of other colors. Some designers have combined it with neutral colors like khaki; others have been more daring, combining it with fuchsia to do some color-blocking. Everything depends on your personal style and how you feel that day! (But gray or blue is your safest bet if you're really stumped.) Still having doubts? Look for a striking yellow accessory instead, like this J.Crew leather handbag in Sunset Gold.