Her life was tied to Jesus' suffering; she received the stigmata on her body and died on a Holy Saturday.
From an early age, Gemma Galgani, whose feast is celebrated April 11, had a deep and abiding love of Christ and a devotion to his most sacred Passion.
After receiving her First Communion on the Feast of the Sacred Heart, Galgani said to one of her classmates while pointing to her own chest, "I feel a fire burning here. … Do you feel like that?"
Galgani went on to experience much suffering during her short life. Her mother died when she was still young and Gemma was plagued by poor health and sickness. She consistently desired to enter a convent, but was never admitted because of her medical conditions.
However, God gave her many special graces for her devout and pure faith. She experienced apparitions of Jesus, as well as visions of St Gabriel Possenti, a Passionist priest.
Before her death she received the stigmata, the Holy Wounds of Christ on her body, on June 8, 1899, the eve of the feast of the Sacred Heart.


Read more:
Padre Pio's secret wound was more painful than the stigmata


It was a special way for Galgani to join Jesus in his sufferings on the cross and experience what he experienced. The stigmata was painful, but Galgani also fell into ecstasy and grew deeper in love with Jesus.
She eventually died from a mysterious illness, suffering intensely on Good Friday and departing from this world on Holy Saturday, April 11, 1903.
While never allowed to enter a convent, Galgani was buried in a Passionist habit on account of her spiritual life, which was in sync with the Passionist Order.
As we celebrate her feast day and prepare to enter into the Paschal Mystery, here are five inspiring quotes from St Gemma Galgani on the Passion of Jesus, a topic she experienced first hand during her short life on earth.
1) "…..At that moment Jesus appeared with all His wounds open, but blood no longer came out of those wounds. Rather, flames of fire issued forth from them and in an instant these flames came to touch my hands, my feet and my heart. I felt as if I would die." 2) "Let me embrace You, heavenly Bridegroom, source of all my consolations. Who am I, to speak so boldly with You? It is true, I am Your creature, but I am bad; It is true that I was made by Your hands, and those very hands, oh Jesus, I pierced with nails….I got going too late, Jesus, in coming to You…..I found You, Jesus….I found You…I call You, I invoke You, because I am sure. But where are You? Where are You hiding? I can smell Your presence. Give me wings, Jesus, to fly to your house in heaven."3) "If you really want to love Jesus, first learn to suffer, because suffering teaches you to love."4) "Do grant, oh my God, that when my lips approach Yours to kiss You, I may taste the gall that was given to You; when my shoulders lean against Yours, make me feel Your scourging; when my flesh is united with Yours in the Holy Eucharist, make me feel Your Passion; when my head comes near Yours, make me feel Your thorns; when my heart is close to Yours, make me feel Your spear."5) "Why did you suffer for me, dear Jesus? For love! The nails…the crown…the cross…all for the love of me! For You I sacrifice everything willingly. I offer You my body with all of its weakness, and my soul with all its love."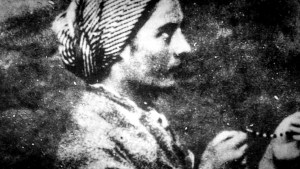 Read more:
Suffering today? Pray this prayer from St. Bernadette
Read more:
A powerful Lenten reflection from Blessed John Henry Newman: "Behold the Man"