Help your rosebushes flourish with these home-grown, sustainable ideas.
There's something deeply special about flowers' appearance each spring: when they are just breaking through the fresh dirt, coming back to life, or coming to life for the first time. This time of year has a way of breathing new life into me. Its colorful blooms, the fresh smell of tilled dirt, and thinking about which vegetables I will grow revives me out of my winter blues, kicks my vitamin D deficiency out the door, and renews my sense of purpose. That purpose is to provide food and beauty for myself and my family. And best of all, it's free! (Because it's true: the best things in life are always free.)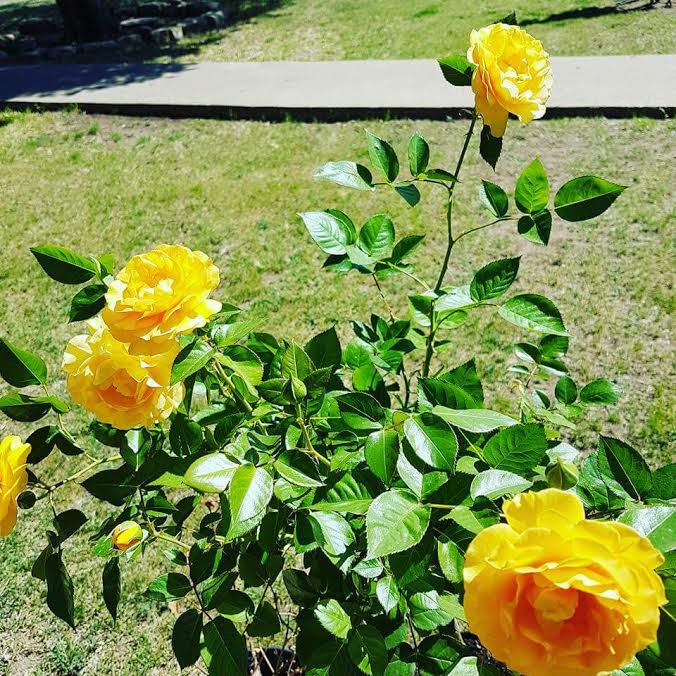 Of the flowers I tend to every year, my favorite are my three rose bushes. So I was worried this spring when it looked like one of them had died over the winter. But to my surprise, when I checked on it again recently, I saw a sign of new growth … not on the same bush, but rising from the ground about six inches away from it; a seedling spread from its old plant. I was overjoyed that my rose bush had left a legacy of sorts. Again, I was reminded that my garden is often an analogy of life and family: creating children who can carry on even when we're no longer able to.
Read more:
4 types of flowers that bring spirituality into your home
Over the years, I have learned a great deal about caring for these roses. Sometimes it's necessary to stake (or trellis) them because their own root development might not be enough to keep them stable, leaving them vulnerable to breakage as they stretch toward the sun and bounce in the wind. Instead of classic stakes, I've also seen gardeners using recycled items such as an old fence gate, a wagon wheel, chicken wire, bamboo, or twine.
Another trick I've learned? In the mornings, I can often be found sharing my coffee with my roses. No, I don't mean pouring hot coffee on them (which is a great way to kill them off, I imagine). I give them my leftover coffee grounds because, high in nitrogen content, they serve as a great organic fertilizer. The grounds can either be mixed in with water or put directly onto the base of the bush. (I use K-cups so I simply open up the cup when I'm finished brewing, and then sprinkle it on the ground next to the stem.) But your roses don't need quite as much coffee as you might: A handful once a week will be sufficient, otherwise the soil may become too acidic.
Coffee isn't the only secret fertilizer I've used, though. There are many other homemade, chemical-free fertilizers to help your roses thrive and survive:
Egg Shells – Roses love the calcium that egg shells provide. Simply crush or blend the egg shells in a blender and distribute them at the base of the rose bush to produce egg-ceptional roses.
Epsom Salts – Roses can suffer from magnesium deficiency while blooming, but Epsom salt will provide some of that magnesium for brighter, more beautiful roses. Mix one tablespoon of Epsom salt per gallon of water once a month.
Banana Peels – Freeze your banana peels and then blend with a little water to create a plant food for your roses. Another method is to bury your banana peels directly in the dirt around the rose bush. Either way, the potassium should help make your roses flourish.
Fish Tank Water – Do not pour that filthy fish water out! Like coffee grounds, the water contains a high amount of nitrogen. It may be disgusting, but I promise this stuff is liquid gold for your roses. (This is also a chore your kids can help with.)
Read more:
Green thumbs love this Downton Abbey Garden Rose
If you've never planted roses before, spend some time thinking about what color would complement your yard and personality best before shopping for the perfect bush (or seeds). Each color of rose has a beautiful meaning behind it: pink means grace, orange means fascination, and red means love. Some rose types even combine colors, like a varietal known as "Joseph's Coat," which blooms yellow with orange-pink tips.
The reminder of why you picked that color will evoke your memory time and time again as you enjoy the captivating site and aroma of your roses.