Every year, the famous Spanish actor returns to his hometown of Málaga and takes part in the procession.
The fact that it happens every year doesn't mean this is not news: the Spanish actor Antonio Banderas went back to his hometown for Palm Sunday. Bandaras serves the ceremonial role of steward of the throne of the Virgin of Tears and Favors of the Reales Cofradías Fusionadas, one of theof Málaga procession's organizing confraternities.
Launch the slideshow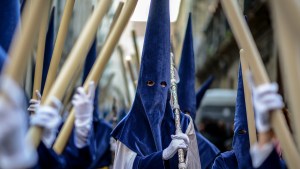 Read more:
Holy Week Around the World: The most purple of penitents
The renowned actor has participated in this procession for decades. Although he has a busy schedule and suffered a heart attack a few months go (his health is still somehow delicate), he didn't want to miss the chance to honor his Mother, the Virgen de las Lágrimas y Favores, by putting on a hood and ringing the bell to lead the procession through the streets of this beautiful Andalusian city.