A relatively "new" motif in Christian art, the moment of the Resurrection is not described in the Gospels.
The Resurrection of Jesus, it goes without saying, is central to Christian faith and, consequently, to Christian art. It has been represented either as a single scene or icon standing on its own, or as belonging to a cycle of the Life of Christ (more specifically, to the narrative of the Passion of the Christ). Interestingly, it is a relatively recent motif in Christian art. In fact, it was not represented directly but rather allegorically for over a thousand years, the reason being the moment of the Resurrection is not described as such in the Gospels. In fact, one might say the Resurrection is indeed a classic Gothic motif, instead of a Byzantine or Romanesque one.
During almost all the first 10 centuries of Christianism, the Resurrection was represented by schematic, symbolic depictions of Christ's victory over death. The most common of them all would be the Chi Rhomonogram, depicting the first two Greek letters of the name of Christ (Chi, "X"; and Rho, "P") encircled by a holy wreath symbolizing the triumphant rising of Christ from the grave. Later on, the scenes that are indeed described in the Gospels as related to the Resurrection (in particular, the disciples finding the empty grave and the encounter with Mary Magdalene –- the well-known  Noli Me Tangere motif), were then represented. Other scenes from the tradition, such as the Harrowing of Hell, which was already being portrayed in Byzantine and Eastern Orthodox art, grew popular in the West as well.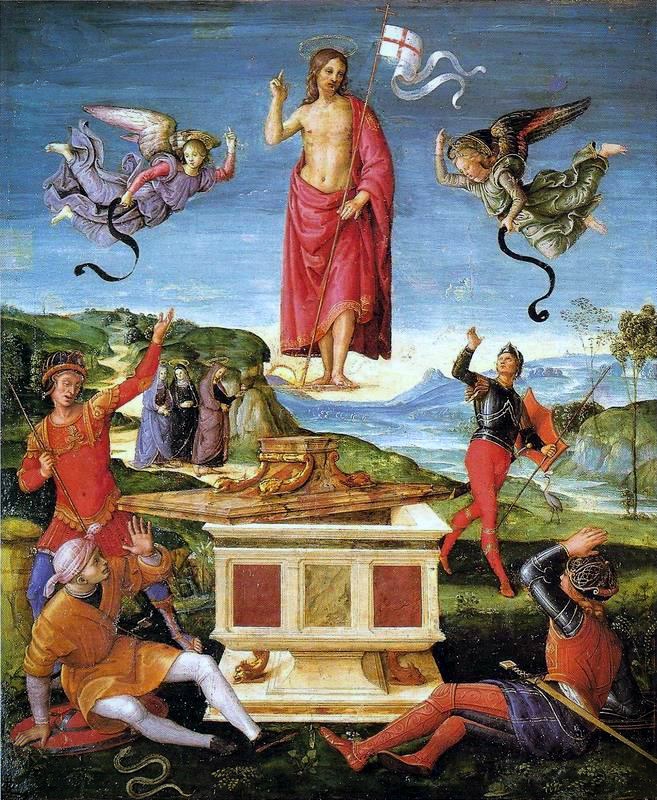 Launch the slideshow