The problem isn't just men doctors; women MDs can be just as belittling and dismissive in the exam room.
One of the videos in David Schwimmer's short-film series #ThatsHarassment features Cynthia Nixon as a patient at a doctor's appointment for what should have been a simple exam for a sinus infection:
This is a hard video to watch. The sexual harassment is both obvious and insidious, and I found myself knowing that in the same situation I would have behaved exactly the same way. Feeling wildly uncomfortable and violated, but also not protesting because he's a doctor.
Read more:
Will Catholic Doctors Soon Be Safe, Legal and Rare?
In an interview with Cosmopolitan, Nixon said that beyond the sexual harassment, one of the most troubling things about the film is the "authoritative" way the doctor speaks to the patient.
A man in that situation, he would probably not say that to him. But he feels like he has the liberty to talk down in that way and to sort of bark you down, like an animal. It's like an alpha dog talking to a person who he hopes will be a beta dog and is trying to convince them they're a beta dog. I find it troubling. Doctors should encourage you to ask questions, not the opposite, not to make you feel stupid.
This is all very familiar to me, and I'm betting it is to you as well. It's not just male doctors, either — female doctors speak to me this way all the time, but not to my husband. Doctors tend to hear his concerns and answer his questions, while they tend to brush aside my concerns and questions. Sometimes they even brush me aside, literally.
I will never forget the horrible ER visit I had when I was pregnant with my fourth baby. I suffer from severe migraines during pregnancy and sometimes have to go to the ER for blood pressure monitoring and IV migraine meds, but my husband usually accompanies me. This time I went alone so he could stay with our sick children, and the difference in my care was astounding.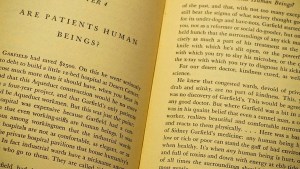 Read more:
Why your doctor should read great literature
The nurse made no secret of the fact that she didn't believe my pain was real. She gave me a triptan, which is a great non-narcotic migraine medication that works wonders for many people. Unfortunately, I am not one of them. She dismissed medical records that attested to my intolerance for triptans by claiming that they are the only medication that is safe for pregnant women (they are not). When I began (predictably) to throw up, she perched me on the edge of the table and gave me a large dose of anti-nausea medication that hit me like 12 tequila shots — and then acted surprised when I toppled forward off the table.
My doctor was no better. She kept insisting (via phone) that under no circumstance was I to be sent home until the "pain" was under control (air quotes supplied by the attending nurse), and under no circumstance was I to be given anything other than triptans. I refused the third dose of triptans and was left alone in an ill-lit triage room piled high with dirty laundry, where I spent four hours alternately vomiting and crying. When the nurse reappeared to tell me that the doctor had prescribed a double dose of triptans, I finally ripped the IV out of my arm myself and walked out the door to make the hour drive home with my head pounding and my blood pressure still elevated.
Read more:
US Birth Rate Drops to Record Low—Why This MD-Mom is Bucking the Trend
This is par for the course for women. The Atlantic recently featured an article about how doctors take women's pain less seriously, something that all women have either experienced or heard about. A family friend of mine went to the same ER three times for debilitating back pain and was dismissed each time without exams or blood work. The infection that went unchecked in her spinal column nearly killed her and left her paralyzed for life.
That might seem like an extreme example, but it's not as extreme as you think. A mother named Rebecca Frech spent a year seeking answers to her daughter's mysterious, encroaching paralysis, only to be ignored and accused by doctors. She was finally given a diagnosis — reverse-onset Guillian Barre — along with the knowledge that it was a known side effect of one of her daughter's medications, and had the doctors taken her seriously in the beginning the paralysis could have been reversed.
This is sexism, plain and simple. It's also hard to fight, because doctors have a lot of well-earned authority that comes with the MD. The average doctor knows far more than the average woman about the ins and outs of the human body, no matter how much we've googled. But there are bad doctors just as often as there are bad lawyers, or bad scientists.
It was helpful for me to remember that my doctor works for me, and not the other way around. So I fired her and found a better one. If your doctor is dismissive and belittling, you can fire him or her as well. In fact, you should.
Don't lose hope — there are good doctors out there. My current doctor is the best — he is not only competent in his field, but he listens to everything I say and answers all questions I have. He absolutely treats me as a partner in my own health, as he should. So speak up in defense of your health, and don't be afraid to keep looking for a doctor who will do the same.