Fashion lessons that did NOT come from a United Airlines dress code manual.
People just can't stop talking about that United Airlines fashion incident: when two of its passengers — who were using the employee discount for family members of crew — were told they could not board the plane unless they changed their leggings or put a dress on over them. The gate agents alleged that the airline's rules included a dress code that must be adhered to.
While this article of clothing was already somewhat controversial (see: Lululemon), there are many people who swear by them. (We've even seen Kate Middleton don a pair!) But there are also those who disapprove of them completely.
Me? I'm Team Leggings, but with a few style stipulations about how they should — and, above all, should not — be worn.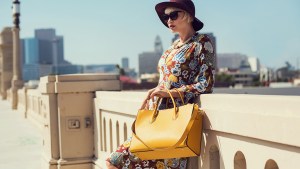 Read more:
5 Easy, inexpensive style trends for spring 2017
First things first: Whether you like them or not, leggings are not a straight-up substitute for pants (they originally evolved from the Lycra stockings used by ballerinas), but they aren't pantyhose either. Sorry, United, but the idea that passengers wear dresses over their leggings in order to board was equally bad. So to make this sporty chic look work, I apply seven simple little rules:
1. The perfect fit
Unlike pants that can have different cuts, leggings should always have a similar fit (regardless of length). There isn't a baggy style or an extra tight, unless you've bought the wrong size. So it's important to find the right brand for your body. They should embrace your curves from the waist down, but not act like a girdle! They should never be so tight that they give you a distinct muffin top at the waist, nor so loose that they have unnecessary wrinkles (including bags at the knees or at your rear end). You'll look better this way, but you'll also be more comfortable.
2. Fabric type
Leggings should always be made of substantial fabric: a firm cotton or thicker Lycra blend. Because no one wants to be the girl who didn't realize her leggings were translucent in the back. First check: How well can you see your panty lines through them? You don't want distinct lines, and the color of your underwear should never be visible. So take a good long look at them in the rear before you buy.
3. Body type
It's not a matter of discrimination: Just be mindful of whether you're wearing leggings because you like the way they look and feel on you, or just because it's trendy right now. Ask yourself: Are these truly flattering to my body shape? Do they make me feel good about myself? I'm not saying that a woman with more generous curves can't wear them; I'm just advising everyone to take a minute and assess if leggings are the best pant for them.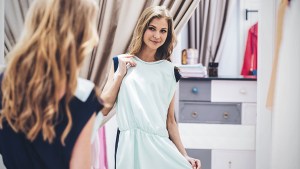 Read more:
Are clothing stores lying to women who wear a size 8 or more?
4. Where shirt meets legging
In this case, it doesn't matter what kind of body you have: the ideal top pairing with leggings is a blouse, jacket or sweater that is long enough to come down to your pelvis — not so much to cover your derrière entirely (I like to cover it about half way), but to avoid the possibility of any camel toe or muffin top situations.
5. Flee from prints
Let's be honest: If you're not a super fashionista a la Olivia Palermo, printed pants can be a tricky style item to master. Some prints can make curves appear larger than they are, others stretch their prints in all the wrong places, and then there are some that are just way too loud. My advice is to use neutral colors (but NOT skin color, which will make you look naked) and dark tones if you want a slimming affect: Black, navy blue, brown, olive, dark purple, or maroon are all good options. But steer clear of white, which is hard to pull off.
6. Shoe choice
Your choice of shoes is almost as crucial as your choice of a top. I'm partial to wearing my leggings with knee high boots because it's flattering to the shape of my leg, and helps give my outfit a refined equestrian air. You can also wear slip-on sneakers, loafers or ankle-high booties for warmer climates. Wearing them with pumps or high-heel sandals can be risky, and may end up making your legs look more squat than slim. So think twice before donning anything you'd normally wear with a summer dress. That is, of course, unless you have legs like Olivia Newton-John in Grease, in which case … gee, how nice to be you! 
7. The art of combining
If you're wearing leggings for everyday activities (like brunch, errands, or, yes, traveling by plane) there's no reason to look like you just left the gym. So put a little effort into accessorizing your leggings. A foolproof outfit: Wear a pretty blouse (one that hits at the length we talked about above) accented with a long, simple necklace, and those knee-high boots. Voila! You're ready to step outside.
Now that you know my personal legging guidelines, I have complete confidence that you won't be kicked off a plane anytime soon. (Though, because I haven't seen any photos of the two passengers, it's hard to say how appropriately or inappropriately styled they were.) The lesson here is that, truth be told, we could all be a little more mindful of what's okay to wear in certain scenarios. Dressing with thought isn't passe; it's simply a sign of respect, which never goes out of style.
This article was originally published in the Spanish edition of Aleteia.