Photo of the Day: April 20, 2017
JERUSALEM – April 14, 2017: Christian Orthodox pilgrims pray with their handicapped son inside the Church of the Holy Sepulcher in Jerusalem's Old City during the Good Friday celebrations.
Good Friday is a Christian religious holiday commemorating the crucifixion of Jesus Christ and his death at Calvary.
The Church of the Holy Sepulcher is a church in the Christian Quarter of the Old City of Jerusalem. From Wikipedia:
The church contains, according to traditions dating back to at least the fourth century, the two holiest sites in Christianity: the site where Jesus of Nazareth was crucified, at a place known as "Calvary" or "Golgotha," and Jesus's empty tomb, where he is said to have been buried and resurrected. The tomb is enclosed by the 18th-century shrine, called the Aedicule (Edicule). Today, the wider complex accumulated during the centuries around the Church of the Holy Sepulcher also serves as the headquarters of the Greek Orthodox Patriarch of Jerusalem, while control of the church itself is shared between several Christian denominations and secular entities in complicated arrangements essentially unchanged for over 160 years, and some for much longer.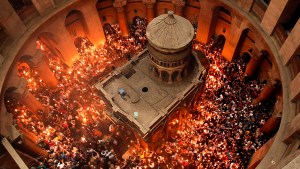 Read more:
The Holy Sepulchre: Archaeology says the Evangelists were right
The Old City of Jerusalem is walled off from the rest of Jerusalem. From Wikipedia:
Until 1860, when the Jewish neighborhood Mishkenot Sha'ananim was established, this area constituted the entire city of Jerusalem. The Old City is home to several sites of key religious importance: the Dome of the Rock and al-Aqsa Mosque for Muslims, the Temple Mount and Western Wall for Jews and the Church of the Holy Sepulchre for Christians, It was added to the UNESCO World Heritage Site List in 1981.
In 1980, Jordan, under the kingship of Hussein bin Talal, proposed the site be added to the UNESCO listing of World Heritage Sites, to which it was added in 1981.
See more photos here.