Experts weigh in on a recent spate of stories of children being targeted at big retail stores.
Social media is often one of the first places news stories break and get passed around communities, and recently there's been an uptick in viral posts involving a very sensitive and very real issue in the United States and around the world — human sex trafficking.
One post in particular has been making the rounds and effectively freaking everyone out: Amanda Cropsey Florczykowski details what she says was a harrowing experience of essentially fighting off would-be attackers who tried to remove her kids from her shopping cart one ordinary morning.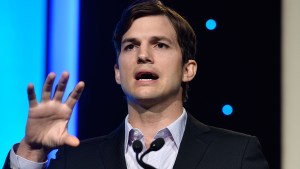 Read more:
Ashton Kutcher delivers emotional testimony in fight against sex-trafficking
But there's more to the story when it comes to the alarming nature of these posts. Amanda isn't the only mother to have her story of being attacked while out shopping go viral — another mom detailed her own scary experience (in a now-deleted Facebook post) of perusing the aisles at IKEA when out of nowhere, she says, strangers followed her relentlessly around the store in an apparent attempt to abduct her children.
These incidents led the mothers to believe they were targets of attempted human sex trafficking, and that their children were the intended victims. To be sure, these stories are frightening, and a mother knows when something seems off with her children. But despite the thousands of Facebook shares, likes, and comments of support and solidarity, experts on the issue say these stories may be detracting from the real issues involving trafficking, and may even be hurting victims.
Are retail stores really a hotbed for predators? 
In a recent article published by the Los Angeles Times, human sex trafficking expert Lara Powers commented on Diandra Toyos' post about her scary shopping trip to IKEA in which two strange men followed her and her family through the store — in what Toyos says was an attempt to abduct the children and then sell them into sex work. The only problem with the post, according to Powers: there were zero indicators of this being an attempt to find children for trafficking purposes. This is not how children are typically sold into sex slavery, says Powers. But these Facebook "readers and likers may now try to protect kids by watching for the wrong things in the wrong places. They may miss real sex trafficking as it happens; they may miss the opportunity to extend a lifeline to child who needs their help."
In fact, without police investigation, it's impossible to say whether or not these incidents were actual attempts to traffic children, or something else altogether, says Susanna Bean, communications manager for Shared Hope International, a large non-profit whose mission is to eradicate sex trafficking. Instead, she says "we can look to the broader information we know about trafficking. While abductions do occur, the majority of child sex trafficking occurs through relational manipulation, a child being tricked, or because of desperate circumstances. A trafficker can look like a man who comes along and pretends to be a girl's boyfriend and then manipulates that relationship for profit. Trafficking can also look like a vulnerable teen runaway who is coerced into sex in exchange for basic necessities like food or shelter."
So what is human sex trafficking, really, and why are these young mothers convinced that their own unfortunate experiences at the market are attempts at trafficking? Shared Hope's website says that trafficking occurs when "someone uses force, fraud or coercion to cause a commercial sex act with an adult or causes a minor to commit a commercial sex act." They define a commercial sex act as prostitution, pornography, and sexual performance done in exchange for any item of value, such as money, drugs, shelter, food, or clothes.
Another detail in these Facebook posts that call the sex trafficking claim into question is the ages of the children. Most trafficking victims are between the ages of 12 and 17 and often come from unstable or abusive homes, according to Kyle Hartsock, a volunteer at New Day Youth and Family Services, a shelter that focuses on rescuing and rehabilitating local youth from sex trafficking and other risky situations. He says they often have a recent history of drug and alcohol abuse, or sexual assault (often from family members) and many times they've run away from home, at least once, but often multiple times.
Who's really at risk?
Upon further investigation, the connection between at-risk teenagers and human sex trafficking becomes more clear. When children and adolescents are left in a vulnerable place, they are indeed more susceptible to being preyed on by traffickers who see potential earning power in them, and can readily provide for basic needs that may be lacking. While we cannot know anyone's intentions for certain, Hartsock says that "human trafficking victims aren't well-kept kids under the watchful eye of their parent, who in broad daylight, are just snatched up. Unless your child suffers from mental illness or drug addiction and is middle-school aged or up, they are super low risk for being victims of human trafficking."
While trafficking is indeed a real issue, it's imperative that we're looking for victims and signs of abuse in the right places. Chances are, it won't be in the brightly lit, cheerful aisles at Target. If we're spending our time looking over our shoulders in fear while buying paper towels and home decor, we might miss the opportunity to help a trafficking victim who may be right under our noses.
Read more:
Your Move: 5 Ways to Fight Human Trafficking
While expert advice is invaluable, Amanda Cropsey Florczykowski isn't satisfied with some experts who may be brushing off her experience, and those of other women who've encountered similar situations. She's using her newfound visibility to bring attention to the issue of human sex trafficking and points out that since it is an ever-evolving crime (thanks to ever-evolving technology), the methods that traffickers are using to secure children are also evolving. Perhaps the research on the issue doesn't show each and every way that children are targeted. Florczykowski's thoughts on prevention include a keen awareness from parents about their child's life whether it's out and about or long-term with teens or tweens.
She encourages parents to "put down the cell phone in the store, be aware of your surroundings, use caution, maybe have a family "safe word," and actively meet those your children have contact with." Florczykowski and her husband feel that genuine relationships will allow their children to invite them into their lives in return. She says that "knowledge of their friends, what they enjoy, what makes them feel uncomfortable and what scares them are powerful ways to fulfill the responsibility we have as parents to keep our kids safe." These are great ways to ensure strong family connections — and hopefully prevent some of the risk factors that may throw children into trafficking in the first place.
What should we be looking for? 
What else should everyday concerned citizens be on the lookout for when it comes to signs of someone being forced into commercial sex work? In addition to the risk factors detailed by Mr. Hartsock, Susanna Bean at Shared Hope says that kids and teens who have unexplained absences from school, or are overly tired or falling asleep in class should give us pause. Another red flag is when minors brag about having a lot of money or display expensive clothes, or maybe have an older boyfriend or new friends with a different lifestyle or gang involvement. She details warning signs of a trafficker that can include "individuals who are jealous and controlling, promise things that seem too good to be true, or encourages victims to engage in illegal activities to achieve their goals and dreams. An individual who buys expensive gifts for [a kid], is vague about his/her profession, or makes the [child] victim feel responsible for his/her financial stability."
Bean says that preventing trafficking "begins with education, educating our children, students, parents, teachers and caregivers on how traffickers operate, and what juvenile sex trafficking looks like. Another way for the public to respond is to educate their communities about child sex trafficking. Shared Hope's documentaryChosen tells the true story of teens that faced real-life encounters with trafficking and provides practical resources to spread awareness and take action." To learn more about bringing the documentary to your community, click here.
Bean strongly believes that these grassroots efforts, coupled with systemic changes such as passing strong laws, educating professionals, and assisting particularly vulnerable populations, will help to end this tragedy. If you see something that seems concerning, rather than try to intervene in the situation, which may make things worse for victims, please report it to National Center for Missing & Exploited Children (1-800-843-5678) or the National Human Trafficking Hotline (1-888-373-7888).