The Japanese have been doing it for years, with proven health benefits.
Mothers can pick their child's cry out of a room of other crying children, bird-watchers can pick a certain bird out of a crowd by its call alone, and David George Haskell can distinguish trees from one another by the sounds they make.
Wait, what?
Dr. Haskell, a natural history writer and professor of biology at Sewanee, the University of the South, insists that it is possible to tell an oak from a maple by ear. After he teaches his ornithography students to recognize the songs of a hundred birds, their next assignment is to learn the sounds of 20 trees. He says that rain makes the task especially easy, as plants react to falling droplets of water by producing different sounds depending on the shapes and sizes of their leaves.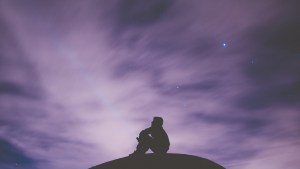 Read more:
Miracles are not contrary to nature, but only contrary to what we know about nature.
If this sounds a little too woo-woo to you, it gets better — in an Atlantic article, Haskell goes on to describe, in scientific terms, that fundamental nature of life can be discovered by studying trees.
According to Haskell, the key is to see trees not as individuals but as part of a network:
Roots draw nutrients from symbiotic fungi and communicate with neighboring bacteria. Leaves sniff the air to detect the health of neighbors, while releasing alarm chemicals that summon caterpillar-destroying parasites. Seeds are dispersed by far-flying birds. Photosynthetic cells harness the power of sunlight using structures evolved from free-living microbes. And these kinds of relationships are ancient: A balsam fir that Haskell encounters in Ontario exemplifies this idea; it grows on rocks that contain the corpses of bacterial colonies that lived 1.9 to 2.3 billion years ago. "The fundamental nature of life may be not atomistic but relational," Haskell says. "Life is not just networked; it is network."
Any schoolchild can attest to this truth: after all, plants produce the oxygen we breathe, and we produce the carbon dioxide they breathe. That's just photosynthesis, something we learn about early on — but if you think about it, isn't it a little bit miraculous?
The Japanese certainly think so. "Shinrin-yoku," or forest bathing, has been a part of their national public health program since 1982, but it wasn't until 2012 that the benefits of the practice were proven.. Eight years and $4 million were dedicated to studying the physiological and psychological effects of forest bathing, and the results were astounding.
Plants and trees emit natural essential oils, called phytoncide, to protect themselves from germs and insects. Inhalation of phytoncide dramatically boosts the immune system by increasing natural killer cell activity — rapid-response immune system cells that respond to viral threats and tumor formation.
Forest bathing also lowered blood pressure, pulse rate, and heart rate while reducing hostility and depression and increasing liveliness. So, basically, there's no downside here.
Unless, like me, you happen to live in a place where the closest thing to a forest is a swamp, and bathing in it is an excellent way to contract Zika and/or be eaten by an alligator. Then you might want to think twice before partaking in the wonder of nature.
The rest of you are good, though. Go enjoy a forest bath!