By turning pavement into prairie, Cedar Rapids hopes to save the pollinators, and inspire others to do the same.
Reports on the disappearance of bees and butterflies, and the threat that poses to our food supply and economy, have prompted many of us to reexamine our use of pesticides.
In one Iowa city, park officials and environmental activists decided to take more decisive steps to bringing back the pollinators – they decided to bring back the prairie. Not five or 10 years from now, but today.
The city of Cedar Rapids, in a project that began last year and is in full swing this spring, has committed 1,000 acres of underutilized land to plant wildflowers and grass in order to attract bees and butterflies.
Since the media reported on the 1,000 Acre Pollinator Initiative, city officials heard from community organizers, government leaders, and the national media, who all wanted to know how they managed to pull off the project, according to an article in The Gazette.
Daniel Gibbons, the Cedar Rapids parks superintendent, helped put together the public-private partnership which will result in the conversion of 1,000 acres of land into prairie planted with 37 species of wildflowers and seven types of grasses.
"There's a growing number of people very concerned with the pollinators that have helped keep us alive," Gibbins told the Gazette. "Every third bite of food is a result of pollination. A lot of people think it is high time we return the favor and take care of pollinators."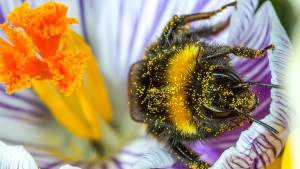 Read more:
Endangered pollinators: A threat to the world food supply
In Iowa much of the native landscape was prairie, but has been converted to agriculture, lawns and pavement, according to The Gazette. That loss of habitat, combined with the use of herbicides and pesticides which are deadly to pollinators, spurred the idea to do something to bring back the butterflies and bees.
The city worked with the Monarch Research Project, a nonprofit that, along with a state grant, provided funding for the program.
"(The) 1,000 acres is an attempt by the government to show private landowners and corporate landowners we need to put our natural habitat back in place," Clark McLeod, president and co-founder of the Monarch Research Project told The Gazette. "As a county, if we create and make a movement, we will have the habitat needed to bring population back."