The Merciful Jesus in the vision of St. Faustina is divine, transfigured. Jesus in the painting by Brother Albert is incredibly human.
As a promoter, apostle and witness of Divine Mercy, Pope John Paul II had an inestimable impact on the development of this devotion. It was John Paul who beatified and canonized Helena Kowalska, or St. Faustina, the Divine Mercy visionary sometimes known as "Jesus' secretary."
Both St Faustina's Diary and the image painted by Adolf Hyła with the caption Jesus, I trust in You, the original of which is at the Shrine in Łagiewniki, are well known.
However, the first image of Divine Mercy (first, below) as revealed to Faustina was painted by Eugeniusz Kazimirowski, a graduate of the Academy of Fine Arts in Krakow. The painting was made in Vilnius in 1934 at the request of Fr. Michał Sopoćko, following the guidelines of St. Faustina. The work can still be found in Vilnius, in the Divine Mercy Shrine. Apparently, Sr. Faustina was disappointed by it since it gave little justice to the beauty of "her" Jesus.
The nun did not see the second painting, by Hyła (second, below).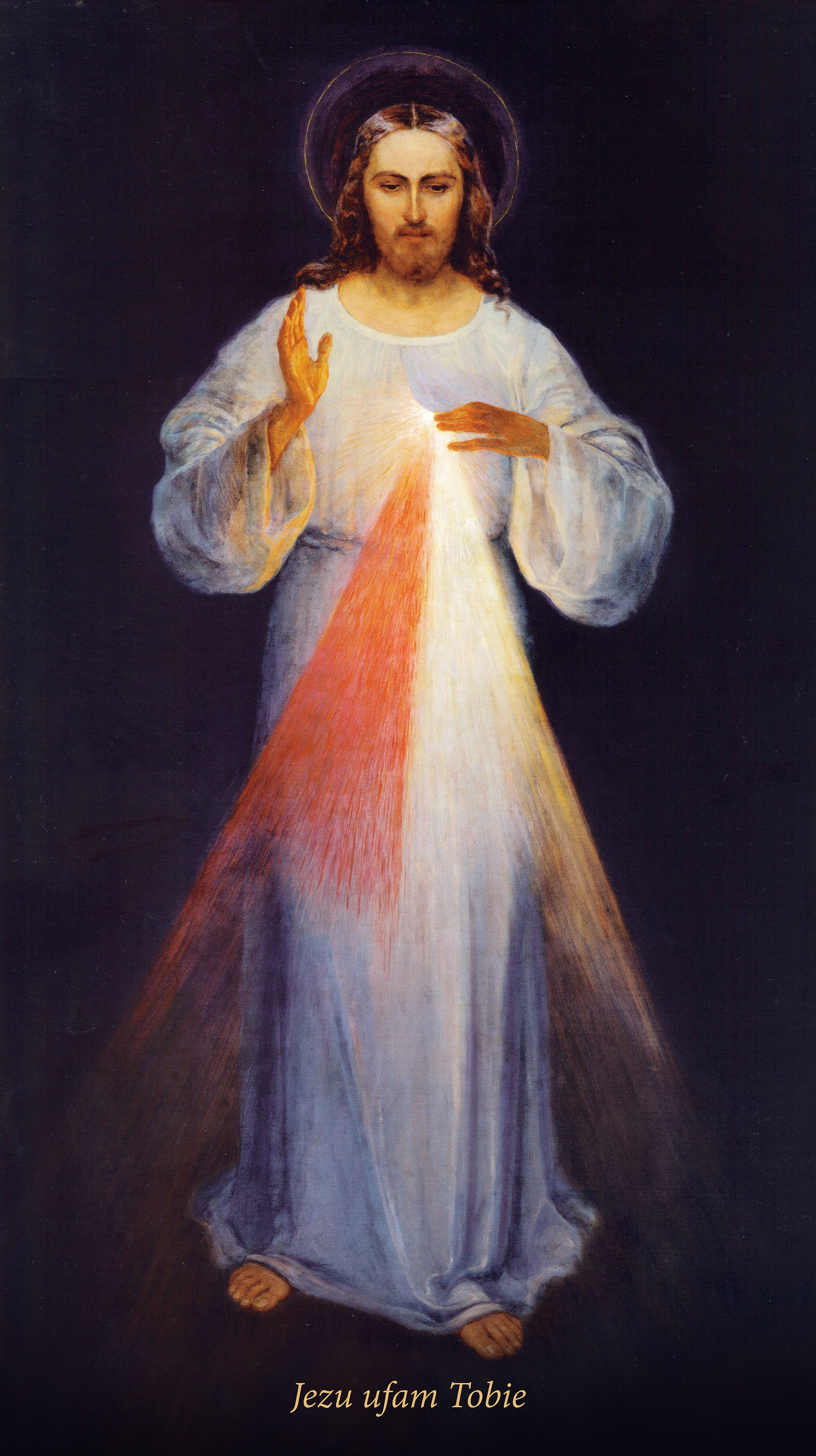 Poland is now celebrating Saint "Brother Albert" Chmielowski, with a year proclaimed to commemorate the centennial of the saint's death (25 December 2016).
We can therefore remember another painting depicting Jesus and another unique shrine in the city of Krakow.
Brother Albert's image is not at all like the ones created from Faustina's visions. And yet his image, points to another facet of Jesus, God-man, who let himself be judged even though he was innocent, who walked the way of passion and humiliation only to rise from the dead in glory.
I am referring here to the painting titled Ecce Homo from the Ecce Homo Shrine of the Sisters of St. Albert, located in Prądnik Czerwony district in Krakow.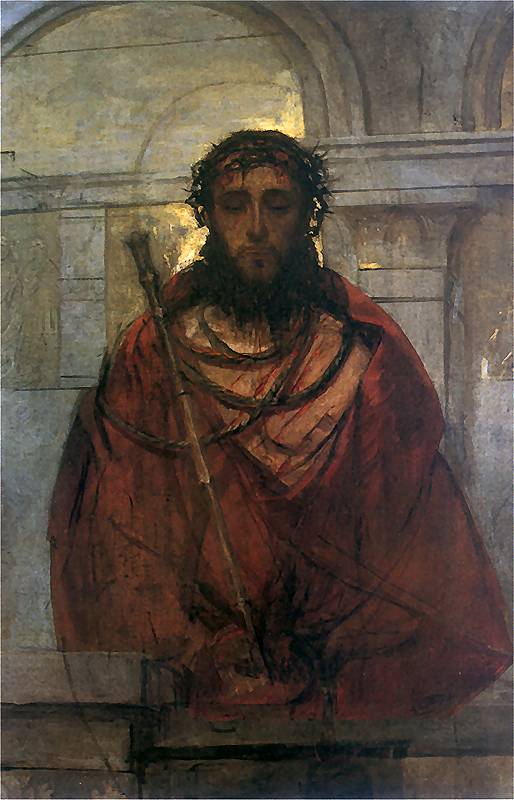 Chmielowski began to paint it in Lviv in 1879, when he was not yet Brother Albert. He would take the painting everywhere he went until he finally settled down in Krakow. Brother Albert never completed the painting. Focusing on Jesus' face, he would contemplate and correct it …
In 1904, he added a few elements and donated the painting to Greek Catholic Archbishop Andrzej Szeptycki of Lviv. It was the Most Reverend Archbishop who noticed that Jesus' red cloak takes the shape of a heart, thanks to which His entire bloody and flogged figure becomes the heart and wellspring of Love for each and every human person.
Brother Albert gave Archbishop Szeptycki his most important, mystical painting,on which he had been working for more than a decade, changing himself in the process. At this time, he had experienced God's Mercy, sacrificing his life in the service of the poor and the needy, at the expense of his own career as an artist. With time, despite his considerable talent, he abandoned painting altogether.
The Merciful Jesus in the vision of St. Faustina is an image that highlights his divinity, transfigured. He has a halo around his head and raises his right hand in a gesture of blessing. Blood and water, indicative of the streams of mercy for sinners, issue forth from His heart.
In Brother Albert's painting, the image of Jesus highlights his incredible humanity. The picture shows a maimed man, holding a reed instead of a royal sceptre, with a crown of thorns piercing his temples. His eyes are half-closed due to the unbearable pain and suffering.
What is missing in this painting? The artist did not finish the halo and the hand. Perhaps it is we who are to become His hands, actively working for the sake of those people whom Christ wants to approach and hold close to His heart?
Stages of the same path
As Pope Francis indicates, the worship of Divine Mercy and prayer must be accompanied by our own daily works of mercy. Ecce Homo and Jesus, I trust in You seem to be stages of the same path. We are called to continue searching for God's image, for the Crucified Jesus in others. We pass Him on a street, at work, at home, or leaving a church, perhaps returning from a pilgrimage to Łagiewniki …
Brother Albert never participated in pilgrimages. Yet he worked indefatigably for the poor, orphans, people with physical, mental and developmental disabilities, those in the shackles of addictions, victims of pestilence and war, the elderly, etc. His life path was an inspiration for the men and women religious of the two congregations he founded and, as well, for Karol Wojtyła.
The future pope was inspired by Brother Albert and wrote a play about him, Our God's Brother. Like Chmielowski, John Paul relinquished his career as an artist (in theatre), devoting himself completely to the service of others. As Supreme Pontiff, he beatified (1983) and canonised (1989) the Polish Master of the Poor.
What Brother Albert and Sr. Faustina have in common are: John Paul II, Krakow and Mercy.
Chmielowski did not experience any visions, yet his painting is more than brushstrokes on canvas. Let us follow the chronology of events here. Brother Albert dies of cancer in 1916 in Krakow. At that time Helenka Kowalska is 11 years old. At the age of 17 she wants to enter a religious order but her parents oppose that. In June 1924, she goes to a party in the Wenecja Park in the city of Łódź, where she is working at that time. While dancing, she sees Jesus "as if during the Way of the Cross," in agony, disrobed and wounded. Jesus asks her: "How long am I to suffer yet […]?" Under the impact of this experience, against the will of her family, Helena makes a decision which sets her on the path of holiness. Would not the Jesus she saw in the park have resembled the Ecce Homo by Brother Albert?
There seems to be no evident trace that St Faustina was directly inspired by Brother Albert. Both, however, have become part of the spiritual map of the Church.
[This article is translated and adapted from Aleteia's Polish edition]