Dates set in May and September
Relics of St Pio of Pietrelcina – better known as Padre Pio – will be touring several archdioceses and dioceses in the United States between May 6 and May 21, and from September 16to October 1, 2017.
The relics will be on display to the public between liturgical celebrations at six spots in May and another six in September.
See the full tour schedule here: 
The May stops are: Philadelphia, Pittsburgh, Denver, Lincoln, Los Angeles, and Arlington.
The September stops are: New York, La Crosse, Milwaukee, Bridgeport (two locations), and Saginaw.
Additional locations and dates will be communicated at a later time.
The tour is being sponsored by the Saint Pio Foundation.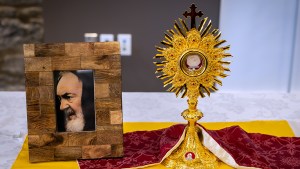 Read more:
4 Quick facts about the veneration of relics
Learn more about Padre Pio at Aleteia here, including his tips for fighting the devil and his secret wound that was more painful than the other wounds of the stigmata. Plus, did you know actor Joe Mantegna has a devotion to this saint?