Katherine Heigl, Simone Biles, Viola Davis and other stars share their beautiful adoption experiences.
Adopting a child into your home can be a beautiful, selfless and loving journey. Recently, Simone Biles and Katherine Heigl spoke about the incredible impact that adoption has had in their lives. Both women have experienced its benefits from different perspectives: Katherine Heigl as the mother of an adopted child, and Simone Biles as the adopted child. And those two aren't the only famous families who have selflessly opened up their homes to children in need, or have been blessed to have been welcomed into someone else's home.
Read more:
How adoption changes the world
Here are seven stars who are proud of their adoption stories and are telling the world about the beauty of adoption and its huge impact in their lives in the hopes that they can encourage more people to embrace it. Just take a look at these awesome adoption stories, all lovingly shared on Instagram:
1. Katherine Heigl and her husband, Josh Kelley 
Katherine and her husband Josh adopted their daughter, Naleigh, from South Korea in 2009 when she was just 10 months old. Katherine's oldest sister, Meg, was also adopted from South Korea. Katherine says that Meg introduced her Korean heritage into the Heigl family, and it made a huge and lasting impact she still feels today. During her appearance on Entertainment Tonight,Katherine shared the story behind Naleigh's adoption:
"When you're a kid and growing up and you're like, 'I'm going to get married someday and have a family,' I knew for certain that I wanted to adopt from Korea. My sister is Korean and she's my big sister and hugely important to me and my best friend. I just knew I wanted my family to sort of look like the one I came from. So I always knew I was going to do that." She went on to say that having a family and becoming a mom is so much better than she could have ever imagined.
2. Thomas Rhett and his wife, Lauren Akins
Country singer Thomas Rhett and his wife just celebrated their 4-year anniversary, and have spoken publicly about their desire to start a family. After trying to conceive and not getting pregnant, the couple started looking into international adoption. As well as deciding to adopt a child this year, though, the couple then found out they are expecting, which means their family is about to grow by two!
Lauren talked with People magazine about the adoption and being pregnant, saying, "We tried to get pregnant for a little bit before.  It was a good chunk of time and our family is extremely fertile, so I was expecting it to happen easily. I was like, 'Maybe this is the Lord's way of telling me adoption is what he wants me to do.' And I was okay with that."
Read more:
Why I lost it signing my son's adoption papers
3. Simone Biles
When she was only three years old, Olympic gymnast Simone Biles was put into the foster care system. Her biological mother was struggling with drug and alcohol abuse, which resulted in time in jail and away from family. But when Simone was six years old, her biological grandparents officially adopted her and raised her. During the Dancing with the Stars television show competition this year, Simone dedicated a dance to her parents, 
waltzing with her partner to Chris Tomlin's song "Good Good Father."
After the song finished, she ran over to hug her family. "My parents saved me. They've set huge examples of how to treat other people and they've been there to support me since day one," she told the audience, "There's nothing I could say to them to thank them enough. Even though there's no right words, maybe dance will say it for me."
Read more:
Simone Biles may have 4 gold medals, but she's never danced with a boy
4. Viola Davis and her husband, Julius Tennon
In 2011, Viola Davis and her husband adopted a little girl and named her Genesis. Since the adoption, Viola has spoken out about how becoming a mother through adopting a child is just as beautiful as giving birth. Viola told InStyle magazine, "I always tell Genesis she was born from my heart, not my belly."
The mom and movie star has also talked about how adoption helped her and Julius reach out to a child in need of a family and love. She said, "There are so many ways to mother rather than to carry a child in your body. So many children need parents, and so many of us want to mother. Know that you will experience motherhood to the full extent."
5. Mariska Hargitay and her husband, Peter Herman
Adoption was something that had been on Mariska Hargitay's mind since childhood. She told Good Housekeeping about seeing children without parents and wanting to do something to help them, saying, "I remember being in Thailand and India when I was 9 or 10 and seeing kids alone in the street and thinking, Where are their moms?" Then Mariska realized that these kids didn't have a mom or dad to go home to. "They were so amazingly resourceful and soulful and smart. And somewhere inside of me — even so young — I had that maternal instinct," she said. "I remember thinking, I want to take them all home!"
Mariska and Peter were both raised in large families, and now have three children of their own. Their oldest son, August, was born when Mariska was 42. Shortly after, the couple realized they wanted August to have siblings, so they looked to adopt.
During the adoption process, Mariska was even lucky enough to be able to help with Amaya's delivery. Shortly after they brought their new daughter home, they received a call asking if they'd also like to adopt a premature baby. They did, and named him after their family friend who had just passed away. After fighting for his life, Andrew is now a happy 10-month-old.
6. Sarah Rue and her husband, Kevin Price
Sarah Rue, who is best known for her television appearances on crime shows like Bones, is another celebrity whose family was able to grow thanks to adoption. Sarah and Kevin's oldest daughter, Talulah, was born in 2013, but the couple struggled to conceive their second child. In an interview about their desire for another child, Sarah told People magazine, "We just wanted another child to complete our family, and it really didn't matter where she came from as long we were her mom and dad." They were able to bring home Adelaide right before Thanksgiving, and what a beautiful thing to be grateful for!
On the day that Adelaide came home, Sarah tweeted, "I'm SO in love and grateful! Adelaide Rue Price joined our family and we are forever changed for the better!"
7. Steven Spielberg and his wife, Kate Capshaw
https://www.instagram.com/p/-owXYMA3BN/?taken-by=theo_ws
Steven Spielberg can easily be considered a pioneer in the film industry. He directed famous movies such as Schindler's List, E.T., and Saving Private Ryan.  But it's not just the movie industry that Steven is making a big difference in; he's also made a huge impact at home, in the lives of his adopted kids.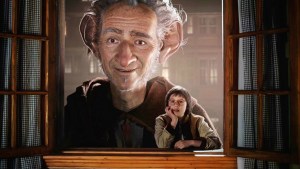 Read more:
6 Animated family films on Netflix this April
Theo Spielberg was adopted by Kate before she met Steven. After the couple got married, Steven adopted Theo as well. Later in the marriage, Kate and Steven adopted Mikaela George, too.