Catholics know death is a beginning more than an end, and this Mass is a reminder of that.
What can God do in your life with one Bible verse a day?
Subscribe to Aleteia's new service and bring Scripture into your morning:
Just one verse each day.
Click to bring God's word to your inbox
You've probably never heard of the Month's Mind Mass. Not many Catholics have.
When a person's funeral day has ended and everyone has hugged the primary family member(s) and the promises to "be in touch" and comforting words of "if you need anything, anything at all" have been properly placed, a sense of finality embraces everyone, from immediate family members to those who were casual friends.  That's just the way it is.
But it was not always that way. The tradition of the Month's Mind Mass commemorated the deceased about 30 days after their passing (hence the title). Catholic families and close friends would attend the Mass, then make the day of it having dinner together and once again, toasting the departed loved one.
The traditions associated with this Mass go back to medieval England. The Mass was the standard requiem Mass with several prayers added specifically for those who had passed away during the previous month.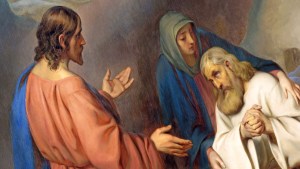 Read more:
Read these 3 amazing stories about the moment of death
Well, lo and behold, Calvary Catholic Cemetery, in Clearwater, Florida, has a Month's Mind Mass. The Mass is held the last Saturday of every month for those who were laid to rest there during the previous 30 days. This month, my wife is included.
When I was growing up before Vatican II, the Month's Mind was (to my recollection) taken for granted. Everyone who had passed during the previous 30 days had a Month's Mind Mass offered for them. Today, the only country (as far as I could find) where this practice is still widespread is Ireland and parts of England. In days of old people even left instructions in their wills on how they would like their Month's Mind celebrated. [Ed.: Filipino Catholics mark the 9th and 40th days after a loved one's death with special religious and family commemorations.]
The Month's Mind Mass has been once again garnering attention. Back in January of 2015, Monsignor David Cassato, pastor of St. Athanasius Church in the Bensonhurst section of Brooklyn, offered a Month's Mind Mass to mark the one-month anniversary of the assassinations of police officers Wenjian Liu and Rafael Ramos. His purpose was to "start the healing process."
Monsignor Cassato said at the time, "In the Roman Catholic Church, a Month's Mind Mass is really a big deal because it comes a month after the initial shock and grief of death. It is a time to honor the dead with prayers, a time to hope that their lives and deaths will have a lasting meaning. What could be a better legacy for Officers Ramos and Liu than to help heal this city?"
Here in Florida, there is a small chapel at Calvary Cemetery. On Saturday, April 29th, my family and I will be there for the 10 a.m. Month's Mind Mass. The Mass will not be offered just for my wife, but rather for all those who were reposed at Calvary during the past month.
We will pray that God would "deign to grant companionship with Thy saints and elect to the soul(s) of Thy servant(s) the thirtieth day of whose burial we commemorate, and would pour upon them the everlasting dew of Thy mercy."
As each name is read off a bell will ring. A family member will walk up to the sanctuary and light a candle in their loved one's honor. This month I will be lighting a candle. 
It might be time to for a rebirth of the Month's Mind Mass. What a beautiful way to help grieving souls and remind us that, as the Catechism says, "When the Lord comes in glory, and all his angels with him, death will be no more and all things will be subject to him. But at the present time some of his disciples are pilgrims on earth. Others have died and are being purified, while still others are in glory, contemplating 'in full light, God himself triune and one, exactly as he is."'
Read more:
DIY: How to remember loved ones with a Dia de los Muertos altar