The average person has a bigger role in the fate of the crucial pollinators than you may think.
Honeybees — although loved by gardeners and insect enthusiasts alike — may not be the first thing you hope to attract to your backyard as summer's warmth draws near. But once you learn about the growing concern environmentalists and beekeepers share about dwindling numbers of honeybees and their mysterious collapse, you might just want to welcome these hard-working insects into your garden. 
These virtuous little creatures matter more to our world than you might think — and it's not just to provide us with honey. According to microbiologist and author of The Incomparable Honeybee and the Economics of Pollination, Dr. Reese Halter, 20,000 bee species pollinate more than 85 percent of all flowering plants, including over 79,000 trees, resulting in honeybees taking responsibility for about 40 percent of what's on the average American dinner plate. Not only do bees have a huge part in our diets and supplying us with honey (which has dozens of uses), they also provide us with 44 million pounds of beeswax each year, as well as apis therapy — which can provide pain relief for those with arthritis, fibromyalgia, and multiple sclerosis. So if you see a few bumbles going about their daily pollinating duties outside your home, think about how much they're doing for you in the grande scheme of things, and let them keep buzzing on their merry way.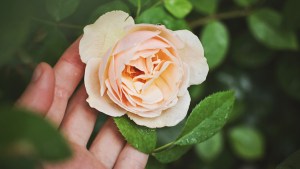 Read more:
6 Ways to cultivate roses for a more beautiful backyard
The bottom line is that bees do a whole lot more than most of us are probably giving them credit for, and they're in much greater danger than many of us realize. While the average person most likely doesn't have time to become a student of apiculture (the general management and keeping of bees), you can still do plenty to help these tiny workers survive and thrive. Check out these expert tips for helping combat the demise of honeybees, right at home in your own back (or front) yard.
1. Don't use pesticides
Dr. Halter explains that a potent class of insecticides called neonicotinoids or neonics is the main culprit for the collapse of bees around the world. "When bees come in contact with neonics, as few as a couple parts per billion, they lose their minds and shake to death — eerily similar to Alzheimer's and Parkinson's diseases." Dr. Halter advises bee-friendly home gardeners to abandon the use of commercial pesticides as some products that are available in the US have up to 100 times the amount of neonics used in commercial farming — a big no-no for our striped friends. Instead of chemicals, consider using home-made pest repellents like vinegar, epsom salts, castile soap and other natural methods to keep your yard pest-free. For more suggestions, check out this article about bee-friendly "pesticides."
2. Provide water
Bees, like all living creatures, need water. It just may never have occurred to you because you've never seen them drinking it. Professional gardener Desiree Thomson suggests making a small "bee bath" by filing a shallow container with water and placing pebbles in it to create a textured surface, making it appealing for them to land on. "This way the bees can stop and take a sip and quench their thirst!" Dr. Halter says to make sure the pebbles or rocks are a little above the water's surface so that the bees can perch on the rocks to lap up the water without dunking themselves. Make sure to replenish the water regularly (daily if you can) and your bee neighbors will be happy!
3. Plant bee-friendly plants (think twice about pulling those dandelions)
Start with flowering plants that are native to your area, and be intentional about the placements of the plants in your yard. If you're afraid of having bees hanging around, try to remember that honeybees die when they sting (not so for hornets and wasps), so they generally won't be a bother unless threatened — so there's really no risk in cultivating a few bushes and flowers that help them out! Especially if you put them along the perimeter of your yard. Wild flowers are great for bees, too — cornflowers, poppies, foxglove, and especially dandelions provide nourishment for them, so if they happen to be growing naturally in your grass, think twice before you pull any of them out. Other garden shrubs like peonies, honeysuckle, bluebells, and butterfly bushes are wonderful additions that bees also love. Like cooking? Try an herb garden! Lavender, thyme, and monarda are among some of the best herbs for both bees and people alike.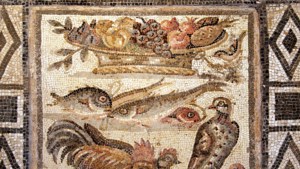 Read more:
Looking for a new chicken recipe? Try this dish from ancient Rome
4. Build an insect hotel
Feeling really hospitable towards these tiny toilers? Why not give them a cozy place to stay? You can actually build a bee hotel where they can make a secret stash. Desiree Thomson details how to do it here: "Use any junk you find in your garden shed: old pipes, broken pots, logs and bricks, bamboo. Make a solid base out of wood and add a wooden frame. The next thing to do is build the "rooms." Fill the frame with what you find suitable — pipes, bamboo, logs, twigs, even old egg cartons. Drill small holes, but make sure they aren't too close. The cool thing about insect hotels is that you can let your imagination run wild and use any color of the rainbow you want. Just remember that your newly built hotel should be safe from wind and rain, close to plants, and near a fence or a wall."
Is your curiosity and compassion for honeybees only just being inspired? Ryan LeBrun, head beekeeper of Bee Local, says the average person has a bigger role in the fate of bees than you may think. He suggests going to meet a local beekeeper to learn more, and always buy your honey locally — from a farm stand, if you can!