"Peace alone is holy and no act of violence can be perpetrated in the name of God."
EGYPT — On the first day of his apostolic visit to Egypt, Pope Francis met privately with the Grand Imam of Al-Azhar, the highest theological and religious institution of Sunni Islam in the world, and the oldest Islamic University.
Following his private meeting with the Grand Imam, Shaykh Ahmad Al-Tayeb, the Pope went to the Al-Azhar Conference Center to address participants at the International Peace Conference.
Religious leaders from Egypt and abroad, including Al-Tayeb, a large representation of teachers and students from the Islamic university, and a group of children from 60 nations were present for the Pope's address.
Here below is the official English text of Pope Francis' address.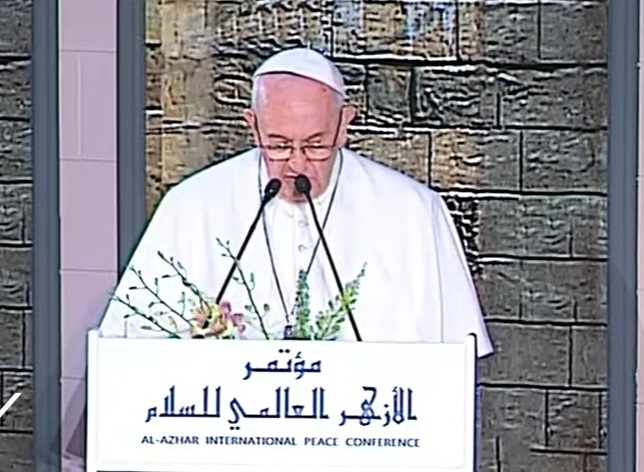 As-salamu alaykum! Peace be with you!
I consider it a great gift to be able to begin my Visit to Egypt here, and to address you in the context of this International Peace Conference. I thank the Grand Imam for having planned and organized this Conference, and for kindly inviting me to take part. I would like to offer you a few thoughts, drawing on the glorious history of this land, which over the ages has appeared to the world as a land of civilizations and a land of covenants.
A land of civilizations
From ancient times, the culture that arose along the banks of the Nile was synonymous with civilization. Egypt lifted the lamp of knowledge, giving birth to an inestimable cultural heritage, made up of wisdom and ingenuity, mathematical and astronomical discoveries, and remarkable forms of architecture and figurative art. The quest for knowledge and the value placed on education were the result of conscious decisions on the part of the ancient inhabitants of this land, and were to bear much fruit for the future. Similar decisions are needed for our own future, decisions of peace and for peace, for there will be no peace without the proper education of coming generations. Nor can young people today be properly educated unless the training they receive corresponds to the nature of man as an open and relational being.
Education indeed becomes wisdom for life if it is capable of "drawing out" of men and women the very best of themselves, in contact with the One who transcends them and with the world around them, fostering a sense of identity that is open and not self-enclosed. Wisdom seeks the other, overcoming temptations to rigidity and closed-mindedness; it is open and in motion, at once humble and inquisitive; it is able to value the past and set it in dialogue with the present, while employing a suitable hermeneutics. Wisdom prepares a future in which people do not attempt to push their own agenda but rather to include others as an integral part of themselves. Wisdom tirelessly seeks, even now, to identify opportunities for encounter and sharing; from the past, it learns that evil only gives rise to more evil, and violence to more violence, in a spiral that ends by imprisoning everyone. Wisdom, in rejecting the dishonesty and the abuse of power, is centred on human dignity, a dignity which is precious in God's eyes, and on an ethics worthy of man, one that is unafraid of others and fearlessly employs those means of knowledge bestowed on us by the Creator.
Precisely in the field of dialogue, particularly interreligious dialogue, we are constantly called to walk together, in the conviction that the future also depends on the encounter of religions and cultures. In this regard, the work of the Mixed Committee for Dialogue between the Pontifical Council for Interreligious Dialogue and the Committee of Al-Azhar for Dialogue offers us a concrete and encouraging example. Three basic areas, if properly linked to one another, can assist in this dialogue: the duty to respect one's own identity and that of others, the courage to accept differences, and sincerity of intentions.
The duty to respect one's own identity and that of others, because true dialogue cannot be built on ambiguity or a willingness to sacrifice some good for the sake of pleasing others. The courage to accept differences, because those who are different, either culturally or religiously, should not be seen or treated as enemies, but rather welcomed as fellow-travellers, in the genuine conviction that the good of each resides in the good of all. Sincerity of intentions, because dialogue, as an authentic expression of our humanity, is not a strategy for achieving specific goals, but rather a path to truth, one that deserves to be undertaken patiently, in order to transform competition into cooperation.