Photo of the Day: April 30, 2017
Red Bull Illume | Category finalist 2016 Close Up | Photographer: Alexandre Voyer Diver: Marianne Aventurier
AZORES ISLANDS, Portugal: "With my buddy Alex Roubaud, and my girlfriend Marianne Aventurier we were invited by a great friend and underwater photographer, Fred Buyle to his little Azores Island. This place, located in the middle of the Atlantic Ocean, is one of the best spots in the world to interact with ocean wildlife.
We were off the coast of Faial Island when we met two blue sharks in the open ocean. There we were, alone in the middle of Atlantic Ocean, the water was dark and clear, and there was perhaps 2,000 meters below our fins; it was an incredible moment.
You can see on this shot Marianne Aventurier facing a curious blue shark. The photo was taken with a Canon 5D mark2 and a 16/35mm f2.8 lens in an underwater housing. Now, just try to relax, take one breath, and fly!"
See the full size image here:
Launch the slideshow
About the Photographer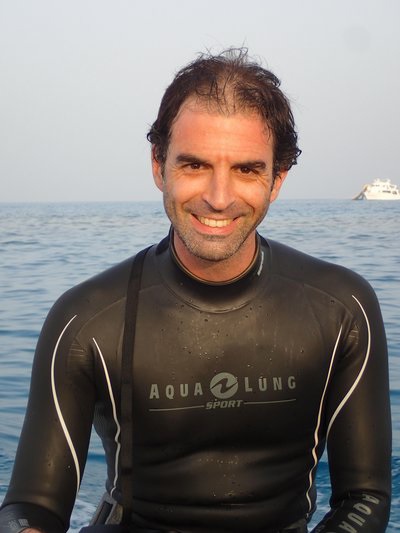 Photographer Alexandre Voyer: "My name is Alex Voyer, I am 37 and I live in Paris, France. I was born near the sea in the Pacific Ocean and now I am a freediving instructor in a pool, but I try to spend all my spare time and holidays traveling around the world, looking for ocean creatures.
All the photos are made on a single breath of air – I don't use oxygen tanks – with natural light. I am training almost everyday to be in shape for when I meet these creatures. Taking photographs, practicing freediving and studying the behavior of the animals all go hand-in-hand for me.
We are used to seeing images of humans' destructive effect on nature, but in my photos, I try to show that we can be part of nature!"
COPYRIGHT: Alexandre Voyer | Red Bull Illume