5 everyday scenarios that warrant a response ... but not the kind you may think.
As a stay-at-home mom, sometimes I can go days without seeing or talking to another adult, other than my darling husband, so when a super friendly checkout clerk asks how I'm doing I can be tempted to go overboard sharing the details of my shopping trip, what I'm making for dinner that night, or how I'm so disorganized I can't even find my wallet. I'm probably irritating the clerk and the line of people behind me, but surely there's nothing wrong with a little friendly conversation between two people just trying to be decent, caring human beings, right? How much is too much? A simple "fine" could be true but it could also be dismissive, curt, or just an outright lie. To whom do we owe the truth about how things are going? When is spilling our guts just not okay?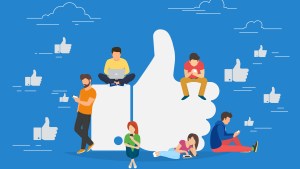 Read more:
10 'Commandments' for being a positive social media user
If, like me, you find yourself alternately under and over sharing, and usually on the wrong occasion, then you might find this little guide helpful. Let's consider some everyday scenarios and put an end to our doubts about how much is too much …
Scenario: A friendly checkout clerk, who sees you a couple times a week, asks how you are.
Response: Clearly, the minutiae of your day is not what's appropriate here. He doesn't want to hear about the success of your ingrown toenail treatment. But if he knows your son, who had recently hit a homerun, then, share away. Make sure to ask him how he's doing, too, but keep an eye on that line growing behind you.   
Scenario: You're in the dentist's chair for the first time in a while and she wants to know what's new in your life. 
Response: Personally, I really like my dentist. She and her staff make me actually look forward to appointments. But I get there and the urge to chat with these women is so strong, especially if I've been on a weird hermit-mom streak. But clearly they can't keep my smile pearly white if I'm flapping my gums about my latest vacation. Here's where it's okay to keep the chat brief. Be glad you like your dentist, thank her for her bedside manner and gentle way with the drill by leaning back and saying "ahh" so she can keep her schedule, see other patients and get home to her own family.  
(That said, if what's on your mind is more serious and it affects your health in any way, even tangentially, please take the time to tell your dentist, doctor, or other healthcare provider what's going on. This is part of the appointment and is wasting no one's time.)
Scenario: Your mom, who always seems to be worried about you, calls when you're stressed out.
Response: If your relationship with your mother falls into the "healthy" category, then I believe you need to be honest with her — but not necessarily on her timetable, especially if she's the anxious type and managing her anxiety is just going to be one more thing to do on top of whatever is already draining your sanity reserves. If her anxiety is something that repeatedly causes tension in your relationship, use this "how are you?" as a good opportunity to set or reinforce boundaries. In general, I think even worrywart moms deserve assurance that their adult children are not in any immediate danger (death, financial ruin, scandal), but it's okay to let the anxiety be her problem. Tell her now is not a good time for you, and when things settle down you'll fill her in. "Don't worry, mom." (Right. As if.)
Scenario:A nosy neighbor has noticed your house is up for sale and is asking lots of questions.
Response: You're no Lucy Ricardo and Ethel Mertz but you're friendly and have even shared the occasional glass of wine on the front porch with this neighbor. Here, it just depends on the nature of the inquiry, and that vague feeling in your gut. Is the sale of your home going to negatively or positively impact them? Is it just fuel for the neighborhood gossip mill or is she really surprised and maybe saddened by the idea that you'll no longer be neighbors? Only experience can really inform you, but the most important thing is that you shouldn't feel any obligation to share personal information with anyone, even someone with whom you've shared a fence for 10 years. You can always share more later, but you can't un-share what's already been whispered to the other neighborhood residents.
Scenario: A long-lost high school friend joins Facebook and wants to know what you've been up to for the last 10, 15, 20 years.
Response: The great thing here is that there's no need for an on-the-spot response. It's all online — no face-to-face, split-second decisions about how much to share. If this old friend is one that could use some real updating to get the friendship up to speed, and you're interested in pursuing a frienaissance, there's still no harm in starting slow. It might turn out she's bored and doesn't really want to be bosom friends again. Why not start with a just-the-facts-ma'am timeline of significant events since you last connected? Then, if the friendship shows some potential staying power, dip into the more personal events. Take your time, enjoy one of the upsides to social media (being found by old friends), and relish reconnecting without giving away the farm.
Scenario: Your husband asks how you're doing when he arrives home after a particularly grueling day at work.
Response: We want to be honest with our spouse. But unless Little Jimmy is flunking third grade or maybe you, yourself, are about to lose your job, weigh the suffering on the marriage scale and if it tips in your husband's favor then let that last night's bad sleep slide. When asked, say something simple like, "Oh, thanks, I'm a little tired, but let me hear about your day." If it's a big enough problem, then he'll need all the energy he can to deal with it. If the sleep problem, or whatever, is too big for you to deal with on your own, then don't hesitate to bring it up again, because as spouses you share each other's burdens and he may rightfully be upset if he's denied the opportunity to help.
Scenario: Your friend who never hesitates to share her opinion calls to chat during a domestic chaos peak.
Response: At first you're relieved when you see your bestie's name pop up on your phone's home screen — you could really use a vent. Then you remember your friend's "talent" for solving all the world's problems and all you really want is her ear. Sure, she's interested in what's going on with you — that's why she called. So, either skirt the issues and make small talk or let her know that what you really need is just a chance to unload the stress of the day without judgment or advice.
The bottom line is that sometimes that "how are you?" is exactly like the automatic "fine" given in reply — it's just a way of saying hello, or welcome, or "I intend to fulfill my half of the deal in this social contract we've entered into." But when someone genuinely has your best interests in mind and cares about your well-being, even to a small degree, it's a good thing to share something of yourself in return. Keep in mind there's another human being on the other side of the counter or smartphone or writing those Facebook posts.