How to prep for a radiant complexion on your big day, avoid beauty mishaps, and get glowing—inside and out.
Preparations for a wedding take a lot of work. Couples look for the perfect location, choose a menu, work on the guest list, plan the honeymoon. Often the organization of the wedding starts a year and a half in advance of the big day. But don't let skin maintenance get lost in the sheer volume of duties … because shouldn't a glowing bride be an important item on the checklist, too?
Your makeup can be flawless, of course, but that doesn't guarantee well nourished and rested skin (which is better looking than any foundation you can buy). On the other hand, you don't want to spend over a year obsessing over every little freckle and blemish — you've got bigger things, like vows, to worry about. So how do you find a happy medium?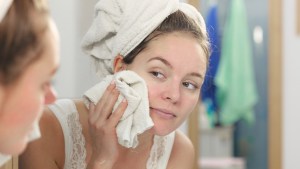 Read more:
5 Common skincare myths exposed
To help you pamper your complexion without overloading your schedule, we created a skin care guide that details how to avoid common mishaps (just say no to tanning beds!) and get the best results. 
Two months before the wedding
The process of skin regeneration lasts 28 days, so if you want to get the most glow for your effort, start as early as possible. 
DO
Start regularly drinking at least eight cups of water a day. Yes, eight! Well-moisturized skin is a result of a hydrated body.
Eliminate chemically processed foods from your diet and eat a lot of vegetables. Changing your eating habits can have an invaluable impact on improving your complexion.

Book an appointment with a beautician and ask for help selecting a good skin care regimen appropriate for your skin.

If you plan to change your hair color, start now with a trial, or by gradually changing shades to get to the target color. This eliminates the risk of being too blonder, or the wrong shade of red the week of your wedding, with little time to fix it.

Do you want that sun-kissed glow? Now is the time to start any tanning solutions to make sure you know how to achieve the right color. If you're going for spray or airbrush tanning, exfoliate before your visit, and remember to moisturize (especially on nail beds or other places that you don't want darkened). 
AVOID 
Don't decide on drastic beauty treatments, Botox or a visit to a plastic surgeon. These are bound to cause you added stress because you can't accurately predict the outcome of major treatments, and you won't be able to fix any botched work, even in two months. 

Smoking cigarettes and drinking alcohol. Most people know that cigarettes do your nails, hair and teeth no favors (in addition to all the other health problems they cause), but many brides forget that regular alcohol can dehydrate your skin, too. So cut out the weekend drinks for just a few months: you'll see the benefits not just in your complexion, but probably your waistline, too. 

Waiting until the last minute to test your wedding day makeup. Book the trial run with your makeup team for about two months out, and take pictures so you can reflect on the look, and decide if you still love it a month later.
A week before the wedding
The big day is getting closer! Here's how to ensure your skin stays bright, and your brain stays sane:
DO
Enhance your beauty regimen with relaxing baths and moisturizing masks to make sure your skin is relaxed.

Every morning start the day with your favorite exercise, stretching or fitness set. Physical exercise improves blood circulation and helps to maintain mental peace and feeling of being healthy and centered.

If you're planning to use henna to strengthen the look of your eyebrows or eyelashes, one week out is the perfect time. You don't want to do it, say, two days before the wedding because the immediate effect is too dramatic.

If you want to get rid of unwanted hair on the body or face, your hair removal appointment should be roughly 7 days in advance. This will give time for your skin to calm again, or heal any irritation that arises.
AVOID
Impulsive decisions, especially in the beauty department. This means anything from a change of hair color, to a gel manicure if you've never tried it before. If you don't like the outcome, all you've done it add unnecessary stress to your wedding week.

Overdoing it at the bachelorette party. If your sendoff from singleness is 7-10 days before the wedding, be mindful that lack of sleep, extra alcohol and too much physical exertion can darken undereye circles, dry out skin, or cause pulled muscles, twisted ankles and all other sorts of mishaps you'd rather not be dealing with the week of your wedding.

The use of untested skincare products, for one very simple reason: They can cause allergic reactions.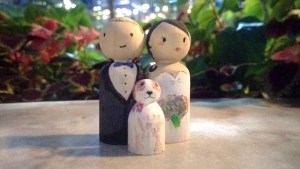 Read more:
15 Off-registry wedding gifts every couple will love
On the wedding day
The day you've been waiting for has finally arrived! Follow the plan and remember to breathe. 
DO
Use a revitalizing mask (one that you've already tested) before you put on makeup. If your skin tends to run dry, put on a very light application of unscented daily moisturizer early in the morning, at least an hour before makeup starts.

Most professional hair and makeup teams will advise you to make your appointment early in the morning for an afternoon wedding, but just in case they let you choose the timing: don't leave it for the last minute. Makeup and hair always take longer than you think.

Take care not to let the little things cause you stress, and ask others to handle small hiccups like a bridesmaid's stuck zipper, the lunch food order, or making sure the limos will arrive on time. These are all tasks that can be delegated to someone else so that you can relax.
AVOID
Making last minute changes to your makeup plan right before the wedding starts, such as a different lip shade, bigger lashes, or a totally different 'do. Sticking to the beauty plan you've worked on for weeks is almost always a better idea than anything you may decide in the heat of the moment.
This article was originally published in the Polish edition of Aleteia.