Aleteia's Lampstand Photo Contest wants to let their light shine, and help fill their coffers, too.
Do you know of a great charity that could use some exposure and a cash donation to help further their work? Perhaps you're involved with a St. Vincent de Paul kitchen, or a crisis pregnancy center, or an organization that helps pack food for local delivery to the housebound. Maybe you've helped put together helpful hygiene packs for the homeless, or helped to build a retreat center where people can go for some much-needed interior silence.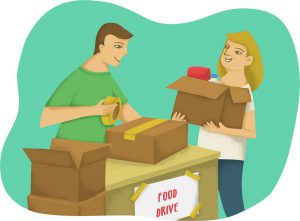 Whatever cause you or your parish group might be involved with, Aleteia would like to hear from you and help you get your message out to others — that your light may so shine before all, that your coffers might be a little fuller, and that others may decide they want to get involved, too. That's why we're so excited to announce the creation of the Aleteia Lampstand Photo Contest — a monthly opportunity to showcase a charity and its good works.
"The rapid growth of Aleteia.org has really provided us with an opportunity — if not an obligation — to help," said Jason Deal, EVP Strategy & Marketing at Aleteia. Since 2015, Aleteia has grown over 120 percent, and recently expanded into Polish. "We were motivated by Matthew 5:15 to place the most inspiring works of our Church on a virtual lampstand, so to speak, to help spread their light throughout our Church community."
Each month throughout the remainder of 2017, Aleteia will award one charitable organization a cash prize of $515 (get it? Matthew 5:15?) to support their work and highlight their good deeds through editorial and social media.
Entering is easy, and can be done by clicking here: Organizations or their supporters simply share an original photo that captures the spirit of their outreach on Aleteia.org's Facebook content gallery. Entries can also be submitted by adding the hashtag #AleteiaLampstand to a Twitter or Instagram photo. The photo receiving the most "likes" each month will be named that month's Lampstand beneficiary. People with no organization to promote are encouraged to participate by voting for their favorite photo each month.
We're excited about this project — excited to be able to help effective charitable outreach at local and national levels while allowing our readers to help decide whom to honor each month.
"We know there are impressive and inspiring organizations at the local and national level that provide food, clothing, shelter, education and attend to the most forgotten in society," said Pierre-Marie Dumont, Aleteia.org's CEO. "As Pope Francis says, practicing charity is the best way to show God's love for every person."
So, get those cameras snapping! Try to take a shot that really reflects the spirit of the work you do, and get that thing uploaded, and placed on the Lampstand, "where everyone can see your good deeds, and glorify your Father in heaven." Perhaps yours will be the light that inspires others!